Food Review: Inside Scoop's New Flavor, 'Cadbury Dairy Milk Oreo & Chipsmore'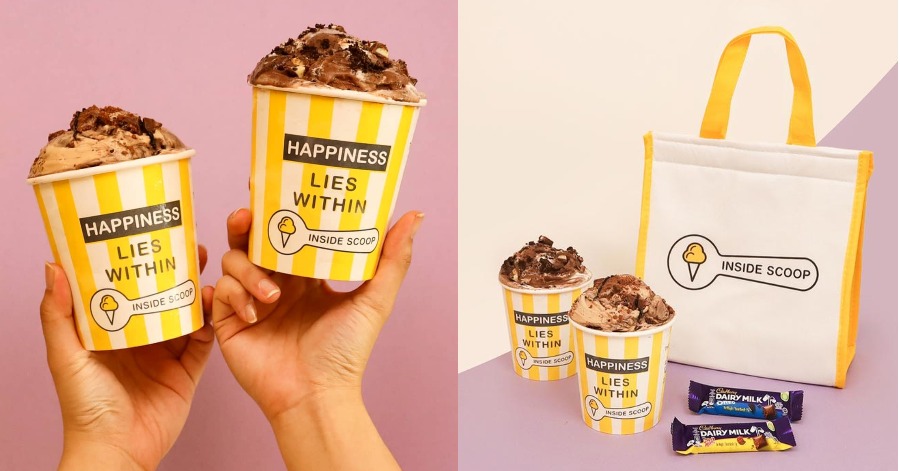 Inside Scoop has always been the best place for Malaysians to satisfy their ice cream cravings. It offers a lot of local flavors for example Durian, Chendol, and Onde-onde. Not only that it serves ice cream, but you can also get ice-cream cake from any of their outlets.
On the first of July 2021, to celebrate Friendship Day, Inside Scoop announced its collaboration with Cadbury. They brought out not one, but two special Cadbury Dairy Milk flavors!
'Cadbury Dairy Milk Oreo' is made of Belgian dark chocolate ice cream and jersey milk ice cream. Mixed with chopped Cadbury Dairy Milk Oreo, it is then finished with crushed oreo cookies.
As for the second flavor which is 'Cadbury Dairy Milk Chipsmore', it is made with hazelnut-based ice cream. Mixed with chunks of Cadbury Dairy Milk Chipsmore and crushed Chipsmore, it is then topped with dark chocolate fudge.
The Friendship Pack costs RM62.20 for one pint of each flavor. If you're planning to share with your friends, you should get the Better Together Pack that would only cost you RM85! Each of you will get one 300ml Cadbury Dairy Milk Chipsmore and one Cadbury Dairy Milk Oreo in a free cooler bag. No hustle as Inside Scoop will deliver the goods right to you and your best friend's doorsteps!
For purchases made in July, you will receive a free chocolate bar! It is time to treat yourself and it is also perfect for sharing with your best friend.
Sources: Facebook Inside Scoop, Inside Scoop
YouTube Review: So Shocking! 5 Unrecognizable Actors In Their Character's Makeup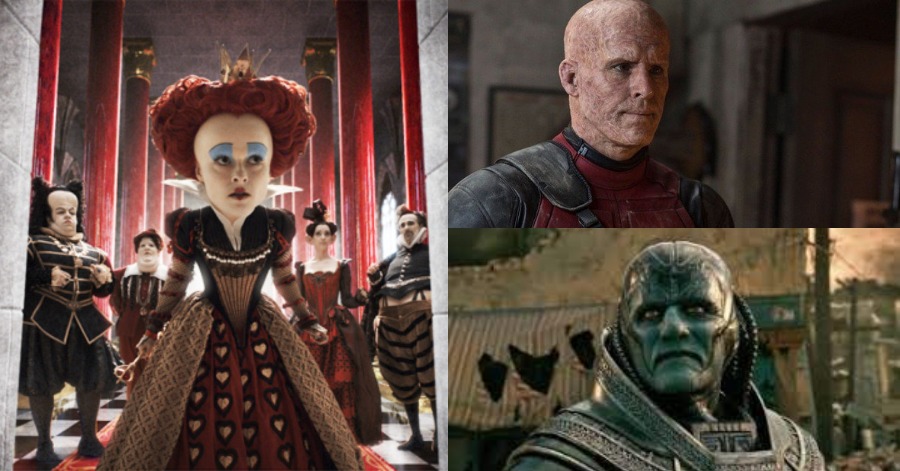 We may go to the movies to see the actors we love, but it is not uncommon for those actors themselves to really look absolutely nothing like themselves. It is practically a rite of passage for a particular star to take on a character who looks nothing like them, they have to spend the press tour talking about the hours they spent in the makeup chair every day. Sometimes that patience results in a huge hit for them. Those are actually the kind of sacrifices done by them.
There are a lot of actors who were rendered completely unrecognizable by their prosthetics and makeup. Sometimes these transformations are done for the purpose of adapting a non-human character to the screen, sometimes they're done to help an A-list movie star disappear into a dramatic role, and sometimes they're done for purely comedic effect.
These are 5 unrecognizable actors in their character's makeup:
1) Jacob Tremblay (Wonder)
Jacob Tremblay is unrecognizable as Auggie Pullman in the new movie 'Wonder'. To play the 10-year-old boy with Treacher Collins Syndrome who is the heart and soul of the film, Tremblay, 11, had to endure two hours of makeup each day of filming. The film, based on R.J. Palacio's 2012 novel, chronicles the struggles of a young boy with a rare disease, known in medical terminology as mandibulofacial dysostosis, which causes abnormalities of the head and face.
2) Ryan Reynolds (Deadpool)
Ryan Reynolds looking completely and shockingly unrecognizable in the movie 'Deadpool'. He was snapped sporting burns and scars all over his face as his character Wade Wilson is known in the Marvel world for being disfigured. The movie makeup looked gruesomely realistic with the reddish makeup on and no eyebrows.
3) Helena Bonham Carter (Alice In Wonderland)
Helena Bonham Carter might actually have the bigger transformation playing The Queen of Hearts in Tim Burton's dark take 'Alice in Wonderland' movie. She had to go through a vigorous makeup process for it.
4) Oscar Isaac (X Men: Apocalypse)
Oscar Isaac had to endure hours of make-up prosthetics. He got encased in glue, latex, and a 40-pound suit, that he had to wear a cooling mechanism at all times. He couldn't even move his head, ever.
5) Naomi Grossman (American Horror Story)
Naomi Grossman is so unrecognizable in her own phenomenal on-screen transformation as Pepper in the one and only 'American Horror Story' movie. Pepper's appearance is definitely unique and she is known for her quirky smile and a single tuft of hair tied neatly tied in a bow. The actress, who in real life is stunning with her bold features, had no qualms in embodying the intriguing character.
Sources: YouTube TheThings.
YouTube Review: Pixar Are Just For Kids? Here's 9 Emotional Moments You Don't Know!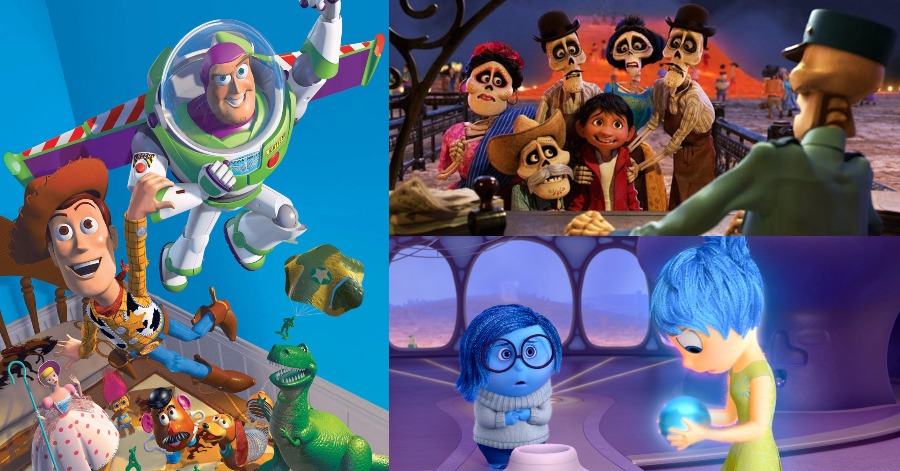 If anyone says Pixar movies are just for kids, wave them goodbye! Pixar films are noted for their emotional depth and universal appeal, but not every scene in their feature films has the same impact on children as it does on adults, with some situations presented that are beyond what most children have experienced at their age.
Although some components of Pixar's stories are broadly relevant, certain plot elements and character interactions are only fully recognized by adults, whether due to a character's age or a storyline that is unique to the adult experience.
1. Toy Story 3
Toy Story 3 is one of the best long-awaited sequels, and it follows Andy's toys as they come to terms with the fact that he is no longer a child who needs them as he prepares to enter college. Andy copes with the shift by eventually handing over his toys to Bonnie, the new kid. The part where Woody says 'so long partner' definitely got us grabbing out tissues. These gestures are emotional not only from the standpoint of the toys but also for Andy himself since his gift to Bonnie marks the beginning of a new period in his life and represents the transition that every adult has gone through as they grow up. And it is so relatable for adults because we were just like Andy, shifting from childhood to adulthood so quickly.
Also, in another scene wherein a brief moment, it appeared that Woody, Buzz Lightyear, and the rest of our favorite toys were set to perish due to a massive furnace! That made us all think they were done for good and of course made us cry too.
2. Up
The beginning of this movie is touching enough. Carl and Ellie of Up have a romance that spans decades, as evidenced in the movie's opening montage. They are one of the best non-royal Disney couples. It takes viewers on a journey from childhood until Ellie's tragic death, with Carl's subsequent grief serving as a driving force in the plot. While children can have grieving experiences, the longevity of Carl and Ellie's relationship, as well as the way their time together is condensed within the movie's setting, is rich with emotion and a sense of time that children have yet to completely grasp.
3. Coco
Coco is noteworthy for its explorations of life and death through the Mexican holiday of Day of the Dead, which is a profoundly emotional film for many reasons. Miguel's elderly great-grandmother Coco, whose memory has begun to deteriorate, is an important character in the plot. Miguel returns home after seeing Coco's father, Héctor, in the Land of the Dead, and plays one of his songs, "Remember Me," to Coco, who is able to sing along with him, with the song prompting memories of her father. The elderly Coco's reunification with her father is profoundly emotional, providing a cathartic moment for older people who have recently lost a parent or have experienced something similar.
4. Inside Out
This movie is definitely relatable because we have lots of emotion running in our heads every day! Riley's childhood imaginary best friend Bing Bong sacrifices himself by jumping from a waggon rocket in order for it to be light enough to let Joy return to Riley's brain's Headquarters. Inside Out is a movie packed with things you only notice after re-watching it, but one scene that viewers can't miss is when Riley's childhood imaginary best friend Bing Bong sacrifices himself by jumping from a wagon rocket in order for it to be light enough to let Joy return to Riley's brains. While Inside Out does an excellent job of explaining Riley's feelings in a way that children can understand, the full consequences of Bing Bong's sacrifice, which represents letting go of pieces of one's childhood that are dragging down one's present, might be difficult for children to grasp.
Another scene is when Joy realizes Sadness is the key for Riley to balance out everything. After running away, Riley returns home and expresses herself of how much she missed her old home in Minnesota. It's heart breaking but sometimes we adults do this. We move our family away from home because of work or other issues.
5. Ratatouille
Being moved by emotion does not imply that something dreadful has occurred. It might also indicate that we are overjoyed. These overjoy feeling at times gives our heart that warm feeling, just like Ego in Ratatouille. Before this, Ego was the personification of everything we despise in critics, and his frigid demeanor rendered him virtually insufferable. However, one bite of Ratatouille transported Ego back to his boyhood. I'm sure we all have that one food that brings us down memory lane.
6. Toy Story 2
Toy Story 2, the first of Pixar's sequels, had a lot riding on it, and it lived up to the hype, with a plot that takes the titular toys through a variety of new experiences. The arrival of Jessie, whose biography reveals the kid she once loved, Emily, is one of the most important of these. Jessie was put in storage for years after Emily had grown out of playing with her toys, and she now has a fear of dark and enclosed rooms. This reminds us of our transition from child to adult, where we give away or throw our toys when we no longer needed them. Watching this part, definitely makes us think a lot.
7. Onwards
The central theme of Onward is the bond between Ian and Barley, two brothers. While the narrative of the film revolves around the two brothers attempting to perform a visiting spell in order for their deceased father to pay them a visit for a day, it soon becomes clear that the brothers are the emotional center of the picture. While Ian's younger brother spends a lot of time reflecting on what he lost out on without his father, he eventually realizes – in a heartbreaking montage – that even without him, he had his brother Barley to fill in for him. Onward portrays a very true relationship, with many siblings having to stand up as parents for various reasons.
8. Finding Nemo
I think the key player of this movie has got to be Dory. Marlin's sadness over the alleged loss of Nemo and desire to be alone is the one that would affect adults the most. Dory, on the other hand, talks about how much Marlin helps her remember things, and how she's afraid of forgetting things. Sometimes we adults are like Dory, too attached to someone because they bring out the best in us.
9. Monster Inc
Mike Wazowski fixing Boo's door all by himself for Sully is an underappreciated emotional moment. It was a selfless gesture. Think about it, What did Sully do for Mike?
Sources: Screen Rant Youtube
(Video) Learn Our History! These Are Some Other Malay Words Forgotten In Time!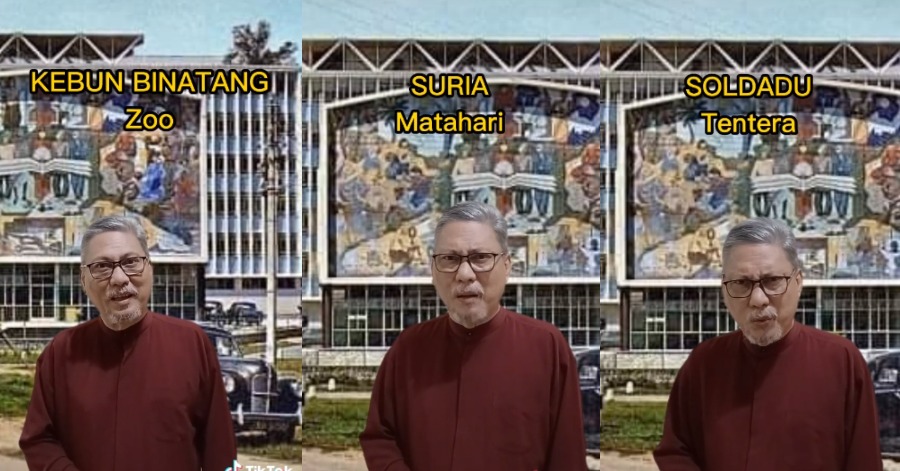 In a previous article, I have mentioned some of the Malay words that are getting forgotten in time nowadays. For those who don't know, you can watch the previous article here. All of those words really bring some traditional sentiment to them.
That is why it is really important for a lot more people to learn about these Malay words so that it would not be extinct from this world entirely. So sad if that ever happens.
In addition, Malay words are one of the easiest languages to know and also pronounce as they have simple phonetics. It has no tonal distinction to make the same word has different meanings depending on tone used in pronouncing. For those who might not know, these are a lot of other examples Malay words that are getting forgotten in time.
1) Sekolah Gambar : It means 'Muzium'
2) Kebun Binatang : It means 'Zoo'
3) Satwa : It means 'Haiwan'
4) Buana : It means 'Dunia'
5) Ilmu Alama : It means 'Geografi'
6) Ilmu Hisab : It means 'Matematik'
7) Tawarikh : It means 'Sejarah'
8) Gapura : It means 'Pintu Gerbang'
9) Samudera : It means 'Lautan'
10) Bianglala : It means 'Pelangi'
11) Sumur : It means 'Perigi/Telaga'
12) Suria : It means 'Matahari'
13) Purnama : It means 'Bulan'
14) Mega : It means 'Awan'
15) Dian : It means 'Lilin'
16) Soldadu : It means 'Tentera'
17) Merinyu : It means 'Pemeriksa/Inspektor'
18) Wangsa : It means 'Bangsa'
19) Aksara : It means 'Huruf'
20) Dasawarsa : It means 'Dekad (10 Tahun)'
Sources: TikTok zulkifliismail01 Part 2, TikTok zulkifliismail01 Part 3.