Hamilton Wins F1 British GP Despite Penalty After Verstappen Tangle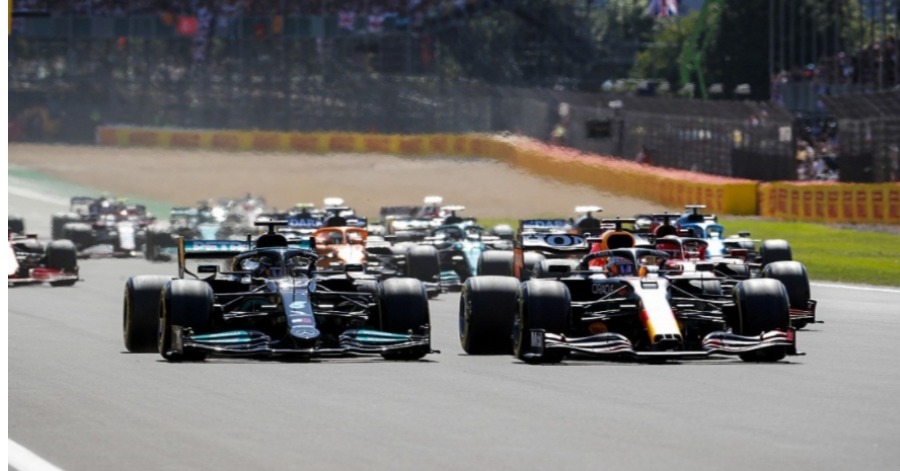 BEIJING, July 19 — Mercedes driver Lewis Hamilton won a pulsating and controversial Formula 1 British Grand Prix, fighting back from a penalty for a first-lap tangle with Max Verstappen to take the lead from Charles Leclerc with two laps to go.
Starting first and second on the grid, the two title rivals immediately dueled for the lead before Hamilton's left-front tyre snagged Verstappen's right-rear as the two went through Copse corner, sending the Dutchman careening into the barriers at high speed and bringing out the red flag, according to Xinhua.
Emerging from his car unaided to sympathetic applause from many of the 140,000 fans in attendance, Verstappen was taken to hospital for precautionary checks.
With the race restarted on lap 4, the stewards decreed that Hamilton had been at fault for the collision and slapped him with a ten-second time penalty, meaning the Briton emerged after his pit stop on lap 28 down in fourth position.
Undeterred, Hamilton soon made his way past McLaren's Lando Norris and his Mercedes teammate Valtteri Bottas to hunt down Leclerc, who had led every lap since the restart with his Ferrari showing well at the Silverstone Circuit.
Though Hamilton had complained earlier in the race of the difficulty in following in the dirty air of the Ferrari, the Briton soon gained on Leclerc and took the lead at Copse on lap 50 of 52 to take a record-extending eighth British Grand Prix win.
Hamilton's win comes at a good time for the Briton and for Mercedes, after Red Bull had won the previous five Grands Prix and Verstappen had started to take control of the drivers' championship.
"It was such a physically difficult race," said Hamilton, whose win cuts Verstappen's championship lead to eight points. "Amazing effort from the team. I've been giving it my all, all week, back in the factory, trying to find performance. I always try to be very measured. Max, he's very aggressive. Today I was fully alongside him and he didn't give me any space. Regardless of whether I agree with the penalty, I just kept working."
Behind Hamilton and Leclerc, Bottas rounded out the top three ahead of Norris, who might have been higher had a slow pit stop not blunted his challenge.
Norris's teammate Daniel Ricciardo took fifth ahead of the second Ferrari of Carlos Sainz, who was another to suffer with a lengthy tyre change.
Fernando Alonso took a solid seventh in his Alpine, ahead of Aston Martin's Lance Stroll. Alonso's teammate Esteban Ocon and the AlphaTauri of Yuki Tsunoda rounded out the top ten.
For the first time in F1 history, the grid order had not been set by a regular qualifying session, but by the results of a 17-lap "F1 Sprint" race on Saturday afternoon, which Verstappen won to take an extra three championship points, with Hamilton taking two for finishing second and Bottas one point for third.
By contrast, Verstappen's teammate Perez was the big loser from F1's first ever sprint qualifying, as he spun off and emerged in a lowly 18th place. Red Bull thus elected to retire the Mexican and instead start him from the pitlane for Sunday's race, but Perez was unable to make significant headway and finished outside the points in 16th.
Despite not scoring on Sunday, Verstappen still leads the drivers' championship with 185 points. Hamilton stays second but closes the gap to 177, and Norris moves up to third with 113 points.
In the constructors' standings, Red Bull stay top despite a poor weekend with 289 points, but Mercedes are now only just behind on 285, with McLaren third on 163 points.
The 11th round of the 2021 Formula 1 season is the Hungarian Grand Prix at the Hungaroring on August 1.
Sources: BERNAMA
Olympic Winners Love To Bite Their Medals, These Are The Reasons Why They Do It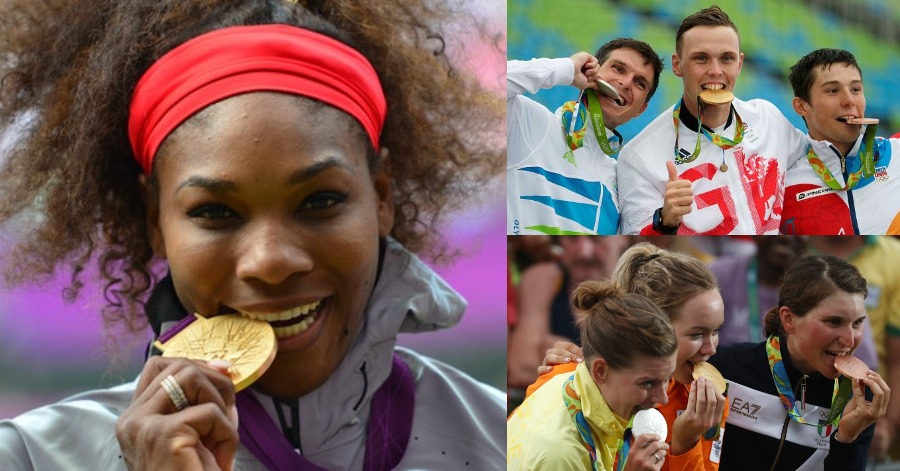 Olympic winners throughout all the years often bite their medals on the podium and nobody knows why they love to do it as the reason why is such a mystery. In fact, it's such an enduring mystery that even Olympic historians do not understand it in detail. It is not a chocolate coin wrapped in gold foil. That is indeed actual metal that composes that Olympic medal. At first, people always think they bite their medals just for the pose when their pictures are being taken. Little did many people in this whole wide world know, there are actually some unexpected reasons behind it.
A little bit of history. The Olympic Games as we know them first debuted in the year of 1896. However, at the first games, rather than gold, first place competitors won silver medals, second place won bronze. In the next Olympics in the year 1900, the winners mostly received trophies or even cups. It was not until the 1904 Olympics that medals made of solid gold were awarded to top athletes. These are the reasons why Olympic winners bite their own medals.
1) Purity Check
Traditionally, because gold is softer and more malleable than other metals, one way to determine whether or not it was real gold was to bite into it. If it is authentic, the Olympic winners' teeth would have left an indentation.
2) Photographer Obsession
It has become an obsession with photographers. Shutterbugs consider the medal biting pose to be the shot that can make it to the front page of the next day's newspaper and hence request the athletes to do so.
The 2020 Tokyo Olympic medals are actually so unique as they are a product of the Tokyo 2020 Medal Project, which saw the collection of small electronic devices such as used mobile phones from all over Japan to produce the Olympic and Paralympic medals.
Sources: Olympics.
Boxer Youness Baalla Tries To Bite Opponent's Ear During Olympics Bout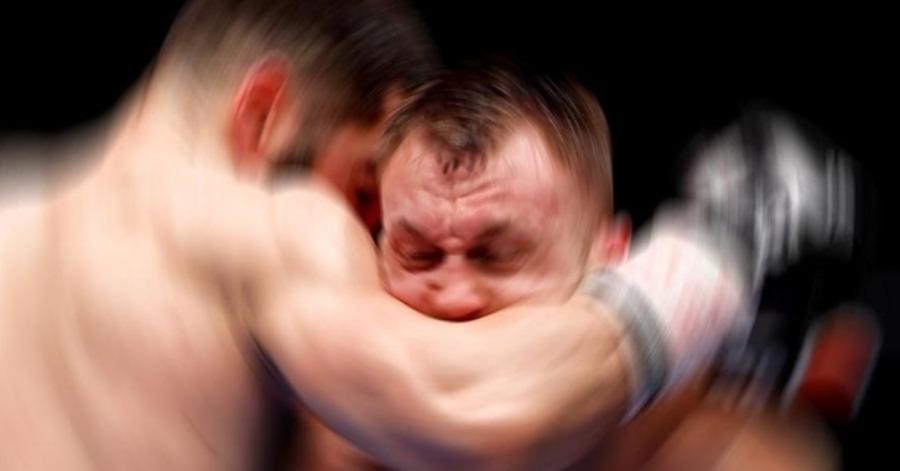 ANKARA, July 28– Moroccan boxer Youness Baalla attempted to bite off his New Zealand opponent David Nyika's ear during a match on Tuesday at the 2020 Tokyo Olympics.
According to Anadolu Agency, Baalla attempted to bite Nyika's ear in the third and final round of the bout.
Nyika said, after the match, that it was unfortunate that the referee could not see what had happened.
"He couldn't get my ear into his mouth. I am lucky for that," said Nyika, who won 5-0 and advanced to quarter-final.
The fight drew comparisons with a 1997 infamous bout between Mike Tyson and Evander Holyfield.
In the second heavyweight championship match between the two in the US state of Nevada, Tyson bit a part of Holyfield's ear off and was disqualified.
Tyson's boxing licence was revoked for 15 months after the incident.
Sources: BERNAMA
Archer Syaqiera Takes Opponent Down To The Wire Before Bowing Out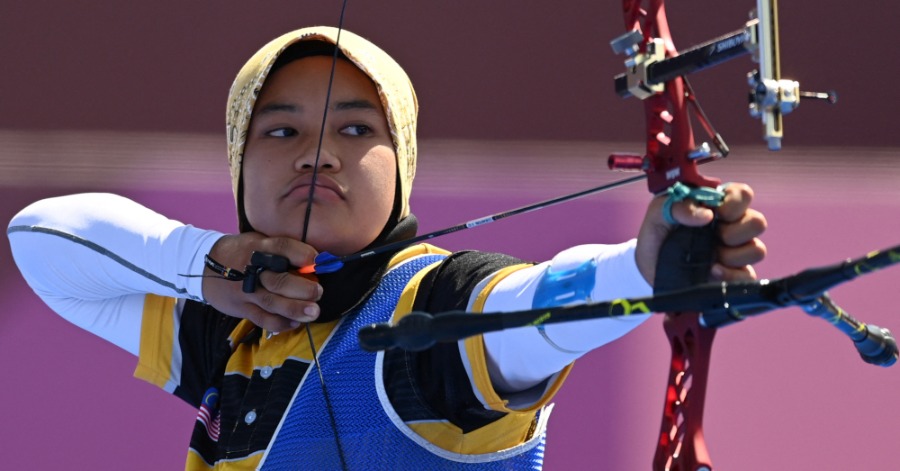 TOKYO, July 27 — National archer Syaqiera Mashayikh may have crashed out in the first round of the women's individual recurve event today but at least she went down fighting by taking her opponent all the way down to the wire.
Syaqiera, 20, lost 4-6 to the Russian Olympic Committee's (ROC) Elena Osipova at the Yumenoshima Park Archery Field here.
The Malaysian got off to a promising start when she won the first set 26-25 to go 2-0 up but Elena hit back to win the second set 28-26 to make it 2-2.
The two archers drew the next two 26-26 and 25-25, leaving them tied at 4-4.
In the decider, Syaqiera and Elena each shot a nine with their first arrow before the ROC archer edged ahead to 19-18 at the second arrow. Elena then confirmed her place in the next round when she shot a 10 to win 29-23 for a 6-4 triumph.
Last Friday (July 23), Syaqiera caused a sensation by finishing in 43rd spot after collecting 630 points to improve on her previous best of 619 points which she achieved at the final Olympic qualifier in Paris last month.
With Syaqiera's exit, all eyes will now be on Khairul Anuar Mohamad when he faces Antti VIkstrom of Finland in the first round of the men's individual recurve event at the same venue on Wednesday (July 28).
Sources: BERNAMA