Sabah: Fire Engulfs 10 Squatter Water-Houses In Tanjung Aru Baru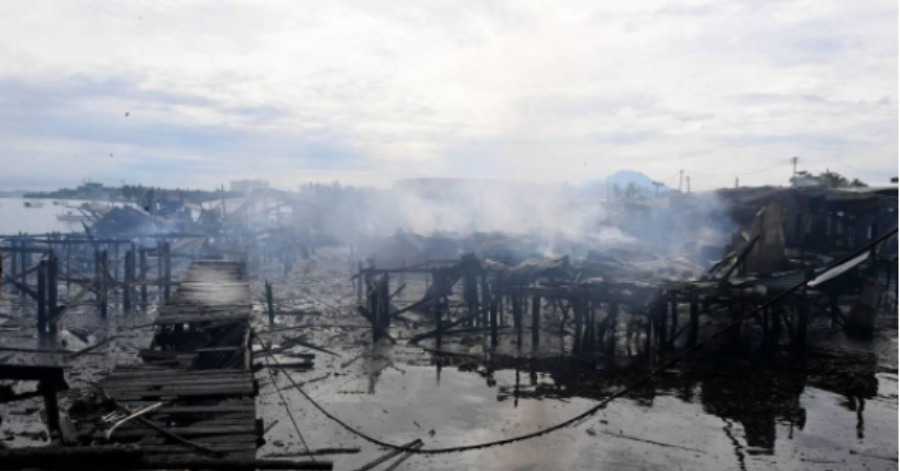 KOTA KINABALU, July 6  — Ten squatter houses in a water village were destroyed in a fire that broke out in Kampung Tanjung Aru Baru early this morning.
In a statement today, the Sabah Fire and Rescue Department Operations Centre said it received an emergency call at 7.08 am and two teams from the Kota Kinabalu and Penampang fire and rescue stations were mobilised to the scene.
"A total of 40 firefighters, including logistics personnel, managed to put out the blaze and prevent it from razing dozens of other homes in the water village," the statement said.
No injuries or fatalities were reported and the cause of the fire and estimated loss are still under investigation.
Meanwhile, the Sabah Disaster Management Committee secretariat, in a separate statement, said two massive fire incidents were reported over the past 24 hours, namely in Kampung Panji Darat in Semporna yesterday and in Kampung Tanjung Aru Baru in Kota Kinabalu early today.
A relief centre has been opened in Semporna to accommodate the 37 victims, while in Kampung Tanjung Aru Baru, the process of identifying fire victims is underway.
Sources: BERNAMA
UniMAP Becomes First Public University To Conduct Research On Hemp Cultivation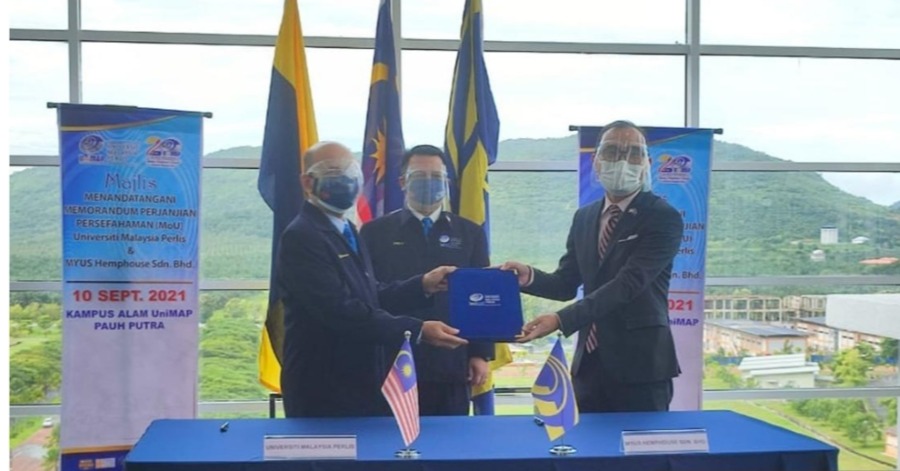 ARAU, Sept 10 — Universiti Malaysia Perlis (UniMAP) has become the first public university in the country to conduct research on hemp (a member of the cannabis sativa plant) as an agricultural product with the potential of being economically developed in the future.
Its vice-chancellor, Professor Ts. Dr Zaliman Sauli said for that purpose, UniMAP has signed a memorandum of understanding (MoU) with a Kuala Lumpur-based company MyUS Hemphouse Sdn Bhd.
"As we know, the hemp production must be under strict control. It can also become a new economic resource for the country in the future as there are developed countries that have allowed the use of hemp for commercial purposes.
"Through the MoU, research and development can be carried out at UniMAP and focus will be given through Institut Agroteknologi Lestari (INSAT) in Sungai Chuchuh, Padang Besar on an area of 0.8 hectares," he said here, today,
The MoU signing ceremony was witnessed by the Raja Muda of Perlis Tuanku Syed Faizuddin Putra Jamalullail, who is also UniMAP chancellor.
Zaliman signed the MoU on behalf of the university while while MyUS was represented by its chief executive officer Datuk Nellsen Young.
UniMAP and MYUS will conduct research on hemp cultivation procedures and applications as well as focus on functional materials for agriculture especially organic farming to improve the country's agricultural products.
"Through this agreement, research activity regarding the crop planting can be conducted successfully and the university-industry partnership can be strengthened," said Zaliman.
MYUS is one of the companies that has worked with the Malaysian government to obtain permission to grow, maintain and manage hemp cultivation as well as produce innovative hemp-based products for the use of composite fibre, bio-diesel, medicine, therapy and health care.
UniMAP through INSAT will provide facilities that include land use for the cultivation of such crops. whereas MYUS is responsible for providing infrastructure facilities, technical resources and assistance for research and development activities.
Meanwhile, Nellson when met said that his team will make an application to the government to get permission to bring in hemp seeds into the country and will start the planting process.
"We are now in the midst of getting government approval to bring the seeds in. Perlis has a suitable climate for the cultivation of hemp," he added.
Sources: BERNAMA
10 Finalists To Compete In 2021 Secondary School Newsreading Challenge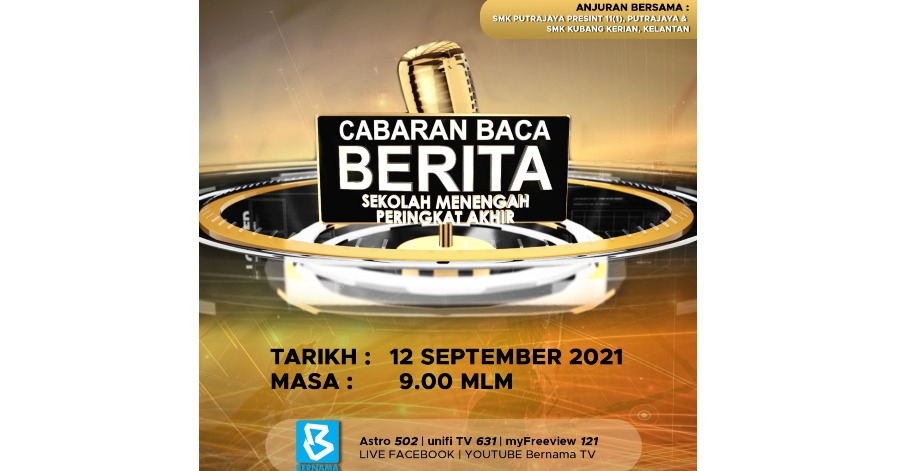 KUALA LUMPUR, Sept 10  — During the COVID-19 pandemic, various interesting activities are organised by Malaysians, including a newsreading challenge, which received overwhelming response that it became viral on social media, especially onTwitter and TikTok.
Many may think that newsreading is easy and working as a newsreader is a glamourous job, without realising that a newsreader needs to possess certain skills and techniques to ensure the information is conveyed clearly.
The difficulties and challenges of this career were felt recently by about 400 participants of the 2021 Secondary School Level News Reading Challenge.
It was organised  by Sekolah Menengah Kebangsaan (SMK) Putrajaya Precinct 11 (1) and SMK Kubang Kerian in collaboration with the Malaysian National News Agency  (Bernama). The month-long challenge started last July 15.
The competition's assistant coordinator, Farizal Yusoff said the various constraints brought by the  COVID-19 pandemic, including school closures, called on educators to be more creative in "putting" the fun in learning, including in co-curricular activities.
"This competition,to some extent, gives exposure to the participants about the world of journalism and its challenges when they had to chose issues, produced news scripts, as well as presented and edited their two-minute videos.
"As the organiser, and with guidance from the invited jurors, we also taught participants to be wary of fake news that can threaten unity among Malaysians," he said.
There were two editions of the 2021 Secondary School Level News Reading Challenge, namely in Bahasa Malaysia and English. In addition to the goal of finding new talents in the field of creative media, the competition also emphasises students' understanding of and sensitivity to current issues.
All video entries underwent an evaluation process by seven professional jurors, comprising local university lecturers, chief reporters of local newspapers, publishers, and television and radio news presenters who selected the five best videos from each category to compete (10 participants in all) in the finals which will take place virtually on Bernama TV on Sunday (Sept 12) at 9 pm on Astro 502, Unifi TV 631, MyFreeview 121 and Bernama TV Facebook.
Sources: BERNAMA
Singapore's First Giant Panda Baby Is A Healthy Male Cub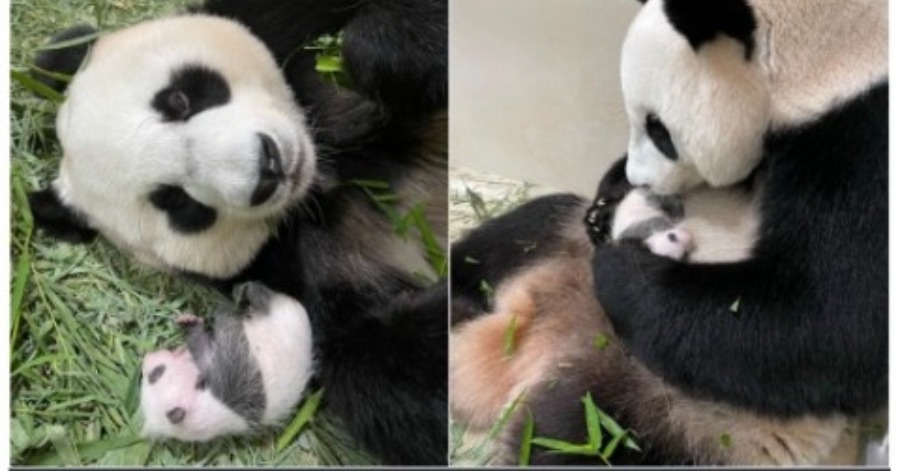 SINGAPORE, Sept 10  —  Singapore's first giant panda cub born at River Safari here on Aug 14 is a healthy male cub.
Though the cub has yet to undergo a full veterinary examination as the mother Jia Jia continues to be its primary caregiver, the attachment between Jia Jia and her carers has allowed them to observe the cub at close range that enabled them to confirm the presence of external male genitalia.
"Jia Jia continues in her role as a new mother and has exceeded all expectations in caring for her cub. As such, the panda care team has decided to allow this period of maternal care to continue for as long as possible for the duo to strengthen their bond," said Deputy Chief Executive Officer and Chief Life Sciences Officer at Wildlife Reserves Singapore (WRS), Dr Cheng Wen-Haur in a statement today.
According to WRS, the cub has started to develop prominent black markings around his eyes, ears, and body-transforming from a fur-less pink newborn to a miniature version of his parents.
His fur is expected to be fully formed within the next few weeks, and he will soon open his eyes to the world.
Meanwhile, members of the public will be able to play a part in the naming of the cub before it turns 100 days old on Nov 21, 2021.
Details on how to participate are available on www.wrs.com.sg/pandacub, and the public has until Sept 19, 2359 hours to enter their submissions.
River Safari is a home to giant pandas as part of a joint collaboration between China Wildlife Conservation Association and Wildlife Reserves Singapore to promote giant panda conservation.
The giant pandas are housed in a specially constructed climate-controlled exhibit along the Yangtze River zone.
Sources: BERNAMA