UNICEF To Ship Up To 220 Mln Doses of Johnson & Johnson Vaccine To Africa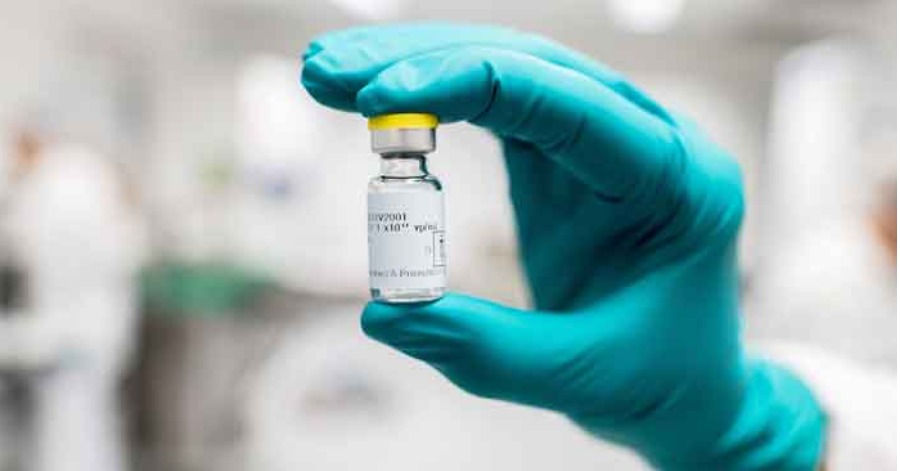 KIGALI (Rwanda), July 9  — United Nations Children's Fund (UNICEF) said Thursday that it had reached a deal to supply up to 220 million doses of the Johnson & Johnson COVID-19 vaccine to African Union member states by the end of 2022.
In a statement, the agency said the agreement was signed with Belgium-based and Johnson & Johnson-owned Janssen Pharmaceutica NV, Anadolu Agency (AA) reported.
Some 35 million doses of the single-dose vaccine could be delivered to the African Union's 55 member states by the end of this year and another 180 million doses could be ordered by year's end, it said.
UNICEF believes that African countries must have affordable and equitable access to COVID-19 vaccines as soon as possible.
"Vaccine access has been unequal and unfair, with less than one per cent of the population of the African continent currently vaccinated against COVID-19. This cannot continue," said UNICEF Executive Director Henrietta Fore.
"UNICEF, with its long history of delivering vaccines all around the world, is supporting global COVID-19 vaccination efforts through the African Vaccine Acquisition Trust (AVAT), COVAX, and other channels to maximise supply and access to vaccines," she said.
The Johnson & Johnson vaccine received emergency approval from the World Health Organisation (WHO) in March.
The African Union established AVAT in November 2020 to deliver COVID-19 vaccines to the African continent, with a goal of vaccinating 60 per cent of each African Union country's population.
The agreement comes as the African continent faces its steepest surge in COVID-19 cases yet, amid vaccine supply challenges which have left many countries with large unvaccinated populations.
At a media briefing Thursday, Matshidiso Moeti, WHO Regional Director for Africa, said more than 1.6 million doses have been delivered to Africa in the last two weeks through the COVAX facility, a worldwide initiative aimed at equitable access to COVID-19 vaccines.
So far, 50 million doses have been administered in Africa, accounting for just 1.6 per cent of the doses given globally.
Sources: BERNAMA
WHO Unveils Recommendations For Climate Action To Ensure Sustained Recovery From COVID-19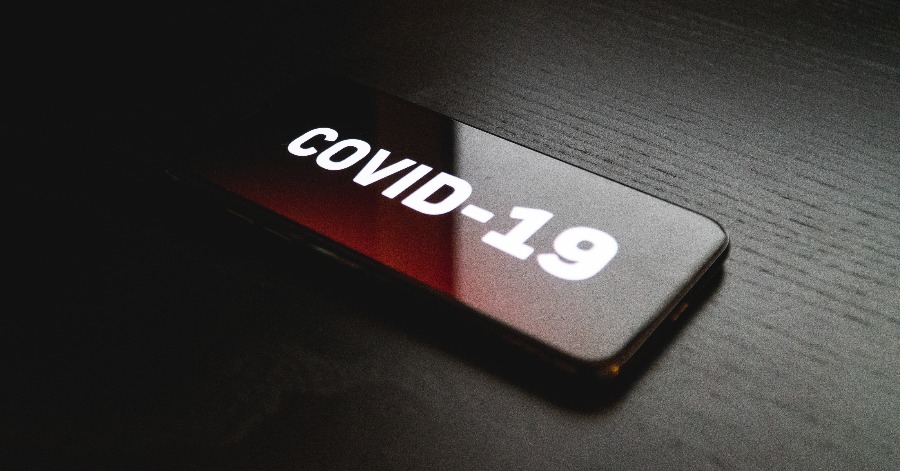 GENEVA, Oct 12 — The World Health Organisation (WHO) issued ten recommendations on Monday on how governments can maximise the health benefits of tackling climate change in a variety of sectors, thereby avoiding the worst health impact of the climate crisis, said Xinhua.
Ahead of the 26th UN Climate Change Conference (COP26) to be held in Glasgow, Scotland, WHO released its COP26 special report, "The Health Argument for Climate Action."
The ten WHO recommendations highlight the urgent need, and numerous opportunities for governments to prioritise health and equity in the international climate regime and sustainable development agenda. Above all, the WHO urges governments to commit to a healthy, green recovery from COVID-19.
"The COVID-19 pandemic has shone a light on the intimate and delicate links between humans, animals and our environment. The same unsustainable choices that are killing our planet are killing people," said WHO Director-General Dr Tedros Adhanom Ghebreyesus.
"WHO calls on all countries to commit to decisive action at COP26 to limit global warming to 1.5 degrees Celsius — not just because it's the right thing to do, but because it's in our own interests," he added.
The report comes as unprecedented extreme weather events and other climate impacts are taking a rising toll on people's lives and health. Increasingly frequent heatwaves, storms and floods, have killed thousands and disrupted millions of lives. Changes in weather and climate are also threatening food security, driving up disease, and negatively affecting mental health.
"Climate change is the single biggest health threat facing humanity," the report says. "While no one is safe from the health impacts of climate change, they are disproportionately felt by the most vulnerable and disadvantaged."
As well as recovery from COVID-19, the report also puts health and social justice at the heart of the UN climate talks. It calls for a fair and inclusive transition to renewable energy, particularly from coal combustion, and promotes sustainable, healthy urban design and transport systems, as well as more affordable, nutritious diets.
UN Secretary-General António Guterres said COP26 is a crucial  opportunity to fulfill the promise of the Paris Agreement.
That means reducing emissions to limit temperature rise to 1.5 degrees Celsius above pre-industrial levels; providing US$100 billion each year to the developing world for climate action, and financial support for mitigation and adaptation, the UN chief said at a ministerial meeting in Milan, Italy, via a video link last month.
Sources: BERNAMA
(Video) Importance of Your Mental Health And Tips On How To Improve Them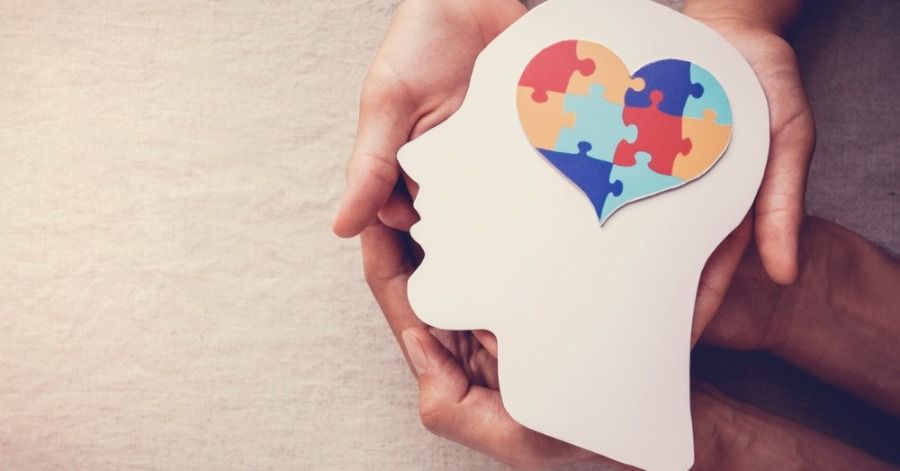 Most of us prioritize our physical health the most because we want to be healthy and live a longer life. Often, we neglect our mental health when actually, mental health contributes a lot to our physical being. Your mental health has an impact on how you think, feel, and act in everyday situations. It also has an impact on your ability to deal with stress, overcome obstacles, form relationships, and recover from disappointments and adversities in life.
We try to brazen it out by distracting ourselves or self-medicating with drink, drugs, or self-destructive habits, ignoring the emotional messages that tell us something is wrong. We bury our troubles in the hopes that no one will notice. We are hopeful that our condition will improve on its own over time. Alternatively, we may simply give up, convincing ourselves that this is "just how we are."
Mental health, like physical health, needs the effort to achieve and sustain. We have to work harder these days to maintain great mental health, simply because life takes a toll on our emotional well-being in so many ways.
Here are 4 tips for you to improve your mental health
1. Make yourself a priority
Have you got a chance to relax? Most of us are too preoccupied with our own well-being to give it much thought. Neglecting self-care has a negative impact on one's mental health. According to studies, poor eating habits damage not just your emotions but also your capacity to think. So, if you eat little, your odds of feeling terrific are slim. Exercise and getting enough sleep are also important for your mental health. Avoid self-criticism and treat yourself with care and respect. Make time for your favorite projects and interests, or widen your horizons. Do a daily crossword puzzle, start a garden, learn to dance, learn to play an instrument, or learn a new language.
2. Create positive thoughts
Positive thinking isn't a cure-all, and it won't solve all of your problems. According to a study published in the National Science Foundation, out of thousands of thoughts each day, 80% seem to be negative and 95% repetitive. Hence, there are lots of negative thoughts going on. A lot of us know what we're thinking but we don't check if it is positive or negative thinking.
It is easy to think positively. All you need to do is focus on the good things and practice gratitude. By doing so you're not only doing a favor for your mental health but you could also be a help for a friend in need.
3. Say what you feel
It makes you feel better to express how you're feeling. According to a UCLA psychologist, verbalizing our feelings reduces the intensity of our sadness, rage, and pain. So, if you want to improve your mental health, consider talking about your feelings with a friend, psychologist, or someone you trust. You could even jot them down in a journal. It is possible to have a positive and significant effect simply by writing down your feelings. So don't bottle up your feelings.
4. Be compassionate 
According to psychologists, compassion is a fundamental human attribute. As a result, we all have a natural tendency to be giving and kind to others. According to Ed Diener and Martin Seligman, altruism or selfless corcern for others increases mental and physical health and also, speeds up recovery from disease. Another research suggests that providing support for others may have positive effects on key brain areas involved in stress and reward responses. As a result, compassion drives us to assist and support others, as well as ourselves. It motivates us to do everything we can to alleviate the pain of others.
Sources: Psych2Go, UHS.UMICH.EDU, Help Guide
Less Than One Per Cent To Go To Achieve Fully Vaccinated Adult Population Target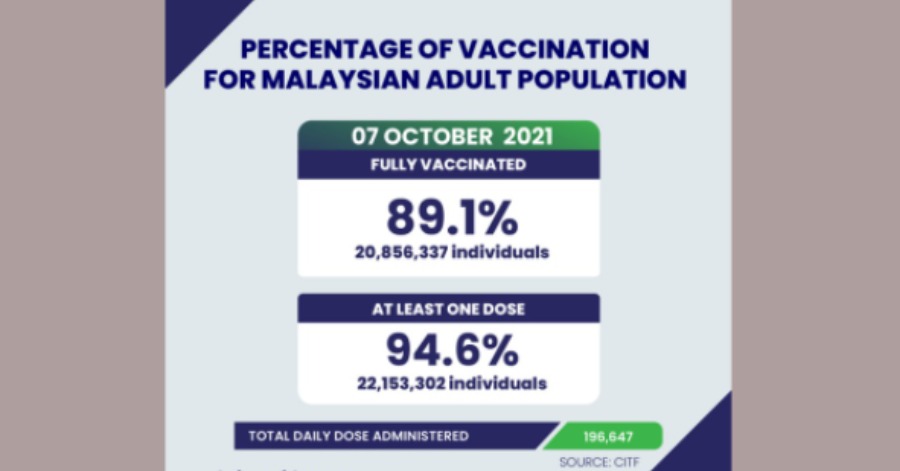 KUALA LUMPUR, Oct 8  — A total of  20,856,337 individuals or 89.1 per cent of the adult population in the country have completed their COVID-19 vaccination as of yesterday, just 0.9 percentage points short of the targeted 90 per cent.
Based on the Ministry of Health data on the COVIDNOW portal, 94.6 per cent or 22,153,302  individuals of the adult population have received at least one dose of the vaccine.
A total of 196,647  doses of the vaccine were dispensed yesterday with 108,092 as first dose and 88,555 as second dose, bringing the total number of doses administered under the National COVID-19 Immunisation Programme (PICK) to 45,204,479.
Meanwhile, 4.7 per cent or 147,938 of adolescents aged between 12 and 17 have completed their vaccination and 68.5 per cent or 2,156,346  teenagers have received at least one dose of the vaccine,
On Sept 22, Prime Minister Datuk Seri Ismail Sabri Yaakob said interstate travel would resume when 90 per cent of the adult population in Malaysia have been fully vaccinated.
Sources: BERNAMA