(Video) Perfume Lovers! These Are 3 of The Best Zara Perfume Dupes That You Should Have!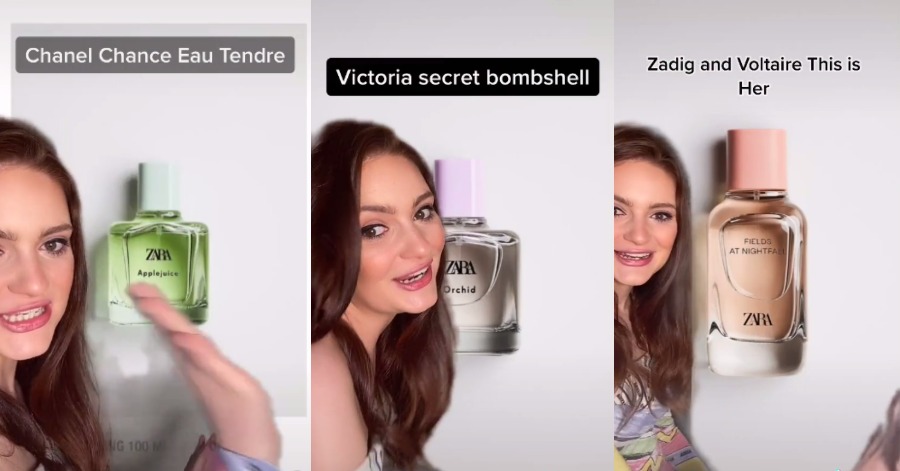 Zara is a Spanish clothing and accessories brand based in Arteixo, Galicia. It was founded by Amancio Ortega and Rosalía Mera. They opened the first Zara store in 1975, and their original product line featured inexpensive lookalike products of popular designer fashions. Zara stores are company-owned unless local legislation forbids foreign-owned businesses. Zara franchises its stores in these markets.
Zara expanded into home goods in 2003 and began offering fragrances, in collaboration with esteemed Spanish perfume house Puig, starting in 1998. Zara fragrances were made in collaboration with perfumers Sonia Constant, Harry Fremont, Fabrice Pellegrin, Nathalie Lorson, Alberto Morillas, Rosendo Mateu, Puig and Carlos Benaim.
These are 3 best Zara perfume dupes:
1) Zara Applejuice
This scent is the same as the Chanel Chance Eau Tendre. It really has the same smell and also Zara Applejuice is ten times cheaper. Chanel perfume lovers should definitely get this one.
2) Zara Orchid
This scent is the same as the Victoria's Secret Bombshell. It smells fruity, peachy, rosy, and also sexy.
3) Zara Fields At Nightfall
This scent is the same as the Zadig and Voltaire This is Her. This is the always got talked about a fragrance because it does smell amazing.
Sources: TikTok perfume_tiktok.
Not Just CR7! These Famous Footballers Also Return To Their Former Clubs!
Amid all of the dealings in the footballing world, there is always a special class of transfers and that is when players return to their former clubs. These kinds of transfers are much more than a simple business transaction between two parties as they carry an emotional angle with them. The feeling of home fans welcoming a player back, having chanted his name in the past, transcends the financial aspect of the transfer and the homely sentiment attached to it.
For example, Arsenal, Chelsea, Manchester United, and Liverpool have all welcomed former players back with open arms in the past. The act of coming home after having explored greener pastures has been repeated multiple times in the history of football. These are 7 of the famous players who let bygones be bygones and rejoined their former club.
1) Cristiano Ronaldo – Manchester United
Man of the hour Cristiano Ronaldo is the greatest icon to re-sign for a former club, and deservedly so. Manchester United signed Ronaldo from Sporting CP in 2003. He went on to help Manchester United to three Premier League titles and the 2007-08 UEFA Champions League trophy, amongst other titles. After bagging his first Ballon d'Or in 2008, Ronaldo joined Real Madrid in the summer of 2009, becoming the most expensive player in the club's history.
His insane goal-scoring, explosive pace, and leadership helped Real Madrid to two La Liga titles and four UEFA Champions Leagues in 9 years. Ronaldo won four more Ballons d'Or during his time with Real Madrid. His spell with Juventus between 2018 and 2021 was not the best, but Ronaldo still managed to make his mark, scoring over 100 goals in the short time span.
Now confirmed to return to Old Trafford, Ronaldo will look to end his illustrious career in the best possible manner. Helping Manchester United to their first Premier League trophy in nine years will only further bolster his position as one of the greatest icons the world of football has ever seen.
2) Diego Maradona – Boca Juniors
Words are not enough to describe the genius of Diego Maradona. He was an outright sensation with the ball at his feet and had the quality to score the most ridiculous of goals. He had the capability to turn any game on its head on his own, and Boca Juniors were more than happy to have their world champion back.
Granted, Maradona's best days in club football came for Napoli, but he was still a capable performer for Boca Juniors. During his first spell, in 1981, he scored 28 goals in 40 appearances across all competitions. In his second spell, he spent three seasons at the club, scoring 7 goals in 31 appearances. The World Cup hero did not have the best of runs during his return, but his status as an icon certainly cannot come into question.
3) Kaka – AC Milan, São Paulo
Ricardo Kaka is one of the best footballers Brazil has ever produced, and no fan who has had the privilege of seeing him on the pitch would tell you otherwise. He had finesse, charm, poise and precision, and, on his day, he had the quality to break any defense single-handedly. In 2007, Kaka won the Ballon d'Or during his fourth season with AC Milan, becoming the only player to beat both Cristiano Ronaldo and Lionel Messi in the home stretch. He kept up his fine form in 2008, as well, which won him a move to Real Madrid in 2009. Injuries and tussles with coach Jose Mourinho reportedly made the 2002 FIFA World Cup winner's life miserable. He eventually returned home to Milan as a free agent in 2013.
He spent a year at the club in his second stint, scoring 9 goals in 37 appearances across all competitions. After Milan failed to qualify for European competitions, Kaka signed for future MLS side Orlando City in 2014. Notably, until Orlando City officially entered the MLS, Kaka was loaned out to his very first club – São Paulo. The temporary move saw him return to not just one, but two of his former clubs during the course of his career. He scored 3 goals in 24 appearances across competitions for the Brazilian side before eventually moving to Orlando in 2015.
4) Wayne Rooney – Everton
Ask any Manchester United fan and they will wholeheartedly endorse Wayne Rooney as one of their all-time greats. The former England international was an icon at Manchester United, scoring 253 goals in 559 appearances across competitions at the club. He won 5 Premier League titles and the 2007-08 UEFA Champions League alongside other accolades.
After his spell with Manchester United came to a close in 2017, Rooney decided to go back to Everton, the club that made him. Despite signing a two-year deal, Rooney could only complete a single year at Goodison Park. He never managed to settle in under manager Sam Allardyce. He also had to play in a plethora of positions including as a deep-lying playmaker to justify his place in the team. After 40 appearances and 11 goals in his second stint, he signed for MLS side DC United.
5) Thierry Henry – Arsenal
No discussion of great forwards can be completed without paying an ode to the great Thierry Henry. The Frenchman was the definition of ruthlessness and artistry at one point, and Arsenal were lucky to see him don their jersey over two spells. Henry was signed by Arsene Wenger in 1999 and served the club faithfully for eight seasons. Despite taking his time to start firing, Henry finished his first season with 26 goals. He bettered his tally in the 2002-03 season, registering a total of 32 goals and 23 assists across all competitions. Apart from helping Arsenal to the 2001-02 Premier League title, he was one of the driving forces behind the Invincibles – Arsenal's unbeaten title-winning campaign in the 2003-04 season.
Henry, who was the only player to win the FWA Footballer of the Year award three times, returned to the club in MLS's off-season in 2012, signing a two-month contract. He only made 7 appearances in all competitions and scored a couple of goals, but his strike against Leeds United in the FA Cup third round won a special place in Arsenal history.
6) Robbie Fowler – Liverpool
Known as 'God' by Liverpool fans, it's fair to say Fowler was adored by the red half of Merseyside. He broke fans' hearts by leaving for Leeds in 2001, where he would spend two years before joining Manchester City. After being released by City in 2006 following a spate of injuries and a worrying lack of form, Fowler would go on to score another 12 goals for the Reds, including eight in the Premier League.
7) Paul Pogba – Manchester United
Pogba made just seven first-team appearances for Man Utd, having worked his way through the youth ranks. Then at age 19, the French ace joined Juventus where he would forge a reputation for being one of the best midfielders on the planet. In 2016, United splashed a then-world-record £89m to bring him back to Old Trafford. And while his form has been up-and-down ever since, with his stint littered with speculation of a move elsewhere, Pogba has proven that on his day he is unstoppable.
Sources: Sportskeeda.
(Video) Unbelievable! These Several School Punishments Goes Beyond Limits!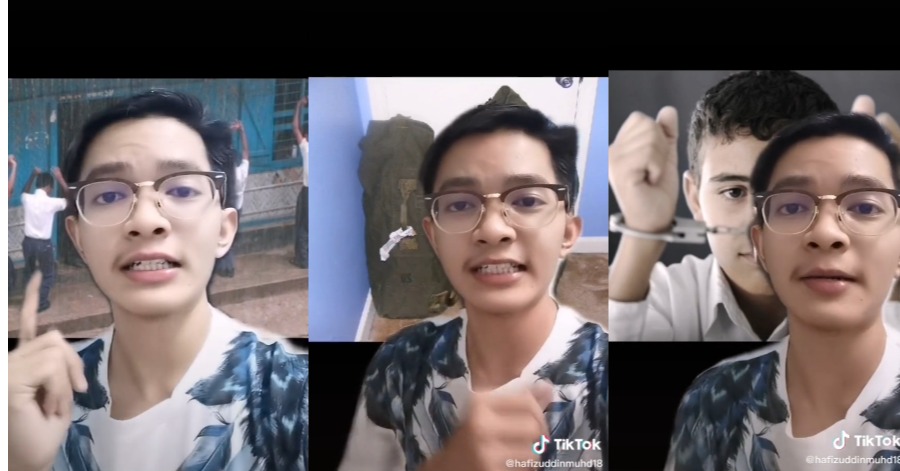 Punishment or in other words, correction in school is necessary when it comes to educating children. Some common types of punishment are standing outside class, squats, seeing the principal, and many more. However, there are some cases where punishments go beyond limits, and here are some of them.
Through a video uploaded on TikTok by @hafizuddinmuhd18, there are several types of punishments imposed by teachers on students that can be said to be quite outrageous
There was one teacher in Albuquerque who called the police because one of her students 'belahak' in class. As a result, the student was put into juvenile prison. However, later on, the teacher was found guilty because what she did was considered child bully.
Then we have another teacher in New Jersey who stuffed a child into a bag. The victim was only 9 years old. He was in the bag for almost 20 minutes because he was mischievous. After the incident, it is said that the teacher was fired.
Another incident happened in New Jersey where a child split water. The teacher then forced all her students to eat on the floor for about 10 days. Soon after, the school was fined USD $500.
There's a saying that goes 'correction is the first step to success'. Correcting is never wrong but it always depends on the method used.
Sources: TikTok Muhd Hafizuddin
Muhammad Faris Nabil's 21-Day Sacrifice To Ward Off Invisible Enemy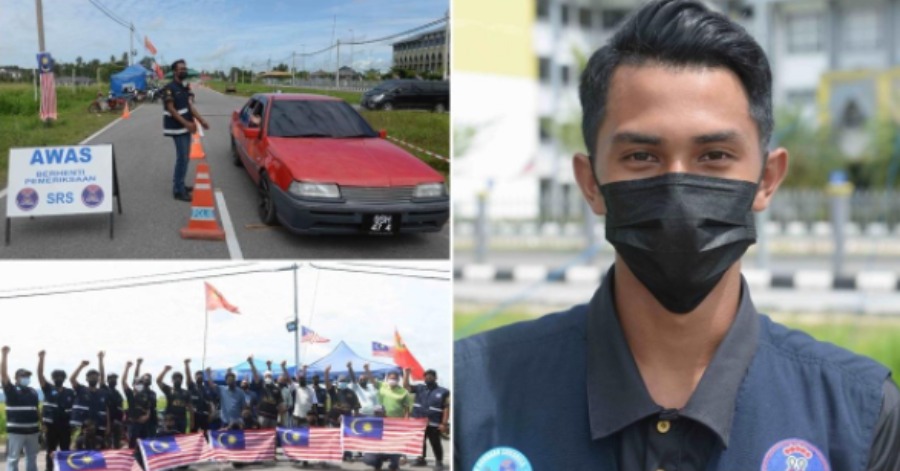 KODIANG,  Sept 2 — Muhammad Faris Nabil Zaidi  went "missing" for 21 days from his house in Kampung Siputeh near here, sacrificing the comfort of home, out of a sense of responsibility to keep villagers  safe from the invisible 'enemy'.
The 20-year-old man was among 23 youths who volunteered to take turns to man a checkpoint set up by Kampung Siputeh Rukun Tetangga Community (KRT) from last Aug 7 to 27 to prevent COVID-19 from spreading into the village.
"I felt like I was an army recruit having to face the enemy while controlling traffic entering the village when manning the checkpoint, which  set up at the main road leading to the village.
"I volunteered to do it because I feel it is my responsible to protect the villagers and their families from this very dangerous and invisible enemy called COVID-19," said Muhammad Faris Nabil when met by Bernama.
He said the KRT management provided a place for him and the other volunteers who manned the checkpoint to stay throughout the 21 days as they were not allowed to go home for the  safety of their respective family members.
"It's a small sacrifice, but I feel very happy and proud to be able to do my bit to ensure the safety of the villagers from COVID-19," he added.
Muhammad Faris Nabil said he asked for his mother's permission before joining the other volunteers to man the checkpoint.
"Since I could not go home, she would call me everyday to ask about my condition, whether I was okay, had taken my meals, but the most meaningful lesson I got when I was one of the volunteers at the checkpoint is that it teaches me to be more disciplined, trustworthy and more responsible," he added.
Meanwhile, vice-chairman of the village KRT, Fadilah Saad said residents in the village, especially the young people, are active in volunteer activities.
 "Those who volunteered to man the checkpoint did it voluntarily. They are not paid any allowance," he said, adding the checkpoint was set up with the permission of the police and the Health Ministry.
He said the volunteers took turns to man the checkpoint, with three people on duty every four hours.
The volunteers also conduct patrols in the village.
He said outsiders could not enter the village if they had no important matters to attend to and delivery of goods in the village was allowed only until up to the checkpoint to avoid outsiders bringing the virus into the village.
"If there is a need to pay delivery charges, anyone who works at the control post will pay first and the KRT management will refund it. The package will then be sanitised before it is sent to the recipient,"  he added.
Sources: BERNAMA