Britney Spears' Father Agrees To Step Down As Conservator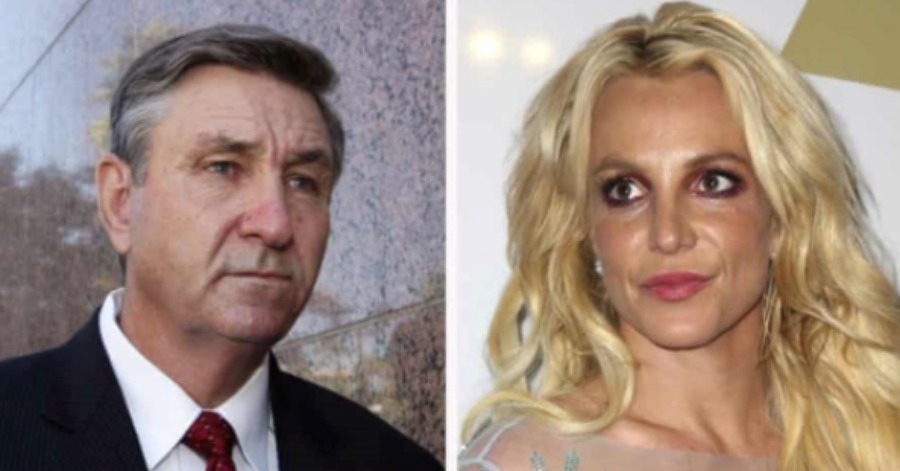 WASHINGTON, Aug 13 — Britney Spears' father, James Spears (also known as Jamie), has agreed to step down as the singer's conservator, Sputnik reported, quoting media reports citing court documents .
At a June 23 hearing, the singer complained to the court in Los Angeles that her family's actions traumatised and made her unhappy. The 39-year-old claimed that she was not allowed to visit her friends, was forced to work long hours against her will and was drugged when she disobeyed, among other things.
"Nevertheless, even as Mr Spears is the unremitting target of unjustified attacks, he does not believe that a public battle with his daughter over his continuing service as her conservator would be in her best interests. So, even though he must contest this unjustified Petition for his removal, Mr Spears intends to work with the Court and his daughter's new attorney to prepare for an orderly transition to a new conservator," one of the documents says, as quoted by the TMZ news outlet.
The document added that the father had never forced his daughter to do anything, including performances.
Britney Spears, who was one of the most famous world singers at the beginning of the 21st century faced mental issues as well as drug and alcohol addictions following a divorce in the late 2000s. In 2008, she was placed under temporary conservatorship, which later turned termless.
Sources: BERNAMA
More Than 20 Million of Adult Population Fully Vaccinated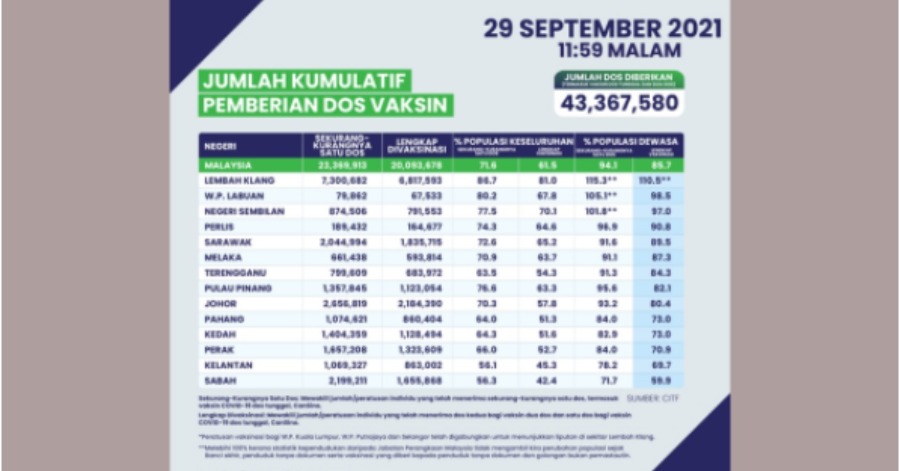 KUALA LUMPUR,  Sept 30  –A total of 20,053,472 individuals or 85.7 per cent of the adult population in the country have completed their COVID-19 vaccination as of yesterday.
Based on the Health Ministry's data on COVIDNOW, 22,017,043 individuals or 94.1 per cent  of the adults in the country have received at least one dose of the vaccine until yesterday.
It also showed 40,206 individuals or 1.3 per cent of the adolescents, comprising those age between 12 and 17, having completed the vaccination as of yesterday.
A total of 310,661 doses of the vaccine were dispensed yesterday, with 190,599 doses as first dose and 148,062 doses to second dose recipients, bringing the number of doses dispensed under the National COVID-19 Immunisation Programme (PICK) to 43,367,580.
PICK was launched on Feb 24 this year to curb the spread of the COVID-19 pandemic.
Meanwhile, a total of 208 deaths due to COVID-19 were reported yesterday (Sept 29),  with 68 of them brought in dead (BID),  bringing the total death due to the virus in the country to 26,143.
On the total death reported yesterday, only 88  cases were the actual deaths reported for the day, while the rest were backlog cases.
Sources: BERNAMA
(Video) Witness Dinosaurs Back From Extinction In Sabah, This Is 'Jurassic Land Kiulu'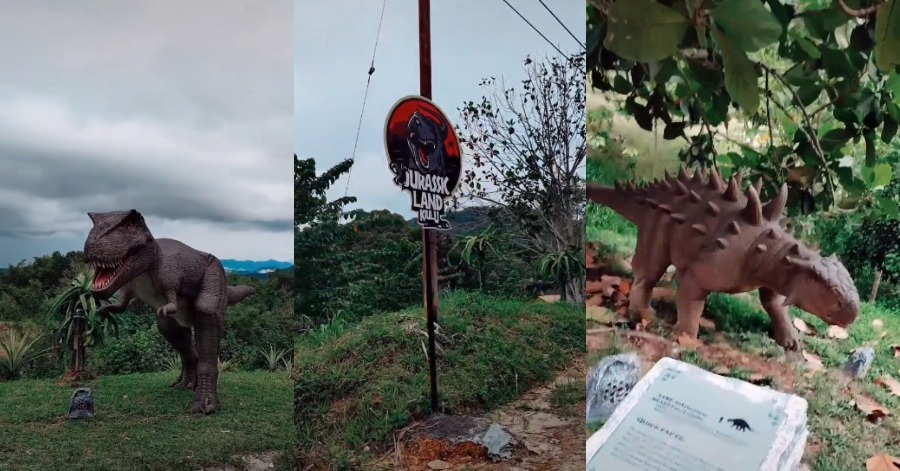 Jurrasic Land Kiulu is absolutely a brand new tourism attraction located specifically in Sabah and it is definitely Southeast Asia's answer to the famous Jurassic Park. This is because the particular family park is actually inspired by the Jurassic Park movie franchise and it is to offer such a unique experience to all the visitors that wanted to come.
The park will feature amazing animatronic dinosaurs placed strategically around the three-acre land to aim for Jurassic Land Kiulu to become the next eco-tourism destination in Sabah. It is managed by Visiont Ventura and the particular park also would boast a cafe, flying zip-line, jumpoline, and also cycle-8 park just for public viewing.
This dino-themed family attraction will be the talk of Kota Kinabalu as it lies in the Tuaran district. In a matter of fact, Kiulu was finally selected due to the natural environment and also eco-tourism opportunities there. To make things more interesting from the park, all the visitors would have unobstructed views of majestic Mount Kinabalu.
Dinosaurs that are found there:
Tyrannosaurus Rex
Velociraptor
Pteranodon
Triceratops
Stegosaurus
Spinosaurus
Dilophosaurus
Ankylosaurus
Jurassic Park Kiulu Address:
Kg Bungalio
KM 3.5 Jalan Kiulu Tamparuli
89250 Sabah, Malaysia
1. Weekday Ticket Prices (Adult – RM25, Children & Seniors – RM15)
2. Weekend, Public and School Holidays (Adult – RM35, Children & Seniors – RM25)
3. Annual Pass (Adult – RM150, Children & Seniors – RM100)
Sources: TikTok Fanuel Abel, Facebook Jurassic Land Kiulu.
Malaysian Ambassador To Lebanon Hands Over Letter of Appointment To President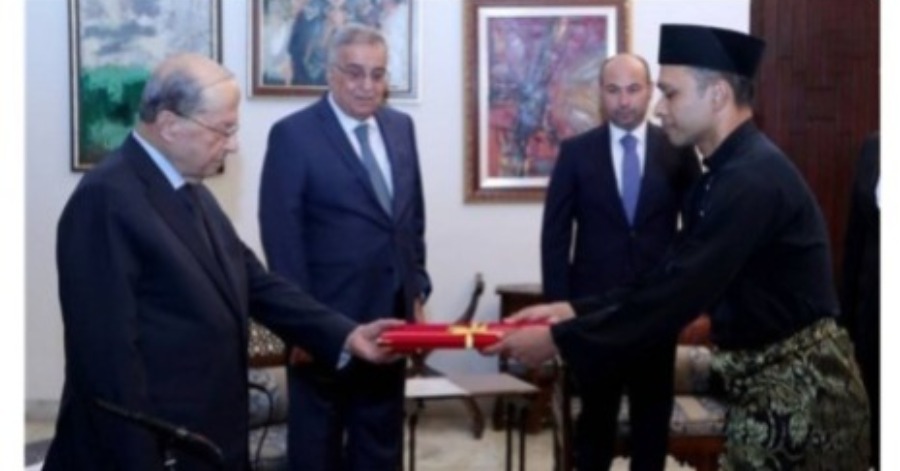 KUALA LUMPUR, Sept 29 —  The new Malaysian Ambassador to Lebanon, Azri Mat Yacob, handed over the letter of appointment to the President of the Republic of Lebanon Michel Aoun in a ceremony, yesterday.
During a meeting with the President after handing over the letter, Azri underlined that he will continue to work to further strengthen existing bilateral relations, as well as strengthen cooperation at the international level and trade relations between the two countries.
According to a statement from the Malaysian Embassy in Lebanon sent to Bernama through Wisma Putra, Aoun welcomed the commitment and also expressed his hope that cooperation between the two countries could be further enhanced in the future.
"Diplomatic relations between the two countries were established in 1965 and since then, the two countries have established good and friendly relations." said the statement.
The Malaysian Embassy in Beirut was opened in 2005 and a total of 850 officers and members of the Malaysian Battalion (MALBATT) were also in Southern Lebanon to maintain peace and carry out the United Nations Interim Force in Lebanon (UNIFIL) mission.
Since 2007, the MALBATT team has been involved as one of the peacekeepers to enforce United Nations Security Council Resolution 1701.
Azri started his career as an Administrative and Diplomatic Officer and served in the Ministry of Foreign Affairs since 2001. Prior to his appointment as Malaysian Ambassador to Lebanon, he was the Secretary of the Communications and Public Diplomacy Division, Wisma Putra.
Sources: BERNAMA