Celebrating Merdeka From Home? You Can Do It In 5 Great Ways!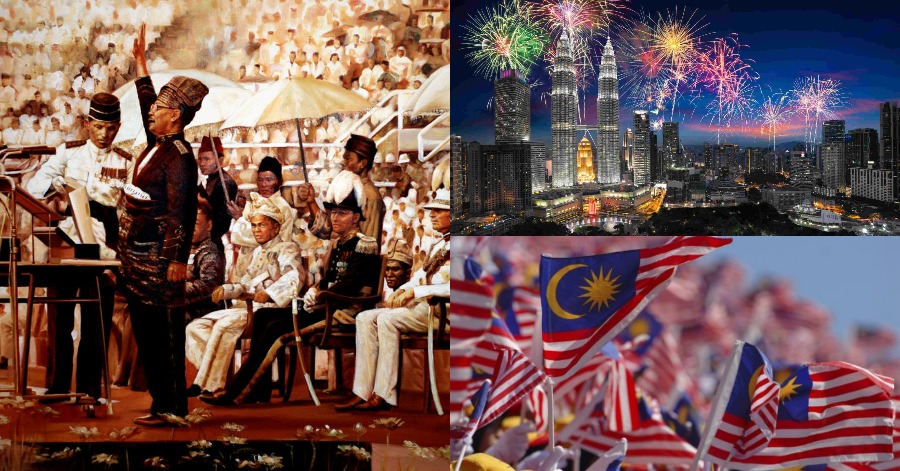 Only a few days till our Independence Day! Imagine those colorful parades, flags everywhere, Merdeka songs, fireworks, and lots more. Our country's independence day falls on 31st August every year. This year will be our 64th year of independence.
Despite our country going through the National Recovery Plan, there are still many ways we can show our love towards the country from our home. Here's some way you can try:
1. Watch Merdeka-theme movies
Don't let the pandemic slow you down. Huddle up and binge-watch Merdeka-theme or any Malaysian movies that will definitely bring your patriotism spirit alive. Here's a suggestion, Mukhsin, admire the elitism of the Malaysia Special Force Naval unit in Paskal or watch the wacky romantic comedy All Because of You to appreciate Desaru's beauty.
2. Virtual karaoke
It is super easy to host meetings through Zoom, Google Meet, Whatsapp calls or Microsoft Teams. To make your karaoke session smooth, download Watch2Gether- a free social video website that enables you to sync videos and content with your party.
The app enables everyone in your karaoke group to watch the same YouTube videos at the same time. Then, create a room, search for the karaoke version of the song, and queue it using the sign +. What's more, party your way!
3. Play traditional games
In Malaysia, we have various traditional games from different cultures. Some of it are batu seremban,kelereng and congkak. The kelereng is a Malay traditional game of marbles requires the players to flick their opponent's marble out of the battleground, or into a hole that's dug into the ground.
Next we have the Batu Seremban. Compete with each other by tossing tiny bean bags and advancing to the next level. The one who tosses and catches fast is declared the winner. Test your maths skill with the congkak game. Anticipate your opponent's strategy and beat them by clearing those marbles from your side of the board.
Have your very own competition at the convenience of your home with your family and friends.
4.Display flags
One of the easiest ways to show your patriotism is by hanging the Jalur Gemilang flags around. During this time, we can see many housing areas hanging flags on poles, balcony, and even their cars. Some citizens prints their own Merdeka t-shirt or put it on the outside that resembles the colors of the Jalur Gemilang flag.
5.Make your own Merdeka pizza
Here's a recipe by Chef Zam, a home-based chef that replicates the national flag on pizza!
You'll need:
1 big red onion (minced)
3 – 4 pips of garlic (minced)
300 gm. chicken fillet or breast (seasoned with salt, pepper, corn flour, and oyster sauce)
For the topping and sauce:
Olive oil
1 big red onion (sliced)
1 red capsicum (diced)
1 yellow capsicum (shaped it into a crescent moon and star)
Shredded Mozzarella cheese
1 pre-made pizza base. Alternatively, you can use ready-made roti paratha (or frozen flatbread).
Prego or Kimball carbonara pasta sauce 
Oregano, pepper. and salt to taste
Sliced sausages or chicken salami (to form the "blue" area of the flag)
Method: 
Start by frying the pizza toppings. Sauté red onions and garlic with olive oil until fragrant.
Next, add in your chicken slice. Once tender, add in your pasta sauce and cook for 3 minutes till it thickens
Spread the pasta sauce onto your pizza base.
To create the 'blue area', add the sliced sausages or chicken salami. Then place the carved-out capsicum star and moon.
For the red and white stripes, arrange the diced capsicum in a row, followed by the grated mozzarella horizontally to create the white stripes. Repeat this until the pizza base is covered.
Bake it for about 5 minutes at 170℃ and you're done!
There's nothing compared to the actual way we have always celebrated our independence day. However, with the pandemic still going on, it is best that we stay safe at our various home. That doesn't mean we have no love towards our country it is because we can still show our patriotism from wherever we are
Wishing all of you Happy 64th Independence Day in advance!
Sources: Celcom
Food Review: Pleasing To The Eyes And The Taste, New 'Love Rose Cornetto'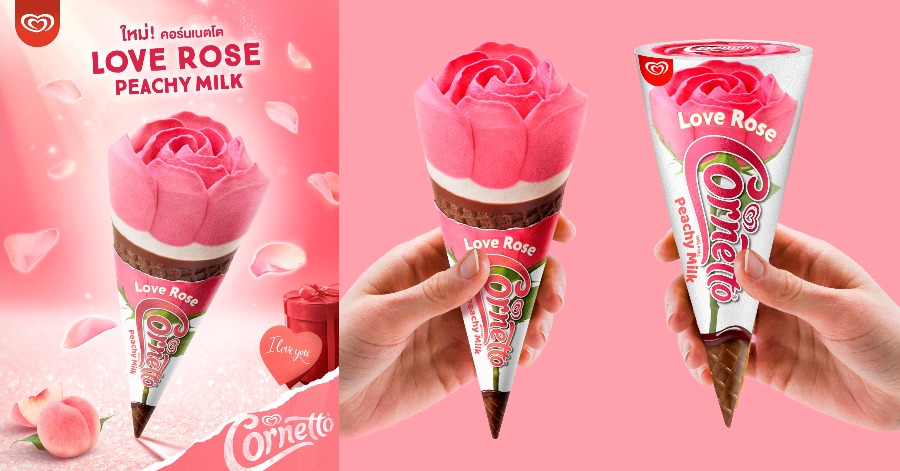 Recently, Wall's company has introduced a brand new Cornetto ice cream that has also entered Malaysia and that is the 'Love Rose Cornetto' ice cream. This particular ice cream is definitely something to try because it is not just pleasing to the taste, but it is also pleasing to the eyes. It is because the ice cream is rose in shape. So exciting as you are literally like holding a rose in your own hand while eating the ice cream. What an amazing experience to undergo.
For all Malaysians, you guys can get one of these amazing ice creams for the price of only RM3.50 at any place that sells Wall's ice creams such as 7-Elevens, mart at Petronas, 99 Speedmart, and others. The price is so affordable for an ice cream created like that. You should get yours today to excite your smell and also taste buds while eating it.
Based on my personal opinion, it tastes and is also amazing. That is a great feature of ice cream. The rose on top is actually a sweet peachy milk flavor which is something you can smell as soon as you open it. It does give out a strong sweet scent. Just one bite of the ice cream and you can enjoy a blend of peach and vanilla. The combination is great.
After that, you will find your favorite chocolate-filled cone tip at the end if you keep on going to eat it. The taste is balanced so well and you cannot possibly stop on just one. You might be thinking to have more at one time but just keep in mind that it is ice cream. You probably want to eat it again some other time. All in all, it is recommended.
Sources: Wall's Malaysia.
Food Review: 'Jibril', A Must Visit Hidden Cafe In SS15 Subang!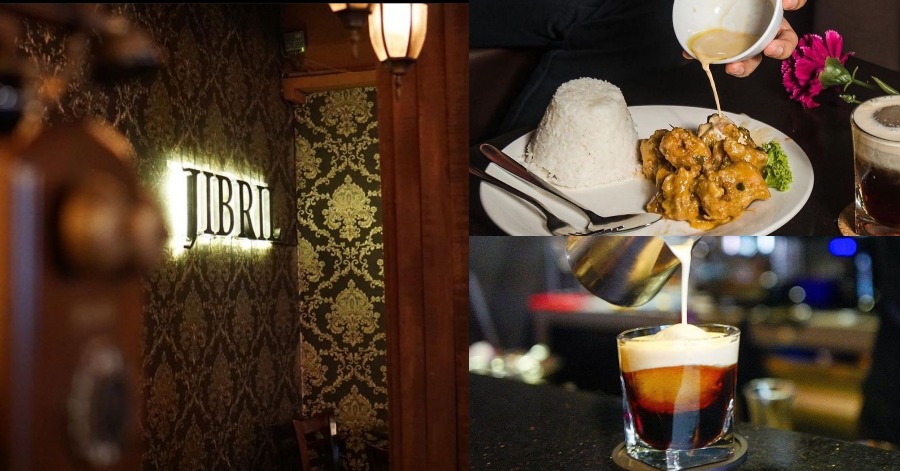 Now if you guys remember Harry Potter movies, one interesting scene would be the Platform 93/4, where Hogwart kids run into a brick wall to get to the other side. Of course, it is impossible in the real world but at one point I thought maybe I should be doing that!
I've come across many restaurants and their doorway to dine in is super simple and obvious. This particular restaurant, however, got me thinking if I'm at the right spot or just met a dead end. Talk about appearance is deceiving and it is definitely true!
Jibril is a hidden cafe located in SS15 Subang. There's a reason people call it hidden and because it's a secret hidden cafe, figuring out where Jibril's secret door can be a little confusing. The hint is it's along the brick wall!
With a decor that resembles that of a speakeasy bar from that era, you can know right away that you're going to have a fantastic time here. Usually, a speakeasy is a retro-style bar that serves alcohol. But not Jibril. Though it may seem like a bar concept, Jibril is 100% halal and is thus, Muslim-friendly.
Jibril serves all kinds of local artisan foods and beverages. One crowd-puller dish is their salted egg butter chicken. Jibril's signature dish, combining the luscious savouriness of salted egg chicken thigh meat with the creamy sweetness of butter chicken, has become legendary and a favourite among its customers. For seafood lovers, you can enjoy mouthwatering salted egg butter with squid and prawns.
For breakfast, rather than the old-fashioned nasi lemak, you can try their nasi lemak butter chicken. If you're used to classics like beef rendang, fried chicken, and sambal paru, the butter chicken will introduce you to a new way to experience Malaysia's champion breakfast.
Apart from their signature dish, the red butter chicken, coconut butter chicken, and butter chicken chop pasta are among standouts on the menu. You can also order something nice from their Western menu to get into the Gatsby mood. Some of the must-try dishes include New Zealand beef ribs, pan-fried chicken, fish and chips, and carbonara chicken ham.
Having a bar concept and not speaking of their beverages would be a crime. Jibril has a mocktail bar where you can order delicious non-alcoholic mocktails. Served after JK Rowling's works, Potter is a non-alcoholic butterbeer inspired by Harry Potter and a popular choice among regulars. Foamy root beer with a pronounced butterscotch flavour is the best way to describe this beautiful drink. It's served with an ice sphere around which the foam builds. Trust me, it is a must to try this imaginary drink that has been brought to life. It kind of tastes like the A&W root beer float but with a more buttery taste.
But wait, there's more. Because the co-founders are also mixologists, they produced other celebrity-inspired drinks like Bond (non-alcoholic red wine and grapes), Monroe (non-alcoholic white wine and berries), and Gandhi (non-alcoholic white wine and berries) (teh tarik, lychee and gula Melaka). All free from alcohol so you can have it as much as you like.
Jibril should surely be your next hangout location if you're touring Subang Jaya's neighbourhoods. Check out Jibril and its amazing food at SS15 today but be careful not to run the brick wall!
Sources: Jibril
Lavish Dessert Ever Known, These Are 5 World's Most Expensive Ice Creams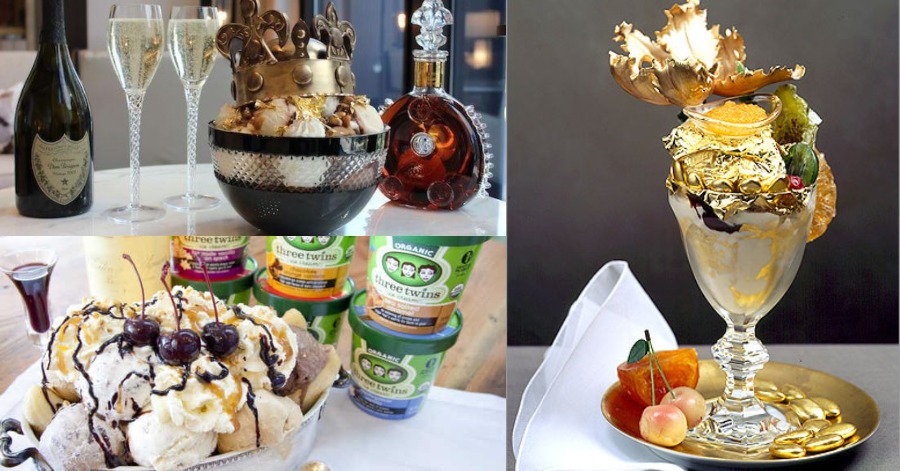 Ice cream is actually a sweetened frozen food typically eaten as a snack or dessert. It may be made from dairy milk or cream and is flavored with a sweetener, either sugar or an alternative, and spice, such as cocoa or vanilla, or with fruit such as strawberries or peaches. The mixture is cooled below the freezing point of water and stirred to incorporate air spaces and to prevent detectable ice crystals from forming. Those are the simple ways on how to make ice cream.
The result is a smooth, semi-solid foam that is solid at very low temperatures, below 2 °C or 35 °F. It then becomes more and more malleable as its temperature increases. Around the world, many people are getting creative on how to eat this frozen dessert. As a result of that, the price of certain ice creams that was made also has gone up. For those who might not know about it, these are 5 world's most expensive ice creams ever made all over the world.
1) Absurdity Sundae – $60,000 (RM251,220)
The Absurdity Sundae is created by the Three Twin Ice Cream Company. It costs a staggering $60,000. However, the makers of this sundae are not in it just to make money. They take from the price the cost of the ingredients used to create the dessert and then the profits are given to an African charity that focuses on conserving the environment. Unfortunately, there is an additional cost in sampling this treat as you will need to pay for your airfare to Tanzania as this is the only place that serves the Absurdity Sundae.
2) Three Twins Ice Cream Sundae – $3,333 (RM13,955)
The makers of the Absurdity Sundae also have a more affordable dessert option that is simply called the Three Twins Ice Cream Sundae. At $3,333.33, this is just a fraction of the cost of this company's other extravagant dessert. There is an element of fun to this dessert as it is served like a banana split that is topped with a range of unusual syrups made from rare dessert wines. A third of the price of this sundae is given to a land trust.
3) The Victoria – $1,000 (RM4,187)
The Victoria is a special ice cream dessert that is only served at the Pavilion Restaurant at the Langham Hotel in Chicago, Illinois. The sundae contains both vanilla and chocolate ice cream that are laced with Hennessy VSOP cognac. It is then sprinkled with gold dust and topped with 24-karat gold leaf. To enjoy this sundae will set you back $1,000.
4) Golden Opulence Sundae – $1,000 (RM4,187)
New York City's Serendipity 3 also offers a more economical version of its Frrrozen Haute Chocolate Sundae called the Golden Opulence Sundae. If you want to sample this sweet treat, you need to let them know 48 hours in advance of your visit, so they can prepare the dish for you. It has a glass goblet rather than a gold goblet but still comes with a gold spoon. This exclusive dessert comes at a cost of $1,000.
5) Scoopi's Black Diamond – $817 (RM3,420) per scoop
Although most of the expensive ice creams come in the form of a sundae with additional ingredients added to the ice cream, there are also ice creams that you can buy per scoop that also cost extortionate amounts. The most expensive of these is Scoopi's Black Diamond ice cream which is available for $817 per scoop. The basis of the ice cream is a simple Madagascar vanilla bean flavored ice cream. It costs so much because of the other ingredients added to this base. These include 23-karat gold flakes, rare ambrosial Iranian saffron, and Italian truffles. The single scoop of delicious ice cream is served in a Versace bowl with a matching spoon that customers can take away as a keepsake of their dining experience.
Sources: Money Inc.