Food Review: COVID-19 Variant Getting Stronger, Try These 5 Foods To Boost Immune System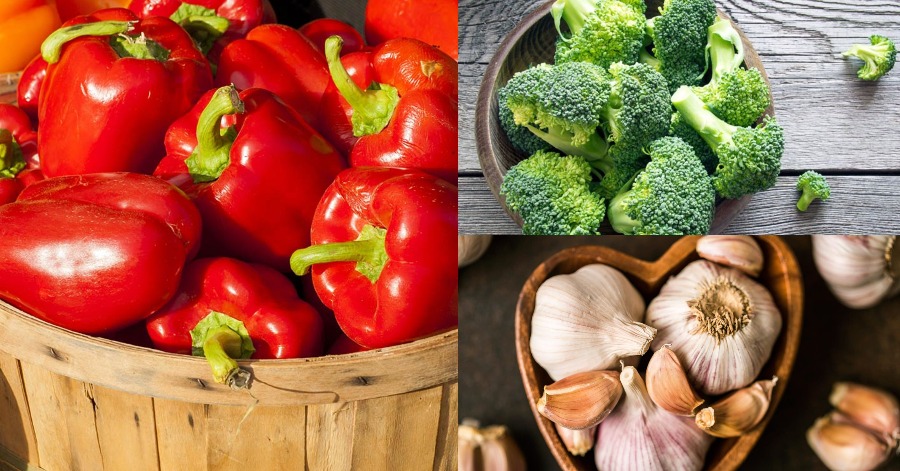 COVID-19 cases continue to rise, taking daily precautions such as washing your hands, social distancing, exercising, and getting enough sleep is key to lowering the risk of infection. COVID-19 was declared a global pandemic by the World Health Organization. Maintaining a healthy diet to help boost your immune system may also give you an edge.
Individuals with certain pre-existing illnesses like diabetes, hypertension, cardiovascular disease, and respiratory issues are at a higher risk of having COVID-19 complications, it also aggravates with age as the general immunity reduces as you get older. It is important for your immune system to stay in tip-top shape. Try these 5 foods.
1) Yogurt
Yogurt is a great source of probiotics, which are good bacteria that can help promote a healthy gut and immune system. Recent studies have also found probiotics to be effective for fighting the common cold and influenza-like respiratory infections. Sarin recommends choosing plain yogurt rather than anything too flavored or sweetened and topping it with fruit and honey.  Those on a dairy-free diet can still benefit from almond milk and coconut milk yogurt options.
2) Broccoli
Broccoli is also rich in vitamin C. Just half a cup contains 43% of your daily value of vitamin C. Broccoli is packed with phytochemicals and antioxidants that support our immune system. It also contains vitamin E, an antioxidant that can help fight off bacteria and viruses. To get the most out of this powerhouse vegetable, eat it raw or just slightly cooked.
3) Garlic
Not only is garlic full of flavor, but it's packed with health benefits such as lowering blood pressure and reducing the risk of heart disease. Garlic's immunity-boosting abilities come from its heavy concentration of sulfur-containing compounds, which can help fight off some infections. Garlic has been shown in the past to help ward off the common cold. It is an easy vegetable to work into your diet. You can add to it anything from pasta sauce and salad dressings to soups and stir-fry dishes.
4) Red Bell Peppers
Red bell peppers reign supreme when it comes to fruits and vegetables high in vitamin C. One cup of chopped red bell peppers contains about 211% of your daily value of vitamin C. That is about twice more than an orange has. Vitamin C contributes to immune defense by supporting a variety of cell functions and can lower the risk of respiratory infections. It can also help the growth and repair of tissues in your body. Daily intake of vitamin C is essential for good health because our bodies do not produce it naturally.
5) Mushrooms
While sun exposure is the best source of vitamin D, it can also be provided by some foods, including mushrooms. Mushrooms as a vitamin D source found that the 'sunshine vitamin' can help enhance the absorption of calcium, which is good for bone health and may also protect against some cancers and respiratory diseases. Mushrooms are great as a side dish or appetizer.
Sources: healthline.
Book Review: Perfect For Teachers, 'Chicken Soup For The Teacher's Soul' Book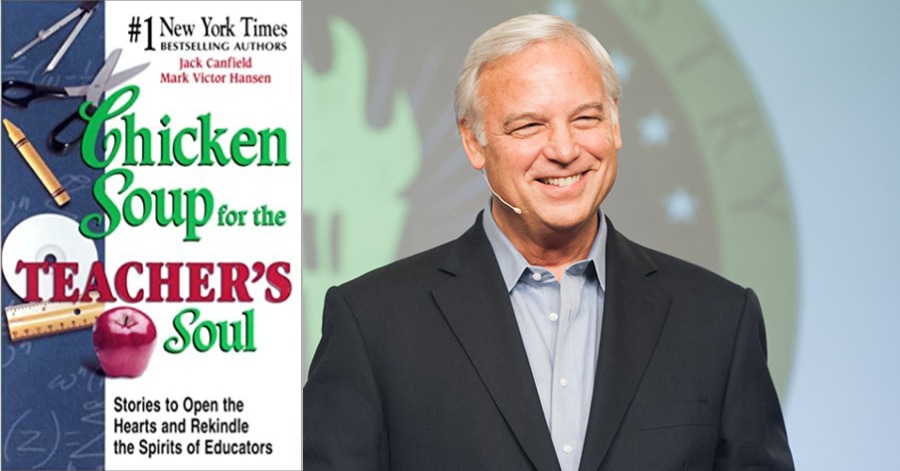 As a teacher, teaching is an important and rewarding career, but it can also be draining and exhausting. Teaching is arguably harder now than ever before for many reasons, including student behavior, rapidly changing technology, and low pay. That is why teachers from all over the world needed some pick-me-up stories that they can read to help.
In this book, it states that most people recall a teacher or two who had a significant impact on their future. In fact, outside the family unit, teachers have more influence on our lives than anyone else. Good teachers help students believe in themselves with a glimpse of what they might become. They go the extra mile to make learning fun and meaningful, they inspire students to dream and broaden their horizons. Teachers have the power to change lives.
Reading this particular book, readers will surely laugh and also cry along with these stories from educators of all ages. Other than that, the book talks about the kids who affected them most deeply, their personal ups and downs as teachers, their funniest moments, their most heartwarming experiences, and lots of great tips for the classroom.
The stories included are touching, fun, and very relatable. This book makes a great gift for any teacher who likes to read. It may also be a good read for parents to get an inside look at the life in the day of teachers. This book is so inspirational. The stories in the book really help the readers to be able to feel rejuvenated again and remind them why then become a teacher. It is such a good book to have around for those days that you need that little reminder.
Sources: Chicken Soup.
(Video) Try These 7 Tips That Can Help You Have A Good Night's Sleep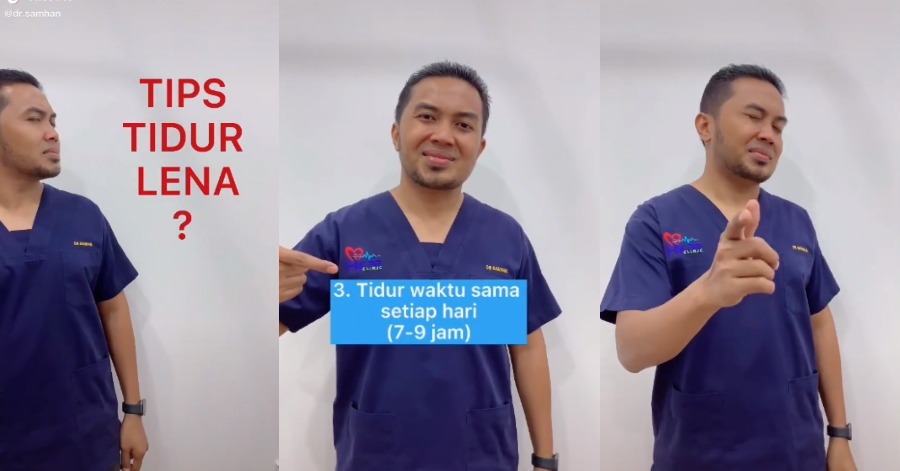 According to facts, adults need in total of 7-9 hours of sleep each night to stay in good mental and physical health, promote quality of life, and also avoid an increased risk of injury. If you are someone who keeps on thinking about all of the factors that can interfere with a good night's sleep such as work stress and also family responsibilities to the unexpected challenges, such as illnesses, it is no wonder that your own quality sleep at night is sometimes elusive.
It is understandable that these might be something that you cannot be able to control, and eventually interfere with your sleep. Because of that, you might want to adopt certain habits that could encourage better sleep for yourself. This is because a good night's sleep for everyone is just as important as regular exercise and also a healthy diet.
Tips to have a good night's sleep:
Make sure that your bedroom is quiet, dark, and also cold (less than 30 degrees Celsius).
Avoid eating 2 hours before sleep.
Have a strict schedule on how long you should sleep every day (7-9 hours).
Stop working 1 hour before sleep.
Learn any technique to calm down before sleep such as some stretching or even meditating.
Do not smoke, vape, or even drink alcohol.
Do not drink caffeine or coffee 4-6 hours before sleep.
Sources: TikTok Dr. Samhan.
More Than 20 Million of Adult Population Fully Vaccinated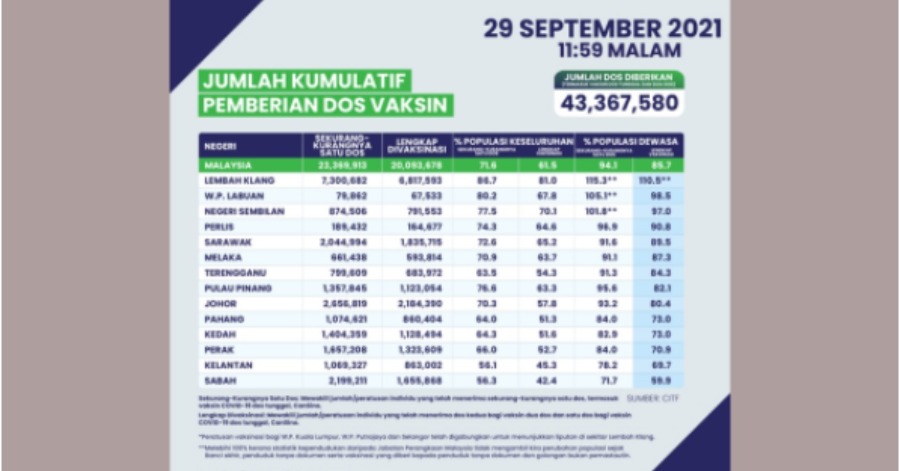 KUALA LUMPUR,  Sept 30  –A total of 20,053,472 individuals or 85.7 per cent of the adult population in the country have completed their COVID-19 vaccination as of yesterday.
Based on the Health Ministry's data on COVIDNOW, 22,017,043 individuals or 94.1 per cent  of the adults in the country have received at least one dose of the vaccine until yesterday.
It also showed 40,206 individuals or 1.3 per cent of the adolescents, comprising those age between 12 and 17, having completed the vaccination as of yesterday.
A total of 310,661 doses of the vaccine were dispensed yesterday, with 190,599 doses as first dose and 148,062 doses to second dose recipients, bringing the number of doses dispensed under the National COVID-19 Immunisation Programme (PICK) to 43,367,580.
PICK was launched on Feb 24 this year to curb the spread of the COVID-19 pandemic.
Meanwhile, a total of 208 deaths due to COVID-19 were reported yesterday (Sept 29),  with 68 of them brought in dead (BID),  bringing the total death due to the virus in the country to 26,143.
On the total death reported yesterday, only 88  cases were the actual deaths reported for the day, while the rest were backlog cases.
Sources: BERNAMA