King Decrees New PM Must Seek Vote of Confidence In Dewan Rakyat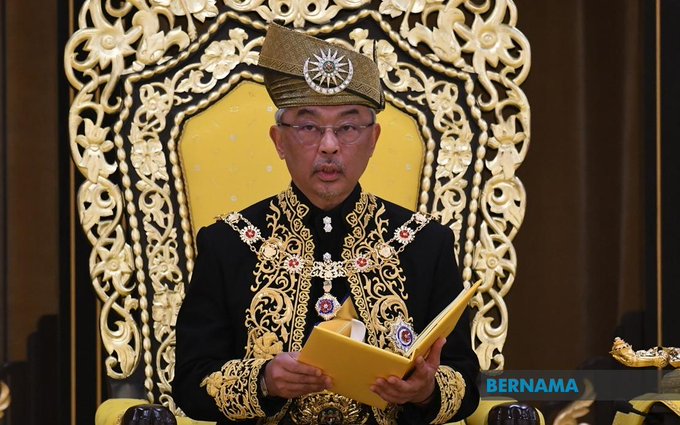 KUALA LUMPUR, Aug 18 — Yang di-Pertuan Agong Al-Sultan Abdullah Ri'ayatuddin Al-Mustafa Billah Shah has decreed that the new prime minister to be appointed must seek a vote of confidence as soon as possible to determine his legitimacy and majority support in the Dewan Rakyat.
Comptroller of the Royal Household of Istana Negara Datuk Ahmad Fadil Shamsuddin, in a statement issued today, said His Majesty had decreed this following an audience with leaders and representatives of major political parties yesterday.
His Majesty decreed that the appointment of the prime minister was in accordance with Article 40(2)(a) and 43(2)(a) of the Federal Constitution.
"In this regard, His Majesty further said that as the Head of State, His Majesty will exercise his duties as the Constitutional Monarch based on the supremacy of the Constitution and the Rule of Law," said Ahmad Fadil.
Also in attendance during the more than 90-minute long audience session yesterday was the Sultan of Perak Sultan Nazrin Shah, who is the Timbalan Yang di-Pertuan Agong.
The Chief Secretary to the Government Tan Sri Mohd Zuki Ali, Dewan Rakyat Speaker Datuk Azhar Azizan Harun and Attorney-General Tan Sri Idrus Harun also attended the audience.
"His Majesty will chair a special meeting of the Malay Rulers to discuss current issues on Aug 20, 2021 (Friday)," he said.
Ahmad Fadil said the Yang di-Pertuan Agong also advised victorious political party leaders and representatives to extend a hand of cooperation to those who are not successful and to work as a team to maintain harmony.
He said His Majesty and the Sultan of Perak expressed the view that a protracted political crisis can jeopardise government administration at a time when the nation is facing the COVID-19 pandemic.
"His Majesty and His Highness stressed that the ongoing political crisis and uncertainties have had a negative impact on the country's economy, and added that due to safety concerns, holding the 15th General Election is not the best option at this time.
He said both Rulers also felt that the need for members of the Dewan Rakyat to unite and for all political parties to work together by focusing on current issues and resolving the uncertainties as soon as possible.
Sources: BERNAMA
COVID-19 Vaccination: Inmates Behind Bars Grateful They Are Not Forgotten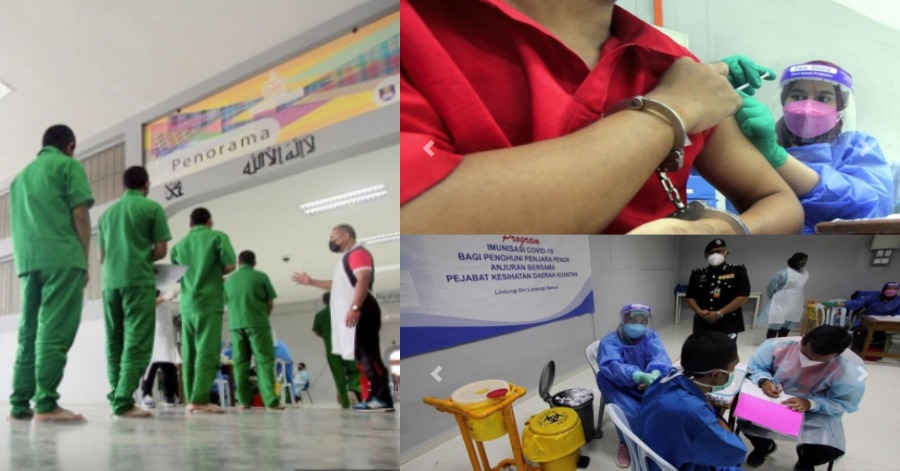 KUANTAN, Sept 29 — Although behind bars, inmates at the Penor Prison here are grateful that they were not forgotten when the government launched the National COVID-19 Immunisation (PICK) programme.
One of them, identified as Tan, 30, said he already knew about the COVID-19 pandemic when he was brought to the prison last February and had wondered if he would also receive the vaccine when PICK was introduced being a prison inmate.
"During a telephone conversation with my parents, they asked me about the vaccination in prison. The next time I get to talk to them, I'll tell them that I'm already vaccinated…I'm sure they will be relieved," he told Bernama.
Tan, from Kuala Lumpur, is serving a two-year prison sentence for violating a police surveillance order, was met by Bernama after receiving his second dose of the Sinovac vaccine at the prison today.
As for  Aizi, 29, from Felda Jengka, Maran, who is serving a five-year prison sentence since 2019 for a  drug offence, said he took up the vaccination in prison  because he was worried there would be no more free COVID-19 vaccination by the time he got his release.
"Although we are in prison, we are told on the importance and benefits of taking the vaccine. I know it is important for our own protection and have been waiting to be given the vaccine," he said.
For Nanthan, 32, who is serving a six-year prison sentence for robbery since middle of last year, his concern was not being registered as a vaccine recipient on the MySejahtera app like other members of his family.
Penor Prison director Fayrouz Ahmad Zawawi said the prison had achieved the herd immunity with  more than 90 per cent of the 1,823 inmates, including foreigners, having been vaccinated.
He said of the total, 408 inmates were given the CanSino vaccine, while the others were given the Sinovac vaccine with the first dose given on Sept 6 and 7.
The vaccination was conducted by 25 health workers under the supervision and assistance of prison staff at a workshop that was turned into a Penor Prison vaccination centre (PPV).
"Those who were vaccinated were also given the COVID-19 vaccination cards, but are kept by the prison and handed over to them upon their release," he said, adding that those who completed serving their time before getting the second dose could get the second dose outside the prison.
Fayrouz said the vaccination programme at the prison, as well as other measures made by the prison authorities, helped to reduce the spread of the epidemic.
He said new inmates sent to the prison are required to stay at a transit centre for 14 days for observation purposes.
After they are confirmed negative, the inmates are again quarantined for six days in jail before being transferred to their respective residential blocks, he said, adding that since last Aug 1, the cumulative number of those in the prison who were confirmed positive was 269 people.
He said inmates confirmed positive with COVID-19 were sent to the COVID-19 Quarantine and Treatment Centre (PKRC) in Bentong Prison.
"We also took the initiative to measure the oxygen level of inmates using the Pulse Oximeter three times a day and those with low readings, will be rushed to hospital," he said.
Apart from that, he said the prison staff would also conduct sanitation process in all cells on a daily basis to ensure safety of the inmates.
Sources: BERNAMA
Parliament: 13 PLKN Camps Converted Into Satellite Prisons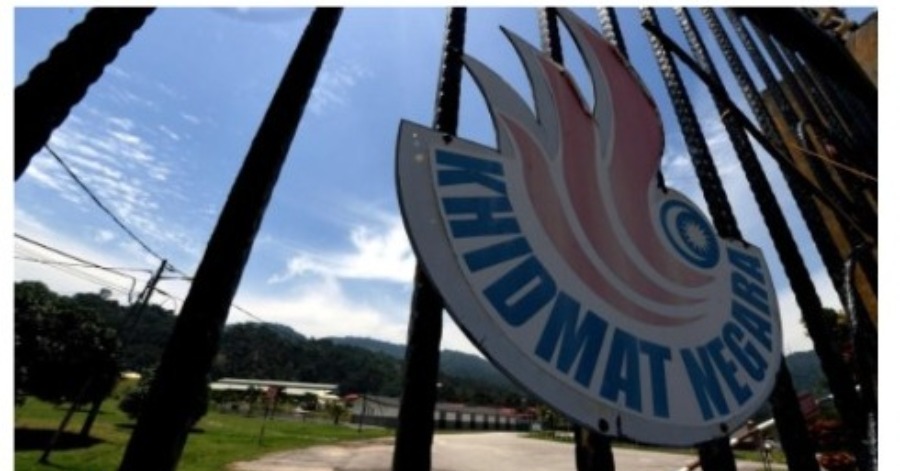 KUALA LUMPUR, 28 Sept  — A total of 13 camps under the National Service Training Programme (PLKN) have been converted into satellite prisons in a bid to reduce congestion and COVID-19 infection in prisons nationwide.
Deputy Home Minister Datuk Seri Dr Ismail Mohamed Said said the satellite prisons were to isolate new inmates before being transferred to main prisons.
"These temporary prisons are gazetted under Section 3 of the Prisons Act 1995 as admission prisons," he said during the oral question-and-answer session in Dewan Rakyat here today.
He said this in his reply to a question from Wan Hassan Mohd Ramli (PAS-Dungun) who asked about the government's plan to solve overcrowding in prisons following a rapid spread of infections among convicts, notably COVID-19 infection.
As of Aug 25, Ismail said based on data from the Malaysian Prisons Department, the total number of inmates in prisons nationwide was 69,507, exceeding the actual capacity of 61,242 people.
He said the cumulative figure for COVID-19 positive cases among convicts and prison staff was 51,123 including nine infants.
Ismail said among other steps taken by the Prisons Department was to transfer convicts to less crowded prisons.
He added that the department had set up transit centres at prisons to house convicts and those under remands who pose minimum security risks, by taking into account the need for isolation based on admission dates.
Responding to a supplementary question from RSN Rayer (PH-Jelutong) regarding COVID-19 vaccination for prisoners, Ismail gave a commitment that all prison staff and inmates will be inoculated.
Sources: BERNAMA
Vaccine: Ongoing Efforts Needed To Raise Awareness Among School Students, Adolescents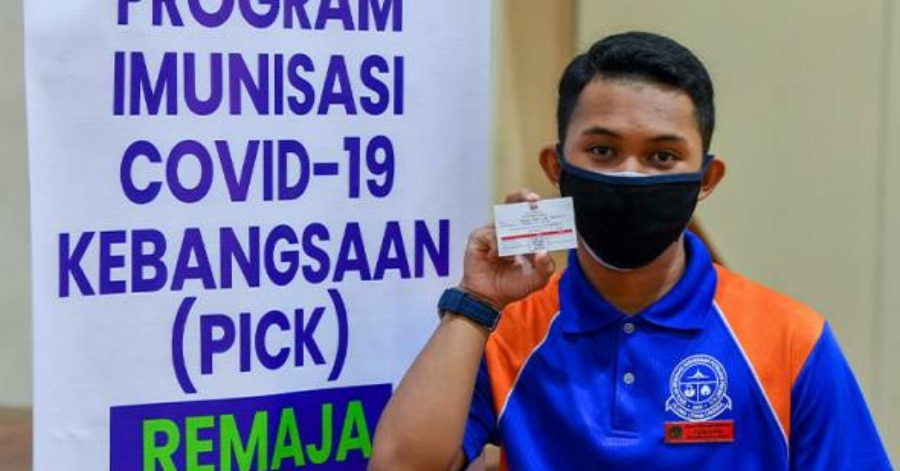 KUALA LUMPUR, Sept 28 — Explanation on the COVID-19 vaccine should be given on an ongoing basis to adolescents or school students so that they are more aware of disease prevention in curbing the spread of the pandemic among the group.
National Union of the Teaching Profession (NUTP) secretary-general Wang Heng Suan said even though there was no law requiring students to take the vaccine, counsellors at State Education Departments, District Education Offices and schools should play their roles in raising awareness on the importance of vaccination to students.
"Vaccination is really important to curb the spread of COVID-19 infection, thus ensuring the education system works well. Administering vaccine to adolescents is the best way to prevent infection among them.
"Parents should understand the pandemic situation and cooperate by registering their children as vaccine recipients so that the country's education ecosystem is not affected," he said to Bernama recently.
Wang said the COVID-19 pandemic was a challenge to teachers and students in continuing the teaching and learning session as it not only involves the life of a patient but also a community or population.
He said NUTP believed that schools would adhere to the standard operating procedures (SOP) stipulated by the Education Ministry, including measures to curb COVID-19 transmission, when students begin to return to school in stages from Oct 3.
The National COVID-19 Immunisation Programme for Adolescents was officially launched on Sept 20 targeting some 3.2 million individuals aged between 12 and 17.
However, the programme started earlier in Sarawak on Sept 8 and Labuan on Sept 11 after the vaccination rate in the state and federal territory achieved 80 per cent while in Sabah, the programme started on Sept 16 because a majority of the teenagers lived in remote areas and needed more time to participate in outreach activities.
Meanwhile, Malaysian Headmasters Council president Sukimin Juki said inoculating school students was the best way to create a safe ecosystem at school.
"Not only teachers, management and support staff that need to be vaccinated, but also students in order to create a safe bubble among them.
"Maybe not 100 per cent, but this is among the best measure to create a safe ecosystem at school at the moment," he said.
Malaysian School Principals Council vice president Mohd Ariffin Abdul Rahman said although school members and students have been vaccinated, the best course of action was to comply with all the SOP that had been outlined.
"We were informed that with vaccination, COVID-19 infection will not be too serious, but if we comply with the SOP, the infection will not occur at all.
"However, if you have been vaccinated but do not comply with the SOP, there is still a possibility of infection. We don't want that to happen so the additional measure is by observing the SOP no matter where we are," he said.
Sources: BERNAMA