Sarcastic Comments Do Not Dampen Sahul Hamid's Spirit To Enliven National Day Celebration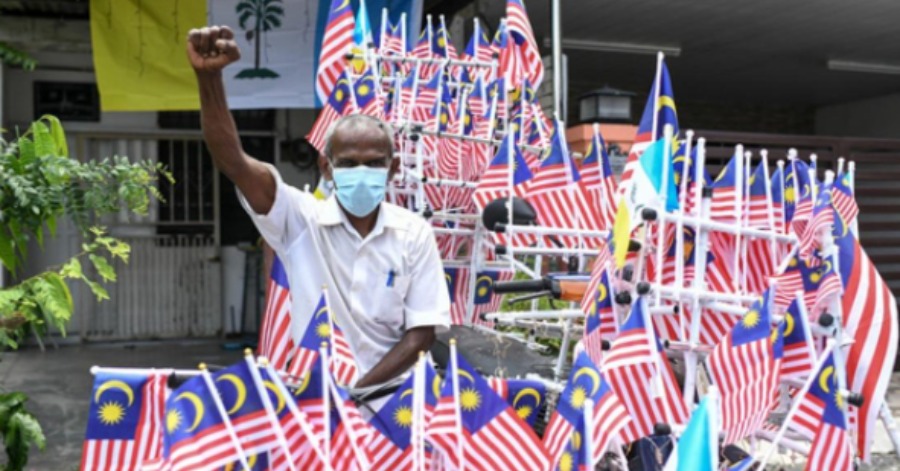 BATU KAWAN, Aug 31 — Despite the sarcasm from some quarters, it did not dampen Sahul Hamid Abdullah's spirit to decorate his motorcycle with the mini-flag of Jalur Gemilang to welcome the National Day celebration.
Sahul Hamid, 53, who has been doing it for past six years, said he regarded the sarcastic comments hurled at him as lack of understanding by the quarters concerned on the true meaning of independence.
"Sometimes people think I'm crazy when they see the Malaysian flag decoration all over my motorcycle. But, I don't care. If only they know the true meaning of independence, then they will understand," he said.
Sahul Hamid, who is a Health Care Assistant at Sungai Bakap Hospital, said his passion in decorating his motorcycle with the Jalur Gemilang for the National Day celebration attracted some motorcyclists, who also did the same with their motorcycles.
"Even the children want to fly the Jalur Gemilang on their bicycles, and this year, for the first time, I'm helping the children in my neighbourhood to decorate their bicycles with the national flag.
"This is what we want because through this small campaign we can instil the spirit of patriotism and love for the country among the young generation," he said when met at his house here.
Sahul Hamid, who is not married and the fourth child of 12 siblings, said he had used between 300 to 450 pieces of the Jalur Gemilang to decorate his motorcycle and that he had obtained permission from the authority to ride the motorcycle on gazetted roads.
"To ensure the flags are installed properly, I use quality cable fastener, as well as light iron material that serves as a place to tie the flags. In doing so, I also have to take into account my safety when riding the motorcycle, that it remains balanced, even with the flags all over.
"Besides that, I will also ensure that my motorcycle will not affect the safety of other road users and will always prioritise personal safety while on the road," he added.
Sahul Hamid, who has been with the Health Ministry for 20 years, said what made him feel appreciated was when he received invitations to participate in National Day parade organised by schools and the relevant departments and agencies in the state.
"Every year on Merdeka eve, I will ride my Jalur Gemilang-decorated motorcycle around the island  to liven up the celebration," he said and expressed the hope that more young people would emulate him in expressing their love for the country.
Sources: BERNAMA
(Video) Surprise Were Made, Teary Reunion Between Mother-Son Duo After 2 Years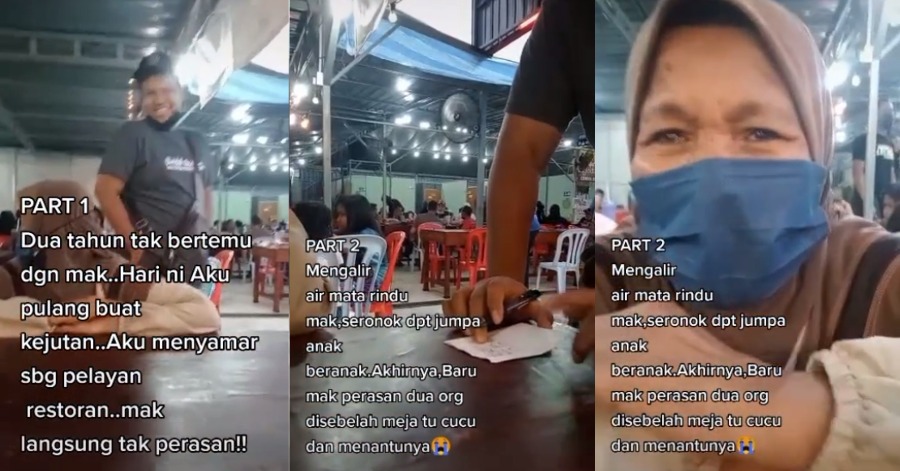 Having the golden chance to meet our own beloved parents at hometown after a very long period of waiting because of the Movement Control Order (MCO) commencement here in Malaysia would be such blessings for all the children. Some people do not have to experience this type of situation because they live near their parents but for some people, they had to live so far away from their hometown and this has made the longing feeling that they have to be stronger.
Since the restriction to travel across states has been lifted up recently, a lot of children decided to surprise their own parents in a lot of creative ways possible. In the end, the teary reunion that they have after that is worth waiting for. That is exactly what happens in this emotional video that went viral on TikTok. People would surely cry watching it.
In the video, it stated that the son has not been able to see his own mother in his hometown for 2 years due to the restriction made to prevent the spread of COVID-19. Because of that, he decided to surprise his mother by being a waiter at the restaurant that his mother went to have dinner. Surprisingly, his mother did not notice anything at all.
In part 2 of the video posted a little while later, he then revealed himself towards his mother, and then his mother realized that the waiter is her son and the other two people sitting at the next table were actually her grandchild and also her daughter-in-law. It was such a very heartfelt reunion that they have between the son and also the mother.
Looking at the comments section, a lot of netizens were also touched and getting sad by the reunion that they have.
Sources: TikTok 2411aR.
Sunway Malls To Launch E-Commerce Platform On Oct 27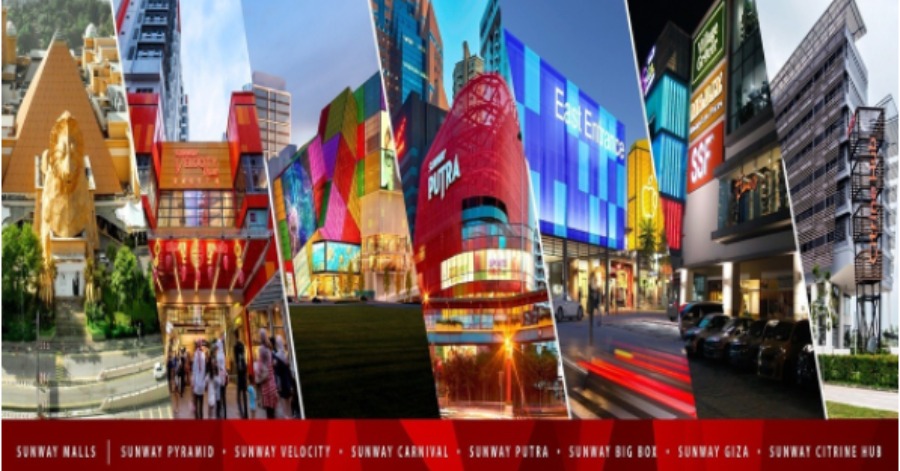 KUALA LUMPUR, Oct 19 — Sunway Malls will be rolling out its e-commerce platform on Oct 27, 2021 to complete its physical and digital mall presence.
In a statement today, the mall group operator said the platform, called Sunway eMall.com, comes at a time when online presence has gathered strong traction due to COVID-19.
"The venture into digital space opens up new markets and possibilities for Sunway Malls.
"We are not time and geographical bound," said Sunway Malls & Theme Park chief executive officer H.C. Chan.
He said Sunway eMall.com will complement its current combined 4.5 million square feet of physical retail space of seven malls.
"It amalgamates our seven physical malls presence into one digital mall.
"Through this exercise, Sunway Mall's portfolio has also grown to eight malls, physically and digitally," he said.
Chan added that an initial 200 merchants from various trade categories such as fashion, home & living, beauty, health & wellness, food & beverage e-vouchers, and others will be on board its e-commerce platform with 30,000 stock-keeping units (SKUs).
Participating merchants include Sony, Huawei, Sketchers, Li Ning, Braun Buffel, Aldo, L'Occitane, Christy Ng, Hooga and more.
The mall group projects to grow the numbers to 500 merchants with 100,000 SKUs over the next 18 months.
"The official launch of Sunway eMall.com will also enable Sunway Malls to offer an online-to-offline (O2O) journey with the convergence of both online and offline shopping experiences.
"Additionally, what separates pure e-commerce players is the option for in-store collection apart from delivery, which is a further catalyst in driving more footfall into our malls," said Chan.
It is also anticipating the e-commerce platform to be a contingency against unforeseen geographical or retail sub-sectors lockdown.
Citing a report from tech company Facebook and global management consulting firm Bain & Company, Chan said an estimated 70 million people have transited to shop online in six Southeast Asian countries including Malaysia since the pandemic began.
Facebook and Bain & Company further projected that average online spending will expand by 60 per cent this year from US$238 (RM990) per person in 2020 to US$381 (RM1,585) per digital consumer.
Meanwhile, overall online retail share in Southeast Asia surged from five per cent in 2020 to nine per cent in 2021, the report added.
It also said that over the next five years, Southeast Asia's e-commerce sales are estimated to grow by 14 per cent per year with online shoppers forecast to reach 380 million by 2026.
Chan said the group's physical malls have shown signs of good recovery with the complete reopening of the retail sector.
As of October 2021, preliminary indicators have shown 80 per cent traffic normality compared to the same pre-pandemic period of 2019, with shoppers making a strong return to Sunway Malls at the beginning of the fourth quarter.
"The number is expected to pick up pace heading nearer to the year-end festivities.
"Sunway Malls is optimistic that its recovery can be sustained as Malaysia prepares to move from pandemic to endemic phase with full adherence to safety protocols," said Chan.
He also said the group expects to attain full pre-pandemic level performance in the near term.
Sources: BERNAMA
(Video) Hardest Goodbye To His Best Friend, Man Got Transferred To Another State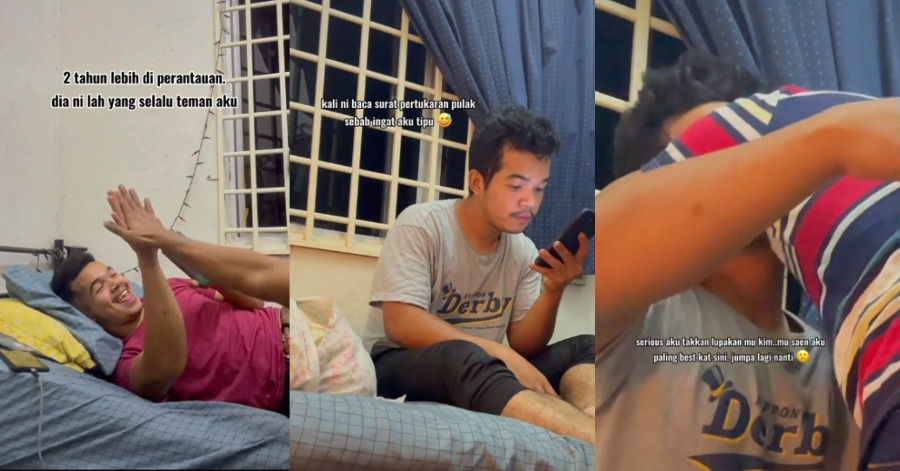 Having a best friend in your life would be such a great blessing for many people in this whole wide world. Got the chance to spend quality time with them would build amazing memories that anyone would remember for the rest of their remaining lives. That is why it is so hard for some people to say goodbye to their best friend even if they have become grown-up. That is what actually happens towards a man in particular TikTok video that went viral recently.
According to the video, it can be seen that the man had to be transferred to another state because of his job. Before he told the big news to his friend, everything was fine and okay. The situation changes when his friend received the news. Everything turned sad and gloomy because his friend started to shed some tears in his eyes. Such emotional.
For a total period of more than 2 years, that particular friend has been accompanying this TikToker that goes by the name @nizarparker most of the time. He mentioned that he did not have the gut to tell the news himself so he decided to tell his friend through Whatsapp. Even by doing it that way, the sad emotions between them could not be hidden.
Looking at the comments section, a lot of netizens could relate so much to this sad and emotional TikToker's post.
Sources: TikTok nizarparker.