Trypanophobia, A Fear of Needles And How To Overcome It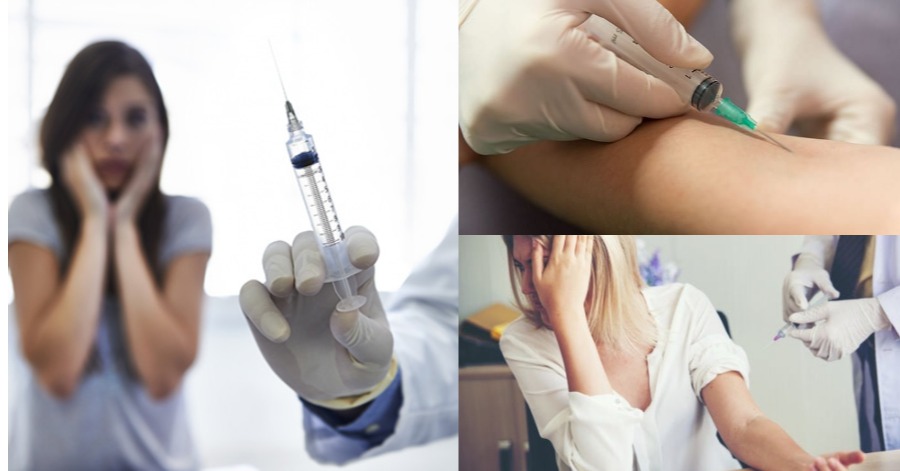 For anyone who does not know, trypanophobia is extreme fear of medical procedures that involve injections or needles. Trypanophobia is prevalent. About 25% of adults are afraid of needles, and around 7% of adults avoid immunizations because of their fear.
Another term for this phobia is called aichmophobia, a morbid fear of sharp or pointed objects.
Symptoms of Trypanophobia
The symptoms of this phobia may vary. However, those with this phobia are sure to show symptoms when they see needles or know that they need to take a shot. Some of the symptoms are:
Anxiety
Panic attack
Insomnia
Dizzy
High blood pressure
Increased heart rate
Refraining from visiting the doctor or receiving medical care
Usually, people develop phobias when they go through traumatic or life-scarring events and these incidents trigger the fear in them. According to Dr. McGee, there is a sensitivity to being controlled or confined in resisting fears. There is also a hereditary hypersensitivity to pain in people who experience hyperalgesic dread. Dr. McGee adds that the pain becomes so unthinkable for that person that they would never be subject to such pain.
For some, they experience a vasovagal response, a drop in blood pressure that causes passing out.
How to overcome this fear
Here are some expert tips to help you overcome your fear of needles:
Prepare the area with a medication such as an ethyl chloride spray or a topical anesthetic cream like lidocaine
According to Dr. McGee, both are effective for the temporary relief of discomfort caused by a needle injection. A jet injector, which uses high-pressure gas instead of a needle to deliver medicine, is also useful.
Take the cognitive approach
Remind yourself that a needle is painful for a second but when you process and fully understand what the suffering would be like if you did not get the injection, it can help you be more realistic. Imagining the worst-case scenario and remembering that an injection is merely a temporary discomfort helps put your mind at ease.
Practice deep breathing
Imagine yourself being in a comfortable space. Don't make your fear an enemy but treat that fear as something that will make you comfortable in the end.
Try mindfulness and meditation
Begin by practicing mindfulness for a few minutes before moving on to 14 minutes of meditation. Bring to your mind 3 things that you are grateful for and imagine your goals being accomplished.
Use the show and tell approach with children
For children, carefully explain each move you are going to make on the child as the child watches. Then, demonstrate how to do it by injecting a needle into the orange. This technique works for children diagnosed with diabetes and normal children.
 Distract and desensitize yourself
To distract yourself, just imagine yourself by the beach or any other relaxing place while you receive the injection. For some, desensitization is helpful. Hold the syringe in one hand until your fear and anxiety start to subside. Go through all the motions of giving yourself an injection, without actually pricking your finger. Holding a piece of ice to numb that area is also helpful and makes it easier when you are ready for an actual injection. 
Every problem has a solution. If you are someone who has this phobia or displays this kind of symptom, try overcoming it by using these simple methods.
Sources: Healthline, PSYCOM
(Video) Be Aware of Its Health Risks If You Have Been Sitting Down All Day!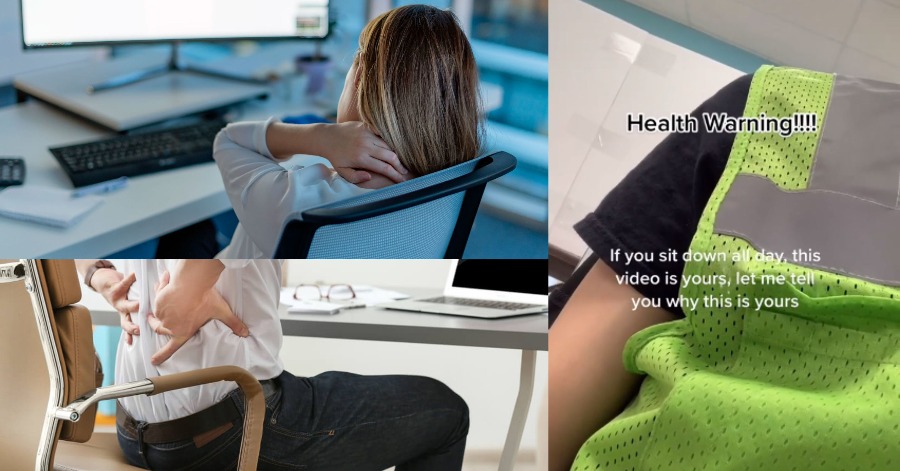 More than half of us spend over six hours sitting down each and every day especially during this COVID-19 pandemic where most of our activities are indoors, and a widening rear end isn't the only result. Sitting actually can have many short- and long-term effects on your health and body, making this seemingly benign activity to be potentially deadly.
If you stand or even move around a little bit during the day, you have a lower risk of early death than if you sitting down. If you live a sedentary lifestyle, you have a higher chance of being overweight, developing type 2 diabetes or heart disease, and experiencing depression and anxiety. That is not all, because there are so many health risks of it.
Humans are built to stand upright. Your heart and cardiovascular system work more effectively that way. Your bowel also functions more efficiently when you are upright. It is common for people who are bedridden in hospitals to experience problems with their bowel function. When you are physically active throughout your lifestyle, on the other hand, your overall energy levels and endurance improve, and also your bones could maintain their own strength.
Research has linked sitting for long periods of time with a number of health concerns. They include obesity and a cluster of conditions such as increased blood pressure, high blood sugar, excess body fat around the waist, and also abnormal cholesterol levels that make up metabolic syndrome. There are actually so dangerous risks to be faced in life.
For information, low risk indicates sitting less than 4 hours per day. Medium risk indicates sitting 4 to 8 hours per day. High risk indicates sitting 8 to 11 hours per day. Very high risk indicates sitting more than 11 hours per day.
Sources: TikTok vvsjohnayyy.
(Video) Train You Children To Play 'Peek-A-Boo', Gives Many Advantages To Them!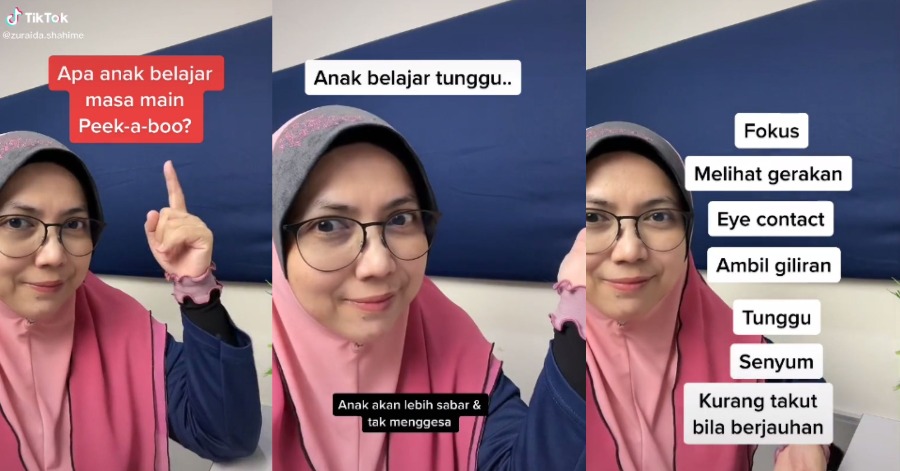 Peek-A-Boo is actually a form of play played with an infant. To play, one player hides their face, pops back into the view of the other, and says "Peekaboo!". There are many variations. For example, where trees are involved, "Hiding behind that tree!" is sometimes added. Another would involves saying "Where's the baby?" while the face is covered.
Peekaboo is really thought by developmental psychologists to demonstrate an infant's inability to understand object permanence. Object permanence is an important stage of cognitive development for infants. In early sensorimotor stages, the infant is completely unable to comprehend object permanence. These are some advantages for children.
Advantages for children playing 'Peek-A-Boo' game:
Children could learn the concept between what is there and what is not there. When they learned that, children could understand better when their parents are not there.
Children could learn to be focus and also to really look on other people's face and eyes. That is a great beginning lesson of communication for the children.
Children could learn to wait on things. When they are used to wait on things, children could really practice to have more patience and not rushing in life.
Children could learn on how to take turns when they are playing with other people. This is also a great base for the children to learn about communication.
Children could learn the correlation between movement and also sound. After they learned that, the children would understand that different sounds would bring different meanings.
Children could learn how to smile. Smiling is also a great way on how to start teaching the children to have a communication with other people.
Sources: TikTok Zuraida Shahime.
Selangor Receives 7,499,702 Doses Of COVID Vaccine From Federal Govt As Of Monday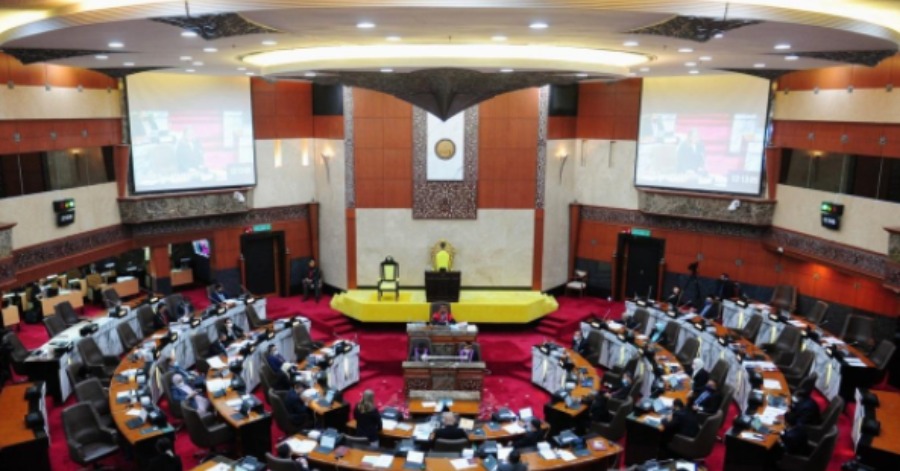 SHAH ALAM, Aug 24 — The Selangor State Assembly was today told that the federal government has supplied 7,499,702 doses of COVID-19 vaccine to Selangor as of yesterday.
State Public Health, Unity, Women and Family Development Committee chairman Dr Siti Mariah Mahmud said of the total, 3,874,982 doses were of Sinovac vaccine, 3,364,920 doses of Pfizer and 259,800 doses of AstraZeneca.
She said the vaccines were given to recipients based on their appointment dates given through the MySejahtera app and according to the phases of the National COVID-19 Immunisation Programme.
She said this in reply to Saari Sungib (PH-Hulu Kelang) who wanted to know the quota, schedule and target recipients of the vaccines supplied by the federal government.
Meanwhile, Dr Siti Mariah said, at the moment, the state government could only help in intensifying the public awareness campaign on the importance of vaccination against COVID-19, as the vaccination has not been made mandatory and there was no law that allows legal action to be taken against those who refused to be vaccinated.
"So, this is what we need to emphasise on and continue with the campaign to create awareness among the public so that even if they don't want to protect themselves, at least they have the conscience to protect others," she said in reply to Mohd Sany Hamzan (PH-Taman Templer).
Sources: BERNAMA