(Video) Beware! Many People Might Suffer From 'Revenge Bedtime Procrastination'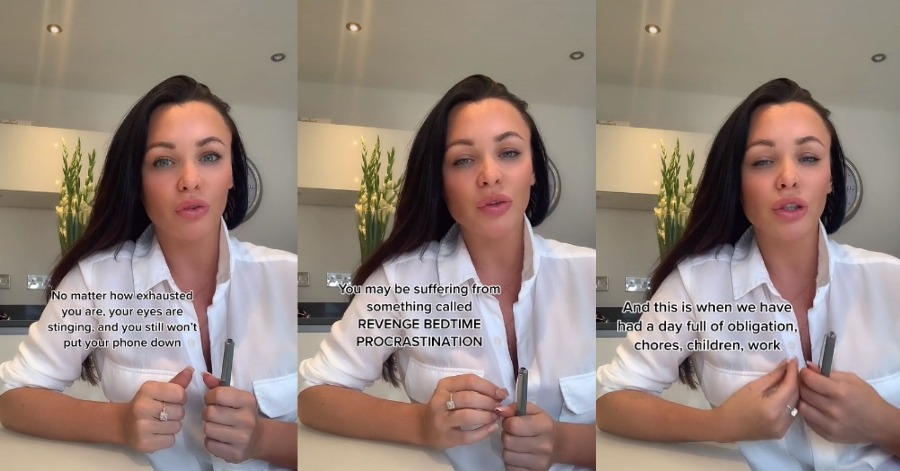 The 'Revenge Bedtime Procrastination' or also known as the 'Bedtime Procrastination' is actually a psychological phenomenon, where many people would stay up later than they own desire in an attempt to have control over the night. This is because they perceive themselves perhaps subconsciously to lack influence over events during the day.
Although revenge bedtime procrastination can be so tempting at the moment, late nights followed by early mornings can directly lead to very serious sleep deprivation. Cutting back on sleep can have significant negative effects on mental, physical, and also emotional health with short- and long-term consequences. This is definitely not healthy.
Revenge bedtime procrastination has been on the rise because of COVID-19 and stress associated with stay-at-home orders. Surveys have found that working from home has often extended working hours. People have had a reduction in normal leisure time since the pandemic started. These factors may actually trigger stress and sleep procrastination and contribute to the fact that nearly 40% of people have had sleeping problems during the pandemic of COVID-19.
The best remedy for sleep procrastination is actually healthy sleep hygiene, which involves creating good sleep habits and an environment conducive to sleep. Remember that it will take more than one night's sleep to truly get into good sleep habits. Having set routines can make behaviors feel almost automatic. Some of the routines could be:
Keeping a consistent bedtime and wake-up time, including on non-working days.
Avoiding caffeine late in the afternoon or evening.
Stopping the use of electronic devices, for at least half an hour, and ideally longer, before bed.
Sources: TikTok Stephanietherapy, Medical News Today.
More Than 20 Million of Adult Population Fully Vaccinated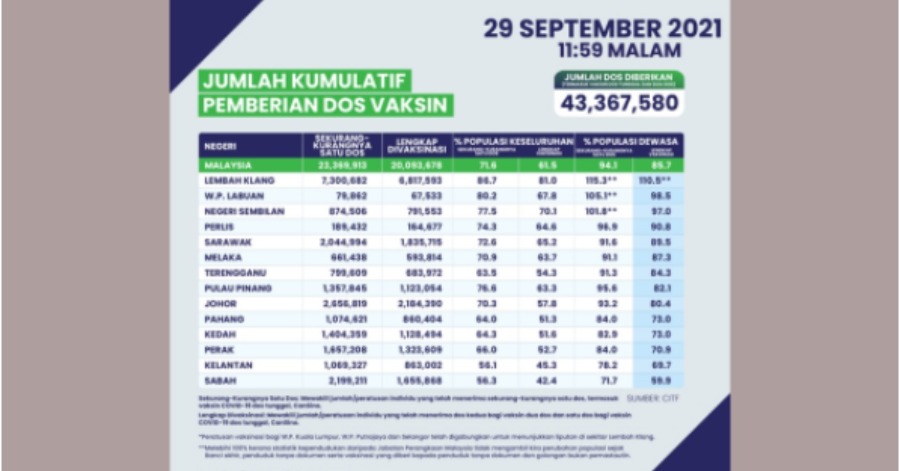 KUALA LUMPUR,  Sept 30  –A total of 20,053,472 individuals or 85.7 per cent of the adult population in the country have completed their COVID-19 vaccination as of yesterday.
Based on the Health Ministry's data on COVIDNOW, 22,017,043 individuals or 94.1 per cent  of the adults in the country have received at least one dose of the vaccine until yesterday.
It also showed 40,206 individuals or 1.3 per cent of the adolescents, comprising those age between 12 and 17, having completed the vaccination as of yesterday.
A total of 310,661 doses of the vaccine were dispensed yesterday, with 190,599 doses as first dose and 148,062 doses to second dose recipients, bringing the number of doses dispensed under the National COVID-19 Immunisation Programme (PICK) to 43,367,580.
PICK was launched on Feb 24 this year to curb the spread of the COVID-19 pandemic.
Meanwhile, a total of 208 deaths due to COVID-19 were reported yesterday (Sept 29),  with 68 of them brought in dead (BID),  bringing the total death due to the virus in the country to 26,143.
On the total death reported yesterday, only 88  cases were the actual deaths reported for the day, while the rest were backlog cases.
Sources: BERNAMA
(Video) Do It Right! Here's How To Use Nasal Spray Correctly!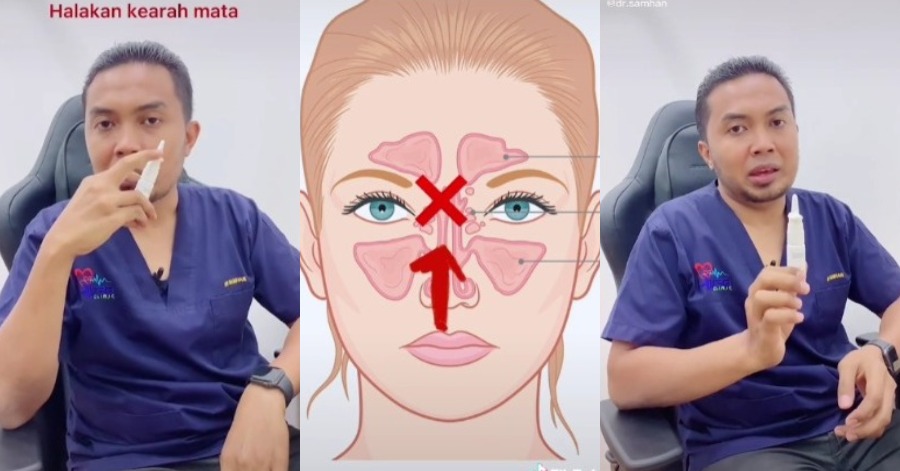 Nasal sprays are liquid medications that are sprayed into the nostrils. They're used to help reduce nasal congestion (stuffiness). Congestion is a common symptom of allergies or a cold.
While nasal congestion can be treated with an over-the-counter nasal spray, it is not as simple to use as it may appear. Most people thinking that the right way to use the nasal spray is to spray it directly up the middle point of the nose. That will only irritate the
So here's how to correctly use the nasal spray
1. Shake the bottle
2. Test the spray. Press a few times to see if the spray works properly.
3. The 'X' mark. This is important. If you're using your right hand to spray, you should spray it in your left nose and if you're using your left hand, spray it into your right nose.
4. Your aim is to spray at the Maxillary Sinus or the part which is beside your nose. To do that, tilt the spray towards your eye and then spray. Spraying in an upright position will cause the medication to flow to your throat. 
5. Also, don't tilt your head upwards when spraying.
Sources: TikTok Dr Samhan, Health Essentials
COVID-19 Vaccination: Inmates Behind Bars Grateful They Are Not Forgotten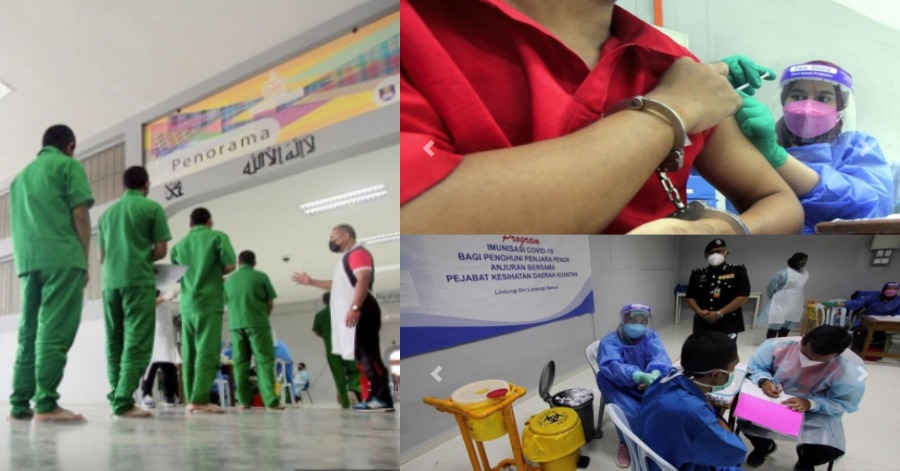 KUANTAN, Sept 29 — Although behind bars, inmates at the Penor Prison here are grateful that they were not forgotten when the government launched the National COVID-19 Immunisation (PICK) programme.
One of them, identified as Tan, 30, said he already knew about the COVID-19 pandemic when he was brought to the prison last February and had wondered if he would also receive the vaccine when PICK was introduced being a prison inmate.
"During a telephone conversation with my parents, they asked me about the vaccination in prison. The next time I get to talk to them, I'll tell them that I'm already vaccinated…I'm sure they will be relieved," he told Bernama.
Tan, from Kuala Lumpur, is serving a two-year prison sentence for violating a police surveillance order, was met by Bernama after receiving his second dose of the Sinovac vaccine at the prison today.
As for  Aizi, 29, from Felda Jengka, Maran, who is serving a five-year prison sentence since 2019 for a  drug offence, said he took up the vaccination in prison  because he was worried there would be no more free COVID-19 vaccination by the time he got his release.
"Although we are in prison, we are told on the importance and benefits of taking the vaccine. I know it is important for our own protection and have been waiting to be given the vaccine," he said.
For Nanthan, 32, who is serving a six-year prison sentence for robbery since middle of last year, his concern was not being registered as a vaccine recipient on the MySejahtera app like other members of his family.
Penor Prison director Fayrouz Ahmad Zawawi said the prison had achieved the herd immunity with  more than 90 per cent of the 1,823 inmates, including foreigners, having been vaccinated.
He said of the total, 408 inmates were given the CanSino vaccine, while the others were given the Sinovac vaccine with the first dose given on Sept 6 and 7.
The vaccination was conducted by 25 health workers under the supervision and assistance of prison staff at a workshop that was turned into a Penor Prison vaccination centre (PPV).
"Those who were vaccinated were also given the COVID-19 vaccination cards, but are kept by the prison and handed over to them upon their release," he said, adding that those who completed serving their time before getting the second dose could get the second dose outside the prison.
Fayrouz said the vaccination programme at the prison, as well as other measures made by the prison authorities, helped to reduce the spread of the epidemic.
He said new inmates sent to the prison are required to stay at a transit centre for 14 days for observation purposes.
After they are confirmed negative, the inmates are again quarantined for six days in jail before being transferred to their respective residential blocks, he said, adding that since last Aug 1, the cumulative number of those in the prison who were confirmed positive was 269 people.
He said inmates confirmed positive with COVID-19 were sent to the COVID-19 Quarantine and Treatment Centre (PKRC) in Bentong Prison.
"We also took the initiative to measure the oxygen level of inmates using the Pulse Oximeter three times a day and those with low readings, will be rushed to hospital," he said.
Apart from that, he said the prison staff would also conduct sanitation process in all cells on a daily basis to ensure safety of the inmates.
Sources: BERNAMA