Amazing! Check Out These 7 Affordable Airbnb Right Here In KL!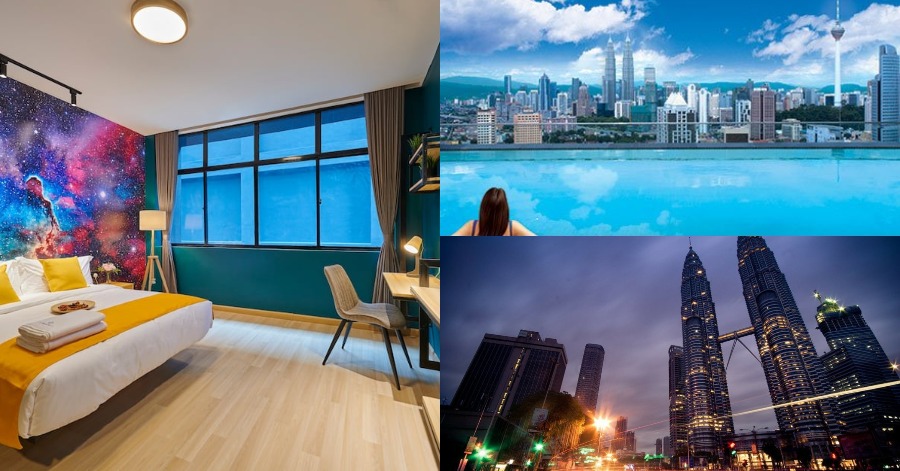 Hooray! Finally, we can now travel within the state. It's been so long since the pandemic started and we have all been stuck at home with no places to go. Recently, the government has lifted the 10km travel limit and has now allowed inter-district traveling. This means it's time for some holiday and leisure.
However, it is not always easy to find the ideal spot for holiday and that too at nearby places. Living in the urban area, we don't have many options for a holiday and sometimes it is pricy. But, not to worry. Here are 7 ideal and affordable spots you can book now to get yourself and your loved ones the holiday that you guys deserve.
1. Rustic LRT Monorail
At a reasonable price, a comfortable and roomy studio apartment that is larger than most 5-star hotel deluxe rooms in Kuala Lumpur. Up to 4 people can be accommodated. In this 4-tiered security complex with modern amenities, you may relax and feel protected. This residence is new, luxurious, and attractively furnished with the following benefits:  Infinity pool, gym, and roof top garden with a 360-degree view of KL's skyline, Monorail & LRT stations are within walking distance, great restaurants around the area, and Less than 2.5KM from KLCC, KL Tower, Bukit Bintang, China Town and more. Enjoy all these benefits for only RM157 per night.
2. Hotel Olympic
The Olympic Council of Malaysia has approved Hotel Olympic as a sports theme hotel. The hotel is located at 50150 Kuala Lumpur, Jalan Hang Jebat, City Centre. The nearest public transportation stations are the LRT and MRT stations, both of which are approximately a 5-minute walk from our hotel. We provide the greatest hospitality in Hotel Olympic Malaysia, and you will be supplied with the ideal lodging that you are searching for in a 3-star hotel.
The rooms have air conditioning, a private bathroom, a 52-inch TV, high-speed internet connection (WIFI), a hairdryer, a kettle, mineral water, a towel, and a laptop-friendly workspace are all included in the rooms. Hotel guests and visitors are invited to dine in their newly remodeled rainforest-themed restaurant and sample their appealing and reasonably priced breakfast, lunch, and supper menus! In addition, the hotel includes a 24-hour convenience shop in the lobby! Snacks, ice cream, and beverages are available for purchase. There is also a conference room with air conditioning, audio and video connections that can seat up to 100-140 people! Enjoy this Instagrammable spot for only RM64 per night.
3. Minimalist Suites [Netflix] Near KLCC
This wonderful apartment is near the Petronas Twin Towers and the KL Tower, as well as two train stations, and is surrounded by excellent local delicacies, grocery shops, exclusive shopping malls, nightlife, and family-friendly activities. The hotel-like idea, the warmth, the warm light, the comfortable bed, the kitchen, and the washing facilities inside will make you fall in love with this space! Small families, couples, lone explorers, and business visitors will definitely like this location. This apartment comes with a kitchen, dryer, washer, pool, WIFI, TV, and air-conditioner. Book this stay for only RM136 per night.
4. White Forest Pixels-Balcony
Take a stroll to the Sky Deck to take in the elegant view of Kuala Lumpur while staying in one of our royal apartments provided by White Forest Suites. All of our flats are tastefully furnished and immaculately clean. The apartment is located in the heart of Kuala Lumpur known as The Robertson Residences Bukit Bintang.
Guest have access to their infinity pool, gym, sauna, mini-golf range, chess garden, and jacuzzi. The space is equipped with a kitchen for light cooking, amenities, high-speed WIFI, free Netlflix, smart TV, and air-conditioner. Only RM109 per night.
5. Sunrise (MUJI Concept) Sky Pool Regalia KLCC View
This apartment is in the heart of Kuala Lumpur's city center. It is well-known for its rooftop infinity pool, which offers a stunning view of Kuala Lumpur. LRT and KTM public railroads are both available for use. Only a 5-minute drive from Kuala Lumpur's city center, which is packed with tourist attractions and commercial malls. The main reason to choose this place as your holiday destination is because it is stylish and you have the whole space to yourself. Not only that, this pool boasts one of the greatest and most magnificent city views in Malaysia. They even provide free WIFI, kitchen, TV and air conditioning. You can book this spot for only RM77 per night.
6. Arte Mont Kiara Muji Suites
This is the hottest spot in Kuala Lumpur right now! From the mosaic pool to the sky garden to the Iceland-themed jacuzzi and more, our apartment at Arte Mont Kiara provides you with the most instagrammable amenities! Stay in one of our muji-themed duplex apartments, which are ideal for a group of four. Some of the facilities provided are WIFI, kitchen, pool, free parking, washer, dryer and you can even stay for a longer period of time. Make this your holiday spot for the only RM187 per night.
7. Tania's Villa
If you'd like to experience home away from home, this is the best spot for you. This cozy home is located in Damansara Heights and is nearby to MRT stations. It also has easy access to highways if you need to head to Kl, PJ, and Mont Kiara Bangsar. This spot has facilities like a kitchen, private swimming pool, EV charger, WIFI, free parking, and the best part, pets are allowed. You can also have a BBQ party by the pool as they provide the BBQ set for rental. You only need to bring the ingredients. Experience all this for only RM148 per night.
Sources: airbnb
(Video) 'Pulau Babi' In Johor, The Reason Behind The Name Is Not As What You Think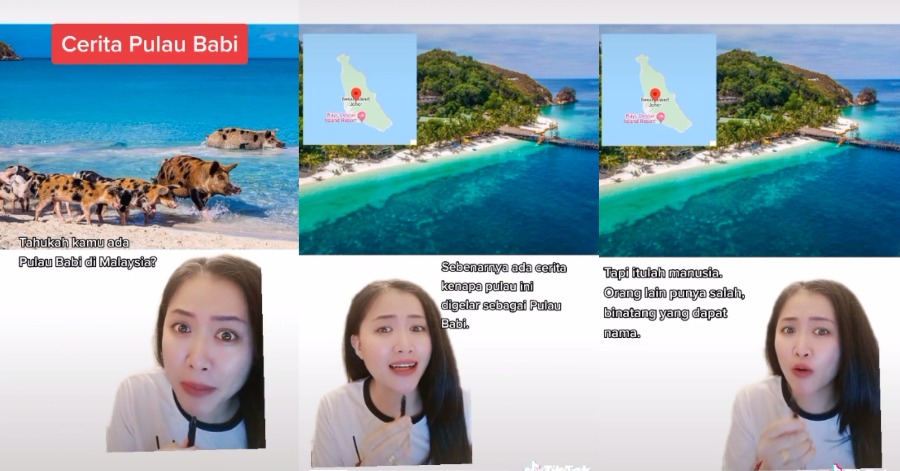 This 'Pulau Babi' is located in Johor and it is one of the most mesmerizing islands to know of. It is also known as one of the most famous beach spots located specifically here in Malaysia. As a visitor, do not miss the opportunity to go here if you come to the State of Johor. The particular name of the place might sound a bit rough and also explicit to be heard especially if you are local, but there is a legendary story that relates to how the island can get such a name.
Heads up for all of you. The name of the island that is 'Pulau Babi' is definitely not like what you think in your own head. To be honest, the origin story could be quite hilarious to understand. The story of the island goes like this.
It is said that in the past, there was a couple who lived together that were fishermen living here. According to the story, the pregnant wife wanted to eat seaweed. However, after eating the seaweed, the wife turned into a mermaid. Because the husband was too angry because the appearances of the wife got changed, the husband vented his anger by cursing the island by calling it 'Babi' repeatedly. So, that is how the name 'Pulau Babi' got to stick to the island. It is from this story that the island got such a name and the name remains in use up until this modern day. So weird.
The authenticity or not of the story cannot be ascertained. However, the story is popularly told by the mouth of the residents around the area. Although the name is not pleasant to be heard, the island which is located in the district of Mersing and facing the South China Sea is very popular with tourists because of the beauty and originality of nature.
Sources: TikTok Ervi.
Fascinating Shoe Collections! These Are 5 Best 'Skechers' Collaboration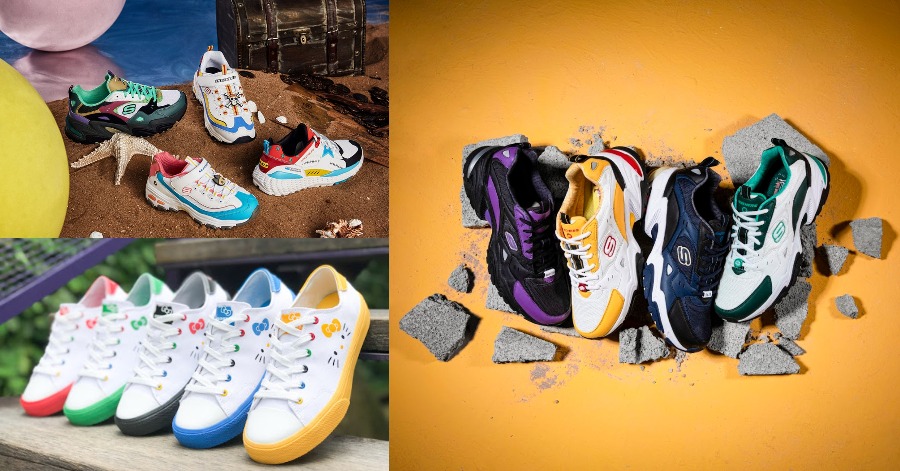 Skechers is actually an American footwear company. It is headquartered in Manhattan Beach, California and the particular brand was founded in the year of 1992 and is now known as the third-largest athletic footwear brand in the United States. Other than the United States, this brand also is so famous in other countries including Malaysia. The fans and shoe enthusiasts for this brand have been growing bigger and bigger for this country. So amazing.
Malaysians have been loving this brand because there are actually so many fascinating collaborations done with a lot of other brands such as cartoons, anime, and many others. People tend to get caught by the amazing shoe collections made in all their collaborations. For those who might not know, these are the 5 best collaborations made with Skechers.
1) Skechers X One Punch Man
2) Skechers X Sailor Moon
3) Skechers X One Piece
4) Skechers X Dr. Seuss
5) Skechers X Hello Kitty
Sources: Skechers.
(Video) Without A Doubt, Most Hospital's Staffs Would Experience This Scary Situation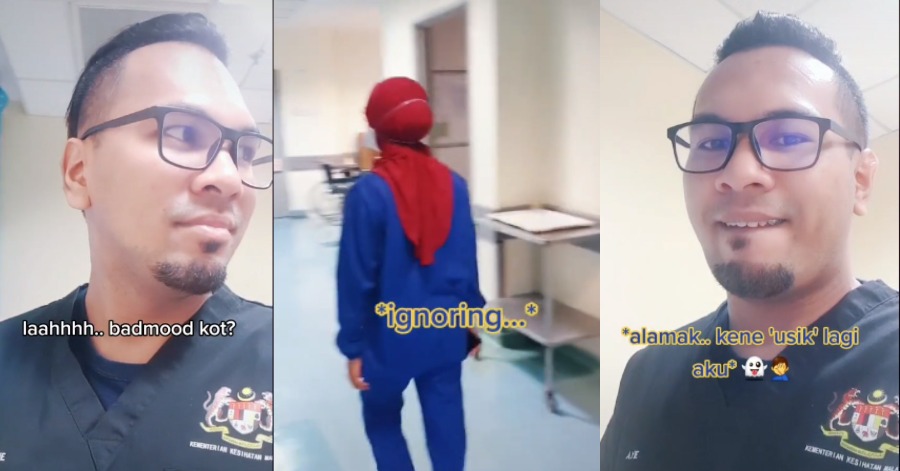 Working in a hospital would definitely be such an eye-opening experience for many people in this whole wide world. It does not matter if they are a new worker there or even someone who has been working there for a very long time already. This is because every day might be going to be unpredictable and they have to face new challenges and situations every now and then when they are working there. The experiences could be hilarious, stressful, or scary.
That is exactly what happens in this particular video that went viral on the TikTok app recently. This TikToker that goes by the name AyieTDF shared one of the scariest experiences that he ever had while he was working in a hospital. In the caption of the video that he stated, "Every hospital's staff must have experienced this kind of situation, right?".
In the posted video, the TikToker reacted back to the scary situation that he has experienced before. The situation that he experienced would be that he accidentally would accidentally bump into his colleague while he was walking in the hospital. When he greeted the person, the person would not respond and just walk by him casually without even looking at him. Then, when he reached his desired destination. He would once again meet the same person.
Looking at the comments section, a lot of other people have experienced the same situation and it was really scary.
Sources: TikTok AyieTDF.