When it comes to a series of magical events, nothing beats J.K.Rowling! Ever wonder why Harry Potter became so famous? J.K.Rowling's and the movie scriptwriters' outstanding writing contributed to Harry Potter's popularity. Another reason for its appeal is that it depicts its protagonist as a power seeker who finally accepts it.
That is the essence of adolescence, and indeed of existence. Not only that, despite the story being in a fantasy setting, people can easily relate to the characters because the problems that Harry deals with are all too human.
Another possible reason for its popularity is because of the relationship shown in the books and movies. The "heavy, powerful, and deep relationships" that all human beings desire are provided by Harry and his pals. Though Harry's narrative is aimed at youngsters, it has an adult audience because of these interactions.
Because so many people grew up with Harry Potter, the series has lasted so long. By doing so, Rowling has ensured that the child wizard will have followers for the rest of his life, who will most likely spread the love to everyone they can. Another factor for Harry Potter's longevity is the good impact the series has on individuals. Many people are moved by Harry's words to "[examine] religion and community, and, maybe, methods to make the world a better place and ourselves better Muggles."
So here's about the the eighth story. Back on an original new story by J.K.Rolwing, John Tiffany and Jack Thorne, the playscript for Harry Potter and the Cursed Child was originaly released as a 'special rehearsal edition' alongside the world premier in London's West End in summer 2016. The play opened to rapturous reviews from theathre-goers and critics alike, while the playscript became an immediate global bestseller. This definitive and final playscript includes the conclusive dialogue from the play, as well as extra contents.
The eighth novel in the Harry Potter series, Harry Potter and the Cursed Child, picks up where we left off, nineteen years after the Battle of Hogwarts. Harry Potter and the Cursed Child is divided into two parts and stretched throughout four acts and numerous sequences, and was released as a special rehearsal edition screenplay. As is well known among Potter fans, Harry Potter and the Cursed Child follows the difficult relationship between Harry Potter, a 37-year-old "overworked Ministry of Magic employee," and his son Albus Severus Potter, who must bear the burden of his last name's unwanted fame and history.
But there's more to Harry Potter and the Cursed Child than that. It pits our favorite characters Harry, Ron, Hermione, and Ginny against the despised Draco Malfoy in circumstances where they can't avoid each other. It also includes references to a number of deceased characters, including Dumbledore, Cedric Diggory, Lord Voldemort, James Potter, and Lily Potter, all of whom have something to say in their own unique ways.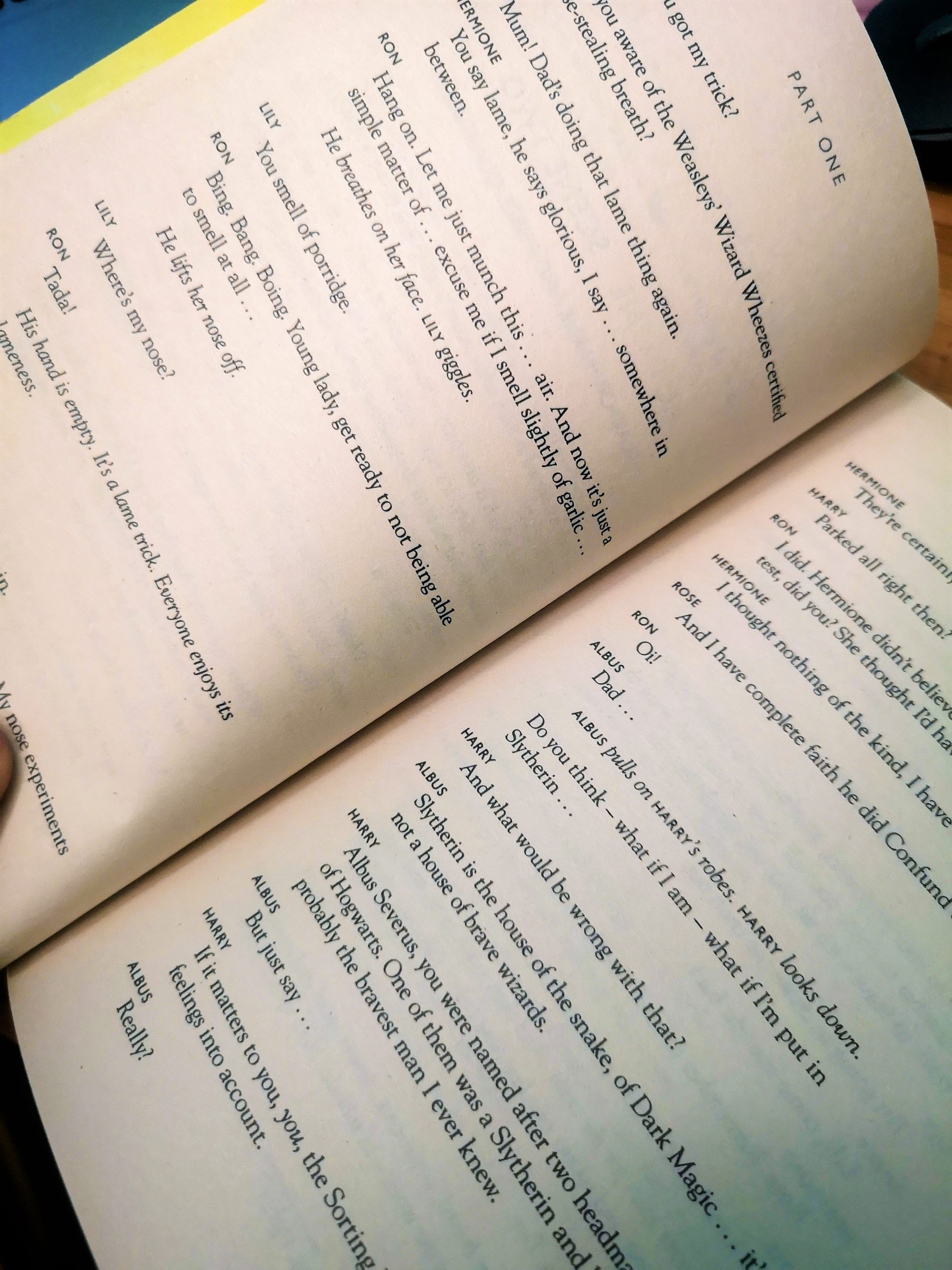 What I love about this book is that the book itself isn't compact. It is written in a simple yet attractive, this light-reading book with less text enables readers to read with convenience. It looks more of a script than a regular storybook.
For all Potterheads out there, this book is a must!
Harry Potter and the Cursed Child is very much a Potter novel, with all of the narrative twists and turns, as well as characters and lines that stick with you long after you finish it. Don't listen to anyone who tells you otherwise. This book is absolutely stunning.
Sources: Pluggedin, Cheat Sheet