Couples Required To Undergo COVID Screening Before Marriage Solemnisation In Penang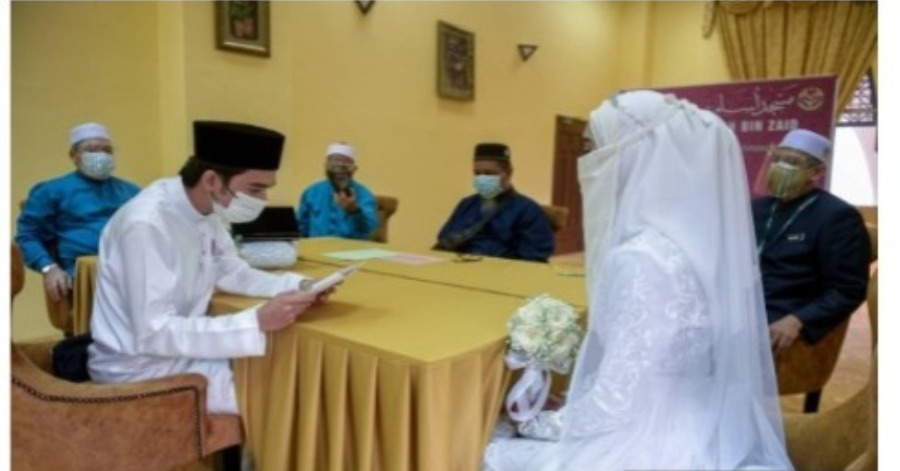 GEORGE TOWN,  Sept 23 — Couples planning to tie the knot in Penang are required to undergo COVID-19 screening prior to their marriage solemnisation, effective today.
Penang Islamic Religious Affairs Department director Datuk Mohd  Zakuan Zakaria said the screening requirement, which can also be done using the COVID-19 Self-Test Rapid Antigen Kit, also covers the wali (guardian of the bride) and the witnesses to prevent the spread of the virus.
"For the COVID-19 Antigen Rapid Test Kit, it needs to be done 30 minutes before the marriage solemnisation ceremony which is only allowed to be conducted at the District Religious Office and only couples with negative results will be allowed to proceed with the marriage solemnisation ceremony.
"For potential brides or bridegrooms who are from different districts or states, they must get permission from the police and if they cannot get the permit for inter-district or inter-state travel, they can appoint a representative to accept the marriage on their behalf," he said in a statement today.
He said the marriage solemnisation ceremony at the PAD will be conducted in strict compliance with standard operating procedures (SOP).
Only 10 couples would be married every day and for each ceremony only seven people, comprising the bride and groom, wali, witnesses, either parents of the groom and a photographer will be allowed to be present, he said, adding that the ceremony should not take more than 30 minutes.
On the pre-marriage course, Mohd Zakuan said it had been suspended and replaced with interviews where the couples could register  for the interview at the website emunakahat.penang.gov.com.
"Face-to-face family or domestic counselling service has also been suspended. It is now done online via email, and through telephone calls between 8.30 am and 4 pm on any working day," he added,
Sources: BERNAMA
Tourism Bubble: Tioman Island Operators Ready For Tourists Again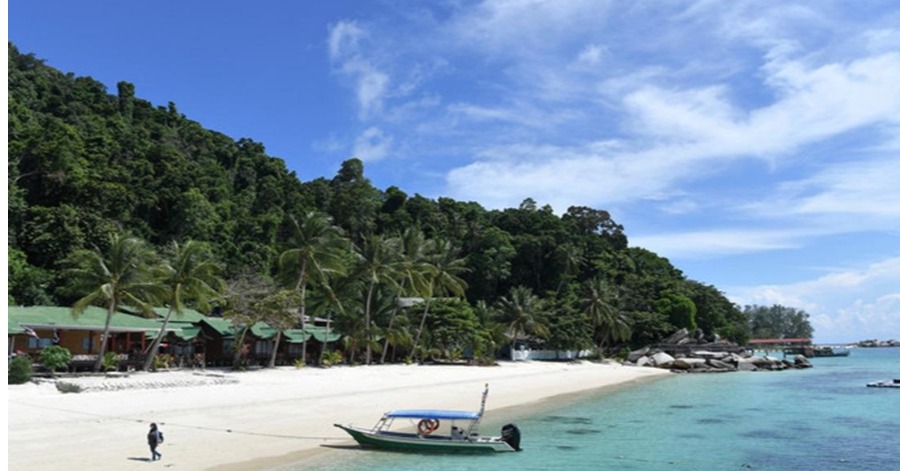 KUANTAN, Sept 23  — After months of being in a "serious" predicament, tourism operators in Tioman Island are ready to comply with standard operating procedures (SOP) set by the government and the National Security Council (MKN) to enable them to receive visitors again.
When contacted by Bernama here, today, they also hoped that there would be "no last-minute cancellation surprises" as tour operators only have about two more months to do business before the arrival of the monsoon season in December as no ferry operations will be allowed during that period.
Juara Mutiara Resort owner Shahrol Hazri Sani, 45, said their inquiry and reservation counters had been flooded with calls since yesterday, with people wanting to make room reservations or inquire about room prices and activities offered.
"This is a relief for us as we have been badly affected since last year. In fact, this is the first time we have been tested so badly after 30 years of operations that we had to temporarily lay off workers for not being able to pay the salaries of all 20 staff.
"Since the reopening announcement, I started contacting former employees to offer them work again. The return of tourists not only helps the resort owners or operators, but also the locals as we all depend on the tourism industry," he said.
Shahrol Hazri said currently they are waiting for the SOP from the parties involved, especially the MKN so that further action can be taken before tourists arrive.
On Tuesday, Tourism, Arts and Culture Minister Datuk Seri Nancy Shukri announced that Tioman is among the three new destinations allowed to operate under the implementation of the country's tourism bubble.
The other two locations are Genting Highlands and Melaka.
Yesterday, Pahang Tourism, Culture, Environment, Plantation and Commodity Committee chairman, Datuk Seri Mohd Sharkar Shamsudin also confirmed that Pulau Tioman is ready to open its doors as it has achieved herd immunity since July with a Tioman Task Force created in preparation of returning tourists.
For B&J Diving Centre employee Hayati Hassan, 28, who operates in Air Batang, said during the non-operation period, they had online promotions with customers being able to redeem packages purchased once the island got the go-ahead to resume operations.
"So far, we have received many calls from those who want to use the promotion for October including promotions for diving licence lessons. In fact, many customers still make reservations because Tioman Island is one of the popular locations for diving.
"As for SOP compliance, we have no problem because all equipment is washed after use and this time around, we have added a sanitising process. In addition, we set the condition that the same equipment should be used by a customer from the first to the last day the person is here," he added.
Salang Pusaka Resort director Abdul Khalid Mohamad, 65, said compliance with the SOP was a priority for all tour operators in Pulau Tioman because they did not want the spread of the COVID-19 infection to force them to stop operations again even before the monsoon season.
"We also have families here, so we definitely don't want them to be infected too. We can help reduce the number of boat passengers or carry out sanitation but cooperation from tourists is also expected," he said.
Abdul Khalid also hoped that the government could help reduce the ferry fare to the island which is understood to reach RM50 per person for a one-way trip as this would attract more locals to choose Tioman as a tourist destination, especially for families or large groups.
Sources: BERNAMA
(Video) New SpongeBob Game Trailer, Features Nostalgic Moments From The Show!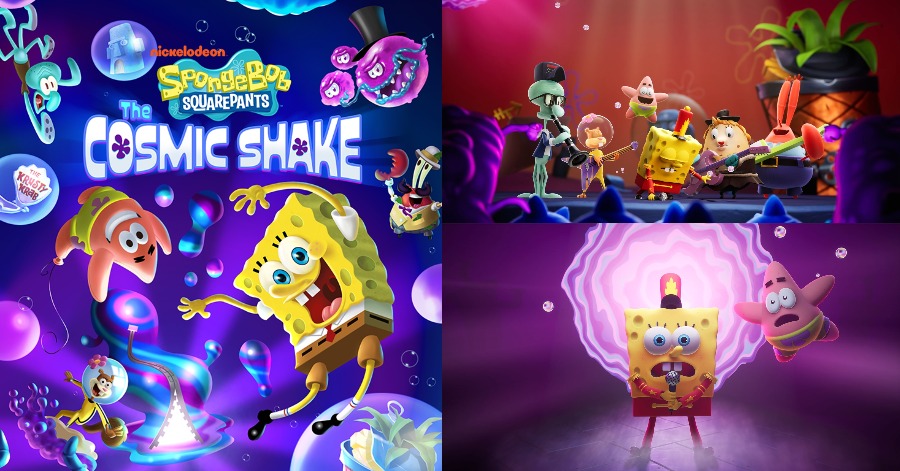 SpongeBob SquarePants: The Cosmic Shake is actually an upcoming platform game solely based on the Nickelodeon animated series that is the SpongeBob SquarePants show. It is being developed by the Purple Lamp Studios, who previously developed SpongeBob SquarePants: Battle for Bikini Bottom – Rehydrated, and will be published later by the THQ Nordic. It is set to release for Microsoft Windows, Nintendo Switch, PlayStation 4, and also Xbox One.
Recently, the trailer for the particular latest new game of SpongeBob SquarePants has been posted and it really caught the attention of so many netizens from all over the world. It quickly went viral. This is because the trailer posted about the game reminiscing all of the iconic moments from the show and it will also be included in the game.
The background song of the trailer really gets everyone especially a fanatic fans of the show who watches the video really pumped up as it is the song called Sweet Victory from one of SpongeBob SquarePants episodes and it is specifically the Season 2 Episode 15 and it is called the Band Geeks episode. It is definitely one of the iconic episodes ever made.
SpongeBob SquarePants: The Cosmic Shake game appears to be full of reverence for its golden age. It would feature SpongeBob as a caveman, wearing his karate gloves, and riding a seahorse through the aquatic wild west. The game's interdimensional plot is made possible thanks to SpongeBob's dealings with Kassandra, a mysterious fortune teller debuting in game. The game also will feature more than 30 SpongeBob skins in total, and players will need to take advantage of them all in seven distinct alternate worlds linked by the fortune teller's dimensional portals. So great.
Looking at the comments section, a lot of netizens have already become excited about the release of the game itself.
Sources: YouTube PS4, PVP Live.
School Rotation Method Aimed At Restoring Students' Morale – Radzi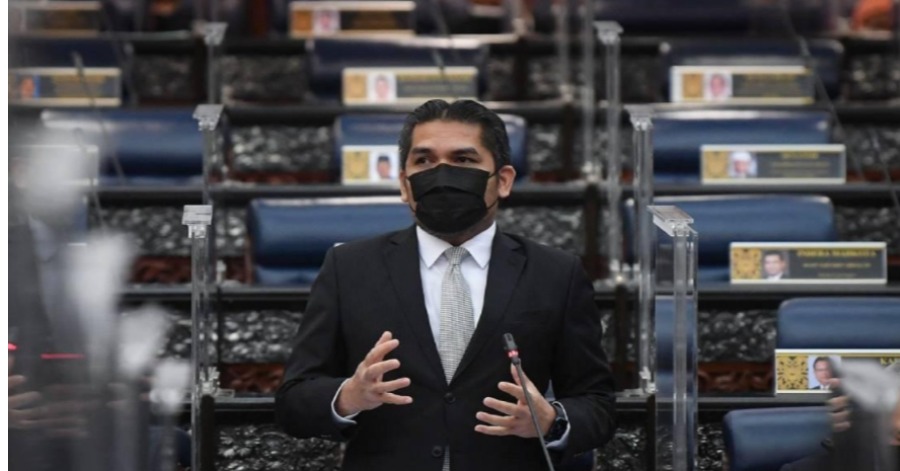 KUALA LUMPUR, Sept 23 –The implementation of the face-to-face classroom learning and home-based teaching and learning (PdPR) on a rotational basis, is aimed at restoring students' morale, said Senior Education Minister Datuk Radzi Jidin.
He said the move was following the difficult period faced by the country since 2020 which caused schools to be closed for a long period.
"We are aware that when schools reopened in March this year, parents and the community saw that the situation was safe but after school hours it was chaotic and there were problems of congestion.
"Subsequently, we sat to discuss on the best approach, especially taking into account the Delta variant, and came up with the idea of reducing the number of students by half," he told the Dewan Rakyat sitting here today.
He was responding to a supplementary question from Sim Tze Tzin (PH-Bayan Baru) on the details of the implementation of the rotational face-to-face classes and PdPR session during the Ministers' Question Time.
The Ministry of Education (MOE) had earlier informed that face-to-face schooling session based on a weekly rotation method would be able to limit the number of students in the classroom and help reduce the risk of COVID-19 infection in schools.
Radzi said this would also help teachers monitor compliance with standard operating procedures (SOPs) among students, as only 50 per cent would be present at a time.
Meanwhile, Radzi said the ministry would also provide a manual on the rotational learning and teaching (PdP) as a guide for headmasters, teachers, students, parents and guardians to ensure its smooth implementation when schools open from Oct 3.
Replying to a supplementary question from Datuk Seri Abdul Azeez Abdul Rahim (BN-Baling) on ​​the admission of students, especially from rural areas to fully residential school (SBP), Radzi said the entry would be based on the Special School Admission Assessment (PKSK) following the abolition of the Primary School Assessment Test (UPSR).
He said, apart from focusing on academic aspects, PKSK also takes into account the potential and abilities of students for admission to SBP.
Meanwhile, during the question-and-answer session, Education Deputy Minister II Datuk Mohamad Alamin informed that the MOE was formulating a comprehensive policy for the recruitment of students to SBP by giving priority to those with potential, among underprivileged families.
Sources: BERNAMA