Inspirational Story: 15-Year-Old Iranian Boy Died In Fire Rescue, Hailed As National Hero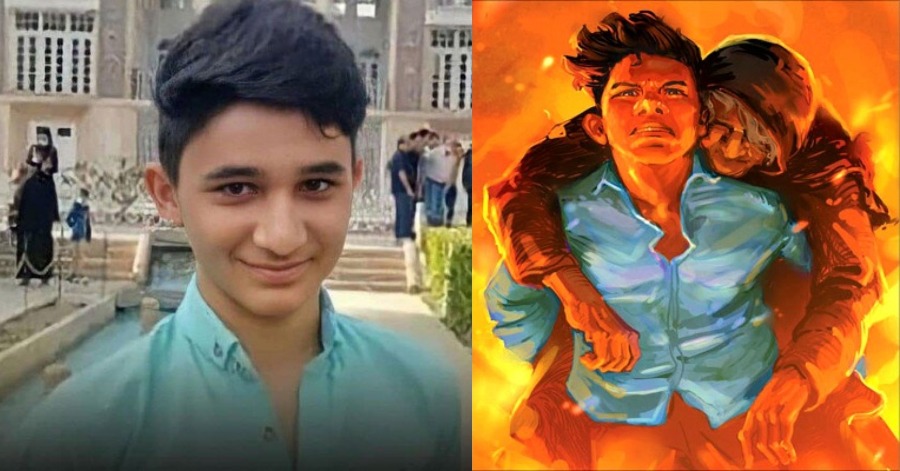 A particular 15-year-old Iranian boy named Ali Landi from Iran's southwestern Khuzestan province has caught the imagination of the country for a heroic act that cost him his life. The teenager was laid to rest on Friday with full state honors after succumbing to third-degree burns he sustained while saving two elderly women from a burning house in his hometown of Izeh. He really saved the lives of two elderly women with selflessness and self-sacrifice.
He was hospitalized in Taleqani Hospital of Ahvaz with severe third-degree burns, affecting 91 percent of his body. He was later transferred to Imam Musa Kazem Hospital in Isfahan. Ayatollah Ali Khamenei, the Leader of the Islamic Revolution conveyed condolences and sympathy to the family of Ali Landi. President Ebrahim Raisi also has hailed him as a 'national hero' and then said that his 'story of selflessness' must be narrated through generations.
Ali was visiting her aunt at her place as a guest on October 10, 2021, when, at 6:00 pm, he heard screams from the adjacent apartment block. Ali immediately went to the neighbor's house where he saw a middle-aged woman and her mother were caught in a blaze caused by a gas cylinder that had burst into flames. Ali took the cylinder to take it away from the two women. He was throwing it away when the liquid gas leaking from the cylinder poured on him and caught fire. Ali Landi who is just 15-year-old died in hospital with severe burns on the 24th of September 2021.
A funeral procession was held for the national hero on Saturday, the 25th of September 2021. He was then taken to his final resting place in his hometown, Izeh. Undoubtedly, the story of heroic Ali Landi really showed that 'age' is actually not a determining factor for becoming a national hero. He definitely gains respect from all over the world.
Sources: Iran Front Page, Alarabiya News, Twitter Press TV.
(Video) Did You Know? These Are 5 Malay Words Slowly Getting Forgotten In Time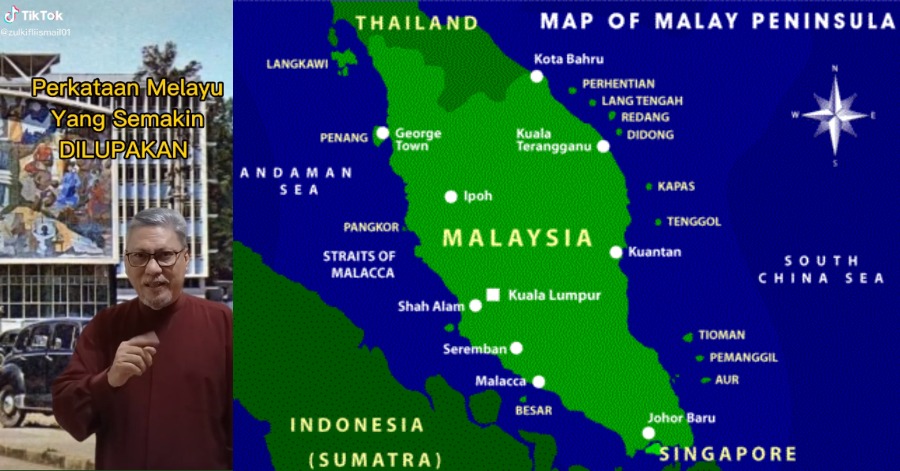 If all the Malaysians are fully aware, there are actually a lot of Malay words that are usually being used in this country that are slowly being changed and familiarized with other words nowadays. These changes have unfortunately made some of the original Malay words being forgotten in time by a lot of people especially the millennials. Even though some of the words got changed to be more suitable with newer generations, it is really not wrong for them to at least know.
The Malay language is also known as Bahasa Malaysia, which means 'Malaysian language' or even Malaysia's 'national language'. Thanks to trade and also imperialism, it has been heavily influenced by Sanskrit, Arabic, and English over the centuries. That is why some Malays words are slowly getting forgotten over time. These are some.
5 Malay words slowly getting forgotten in time:
1) 'Tetuang Udara' – This is another Malay word for 'Radio'.
2) 'Mata-Mata' – This is another Malay word for 'Polis'.
3) 'Rumah Pasung' – This is another Malay word for 'Balai Polis/Lokap'.
4) 'Rumah Sakit' – This is another Malay word for 'Hospital'.
5) 'Khutub Khanah' – This is another Malay word for 'Perpustakaan'.
Sources: TikTok zulkifliismail01.
Samsung Officially Launches Galaxy Z Fold3 5G, Galaxy Z Flip3 5G In Malaysia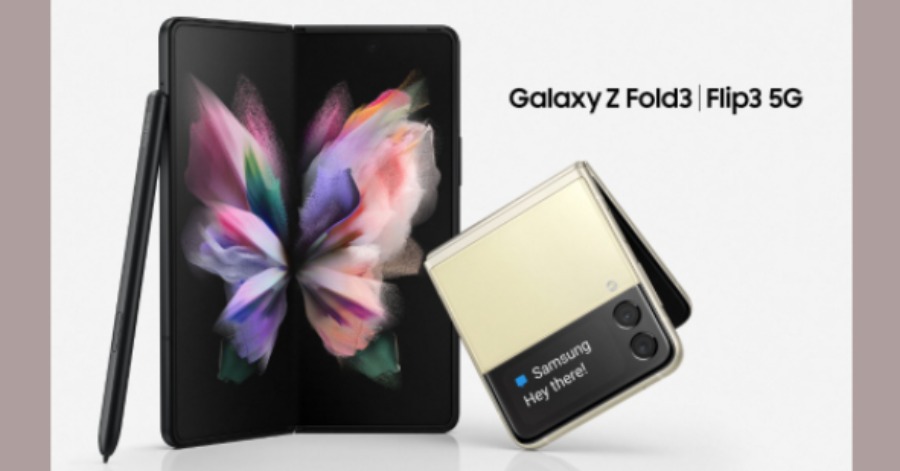 KUALA LUMPUR, Sept 28  — Samsung Malaysia Electronics (SME) Sdn Bhd has officially unveiled the Galaxy Z series in the country with the launch of the Galaxy Z Fold3 5G and Galaxy Z Flip3 5G.
SME president Edward Han said the latest generation of foldable phones will open up endless possibilities from iconic designs to immersive entertainment.
"The Galaxy Z Fold3 5G and Galaxy Z Flip3 5G mainstream smartphones are more accessible, more durable and engineered for seamless experiences.
"As an industry leader pioneering foldable technology, Samsung believes our devices should work to empower our activities through an ecosystem built on flexibility, openness, intuition, and innovation," he said at the 'New Era, Life Opens Up with Galaxy' virtual show today.
With a retail price starting from RM6,699 for the Galaxy Z Fold3 5G, and from RM3,999 for the Galaxy Z Flip3 5G, consumers can place their orders at Samsung Experience Stores and selected authorised retailers beginning Sept 22, 2021.
Delivery or availability for collection is expected from Nov 5, 2021 onwards.
During the event, SME also announced exceptional offers with every purchase of the Galaxy Z Fold3 5G from Sept 22 to Oct 31, 2021.
The offer includes a RM500 e-voucher and a one-year Samsung Care+ plan worth RM799.
Simultaneously, users who purchase the Galaxy Z Flip3 5G within the promotional period will receive a RM350 e-voucher and a one-year Samsung Care+ plan worth RM699.
SME said with the purchase of the Galaxy Z Fold3 5G or Galaxy Z Flip3 5G between Sept 14 and Nov 30, 2021, customers are also entitled to receive a 30 per cent discount on up to three selected accessories.
Sources: BERNAMA
Book Review: Know What It's Like To Find True Love In 'All This Time'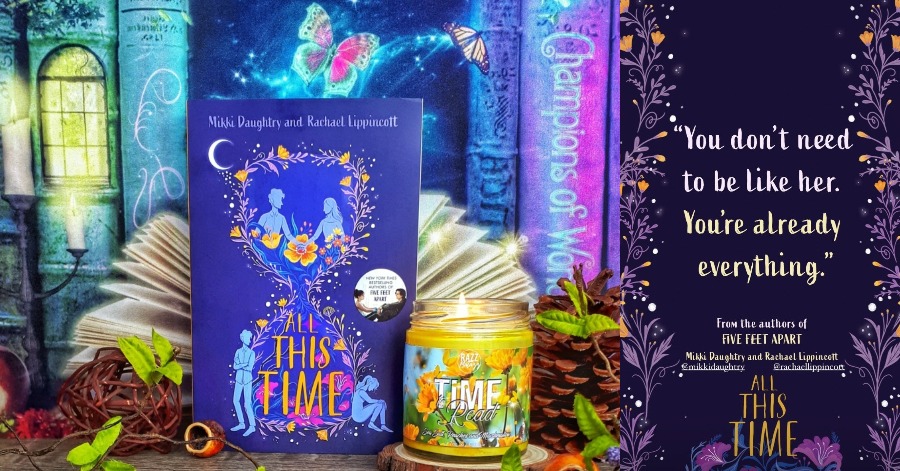 Reading a book sometimes can really make us feel that the story of our life can be so closely related to the content of the book itself. Books do not have to just teach us about what to do in our life like how to survive in the woods, what learning strategies that you have to learn, or other things. Books can also help to prove to us that true love is indeed real.
One particular book that would be talking about true love would be the 'All This Time' book by authors that are called Mikki Daughtry and also Rachael Lippincott. This book can make the readers that spend their time reading the book feel and experience all the emotions together through the character's perspective. A book that is so relatable.
A saying in the book that really hits all the readers would be "Can you find true love after losing everything?". It really makes the reader questioned whether it is possible or not. The book tells the story of characters that are called Kyle and Marley who work to heal each other's wounds. While trying to fix their individual wounds, their feelings for each other grow stronger. But Kyle can't shake the sense that he's headed for another crashing moment that will blow up his life as soon as he's started to put it back together. Something that people in real life experienced.
It is an unforgettable book perfect for fans of John Green, Nicola Yoon, David Levithan, and Jenny Han. While the readers reading the book, the electricity that Kyle and Marley have is actually so unique. The bond that they share together is unique in how they both understand even their unspoken words. Made the readers fall in love with the characters. The plot took the readers by surprise and also had them hanging on the edge of their seats towards the end. It was so good, full of love, sadness, and hope. Good reading for all people who are still finding love for them.
Sources: Good Reads.