Know About How Malaysia Day Came To Be And Here's Why We Celebrate It!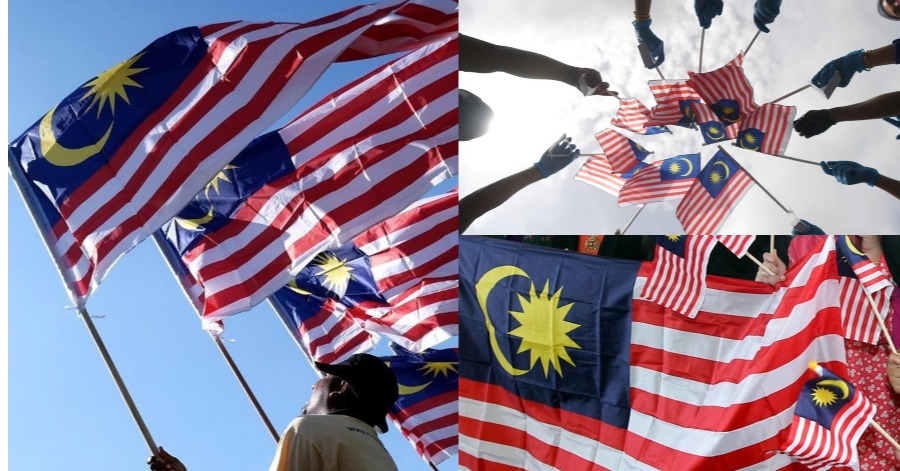 Malaysia Day is fast approaching us, but how well do you know the country? Apart from being a public holiday celebrated by Malaysians on September 16, it is also a historically significant day for Malaysia,  since it marks the formation of the Malaysian Federation in 1963.
Hari Malaysia is another name for Malaysia Day. It wasn't until 2010 that this day was declared a national holiday. Malaysia Day celebrations largely consist of patriotic rituals honoring Malaysians' fortitude. But don't mix it up with Merdeka Day, which falls on August 31st. So what' the difference between Malaysia Day and Independence Day? When Singapore, Sabah, and Sarawak joined the Malaysian Federation on September 16, 1963, it became the Malaysian Federation. Every year, the anniversary of this day is commemorated as Hari Malaysia. The original day of independence, however, is August 31, which is known as Merdeka Day.
Here's a timeline of Malaysia Day:
In May 1961, during the Conference of the Association of Foreign Journalists, Tunku Abdul Rahman had an idea about the need to develop a plan to form political cooperation between the Federation of Malaya, Singapore, Borneo, Brunei, and Sarawak. On July 23, the branch of the Commonwealth Parliamentary Association Meeting of Malaya and Borneo in Singapore have agreed to establish Malaysia Solidarity Consultative Committee. This meeting was chaired by Stephen Donald and the first meeting of the Malaysia Unity Consultative Committee was held in August, following the second meeting in December.
In January 1962, the third meeting was held at the Selangor Legislative Assembly Chamber, Kuala Lumpur. The Cobbold Commission was set to survey the views of people in the states of North Borneo (Sabah) and Sarawak. This commission consists of 5 members namely Lord Cobbold, Dato' Wong Pow Nee, En. Mohd Ghazali Shafie, Sir Anthony Abell, and Sir David Wathersons. In February, the fourth meeting was held and in June, the Cobbold Commission report was prepared and submitted to the British government and the government of Malaya.
In July 1963, important agreements were signed at the Commonwealth Relations Office in Malborough House, London. The agreement to establish the Federation of Malaysia was then signed by representatives of the British government, the Federation of Malaya, Sabah, Sarawak, and Singapore. Hence on September 16, 1963, Malaysia's proclamation ceremony was held here at the Merdeka Stadium Kuala Lumpur where the Prime Minister, Tunku Abdul Rahman read the proclamation in front of almost 30,000 Malaysia.
Here's some interesting fact by the way:
Fact 1-The actual date
The public ceremony was actually held on September 17 instead of 16.
Fact 2- Did you know Malaysia Day was meant to be on August 31?
On July 9, 1963, the British, Malaya, North Borneo, Sarawak, and Singapore signed the Malaysia Agreement, and Malaya's Parliament enacted the Malaysia Act on August 20, 1963. Malaysia Day was postponed from August 31, 1963, to September 16, 1963, to provide the United Nations (UN) mission time to decide and produce a report on whether the people of Sabah and Sarawak wanted to be part of Malaysia.
Fact 3- Representation of Singapore
On the flag, one corner of the star symbolized Singapore, but it was later altered to represent Kuala Lumpur.
Fact 4- Public holiday in all states
Before 2010, Malaysia Day is a public holiday in Sabah in conjunction with the birthday of Yang Di-Pertua Sabah state; however, it is not a public holiday in Sarawak and Peninsula Malaysia. Starting from the year 2010, Malaysia Day is a public holiday for all states in Malaysia.
Why do we celebrate Malaysia Day?
Malaysia Day signifies a day of victory. It commemorates the Malay, Sabah, Sarawak, and Singapore territorial coalitions. It is a day of triumph since all of these countries have overcome their differences to form a unified federation. Secondly, it spreads unity. Malaysia Day promotes solidarity among Malaysians. The manner that the people of Singapore, Malay, Sabah, and Sarawak joined together despite their differences is a remarkable example of togetherness. Last but not least, it is a festive day. What could be more thrilling than taking a day off and celebrating a national holiday? Malaysia Day is a national holiday in Malaysia, and several ceremonies take place on this day. People sing national anthems to cheer one other up.
So keep your national spirits high and show some love to our beloved country!
Sources: National Today, Arkib Negara Malaysia, MDKS
(Video) Children's Behavior That Makes Us Laugh, Showing Love At First Sight
Children's behavior can be really unpredictable sometimes. This is because they could be annoying and hard to deal with at some point and then they could be doing something that is really out of our imagination. Even though that is something new for all parents have to deal with, their behavior definitely the one that makes a lot of people laughing.
That is what actually happens in this particular video that went viral on the TikTok app recently. The TikToker that goes by the name Farahwaniismail has posted a video about her daughter that got caught in love at first sight situation with another little boy at a restaurant. The rare situation makes the TikToker burst into laughter watching it.
@farahwaniismailDrama spontan di kedai makan. Aduhh terhibur mama 🤣🤣🤣!!! 20tahun lagi jumpa balik ye nak oi 😂
In the video, it can be seen that there is a little boy who has been staring straight towards the TikToker daughter and he seems to be very interested in the little girl. The whole video could be so funny when the little girl watches it back in the future. Looking at the comments section, a lot of netizens that watched the video also find it so hilarious.
Sources: TikTok Farahwaniismail.
(Video) Man Funnily Shares A Pun About One Famous Destination In Melaka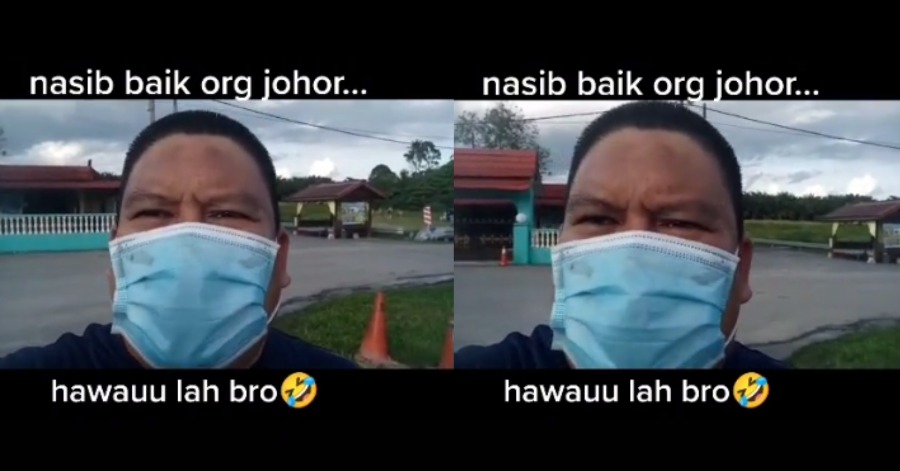 Recently, a video went viral on the TikTok app showing that man has made a pretty funny pun about one of the popular destinations in Melaka. It is indeed a hilarious play on words using the name of the place. The name of the particular place is actually called 'Melaka Pindah' and it has a lot of interesting history about Melaka that people should know.
Based on the video, the man said that he is from Johor and he wanted to travel to Klang. On his journey, he stops by Melaka and he stated that he could not find Melaka as Melaka has moved away. The pun is actually him saying that 'Melaka dah pindah' from the place instead of the name of the place that is 'Melaka Pindah'.
For those who might not know, there is actually a history about the name 'Melaka Pindah'. The story tells about the Datuk Paduka Seri Maharajalela who is a Malacca Malay Government Head. He retreated to the upper reaches of the Melaka river with his followers after the state of Melaka was attacked. Unfortunately, they were defeated by the Portuguese army in July 1511. After that, it was Datok Paduka Seri Maharajalela who opened Kampung Melaka Pindah and he died in July 1521. Therefore, due to this relocation, this village has been given the name Kampung Melaka Pindah.
Looking at the comments section, many netizens also find the video quite hilarious.
Sources: TikTok Asrul Nizam, Sayang Melaka.
Shared Space Project In Kampung Baru To Take Off In Early 2022 – Shahidan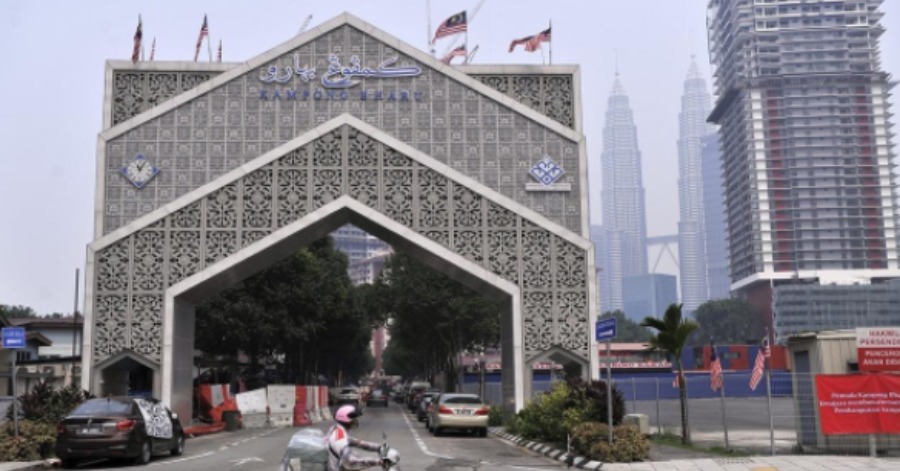 KUALA LUMPUR, Oct 13  — The Federal Territories Ministry in collaboration with Kuala Lumpur City Hall (DBKL) will be implementing a shared space project in Jalan Raja Muda Musa, Kampung Baru, here, early next year and is expected to be ready by early 2023.
Its minister Datuk Seri Dr Shahidan Kassim said the project would be a catalyst for tourism product growth in Kampung Baru, besides tackling other problems such as traffic congestion, traders/hawkers, and lack of cleanliness and beautification along the route.
"For a start, Jalan Raja Muda Musa will be upgraded for phase one of the project and the tender will be out this month while the site project is expected to start early next year.
"This project will also further enliven the food havens along Jalan Raja Muda Musa and Jalan Raja Alang," he said in a statement today.
Shahidan said the ministry was also targeting to provide 1,000 kiosks and trading spaces under the City Young Entrepreneurs Programme in Kuala Lumpur and Putrajaya beginning next year until 2023.
"Until September this year, 126 entrepreneurs had already started their business while 2,268 candidates had registered under this programme.
"DBKL also plans to hold the Entrepreneur Mentoring Programme with several measures to be identified to further raise the business digitalisation rate in ensuring sustainable business operations," he added.
Shahidan hoped that proper and effective implementation of such programmes and projects would have a positive impact on efforts to revive the economy and in tackling poverty among families impacted by the COVID-19 pandemic.
Sources: BERNAMA