Première Hotel Announced Winners For Creative Entries Depicting A Sense of Patriotism In Celebrating Merdeka At Home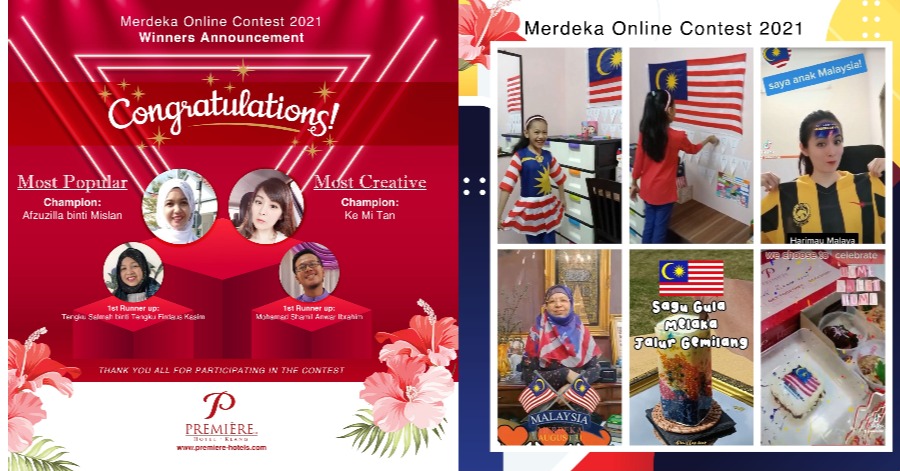 KLANG, 16th SEPTEMBER 2021 – Première Hotel Klang, the property investment and management business under WCT Holdings Berhad ("WCT Group") announced the winners for the 'Merdekaku di Rumahku' video contest. The creative and distinctive entries received showcased patriotism and a sense of national pride.  
The Most Popular entry was won by Afzuzilla Mislan from Melaka while Ke Mi Tan who hailed from Klang walked away with the Most Creative video based on their take of celebrating the 64th Merdeka at home. Tengku Salmah Tengku Firdaus Kasim from Kuala Lumpur emerged the runner-up for the Most Popular submission while Mohamad Shamil Anwar Ibrahim, from Negeri Sembilan won the Most Creative entry.
The 'Merdekaku di Rumahku' 60-sec video contest was launched to encourage Malaysians to showcase their sense of nationalism through creative and unique ways of celebrating Merdeka at home despite the restriction of movement order in the fight to curb the COVID-19 pandemic.
"We surely miss the annual Merdeka celebrations that are held at Dataran Merdeka which draws people from all walks of life coming together to foster the spirit of nationalism. The current situation has not stopped the public from showcasing their love for the country as displayed through the entries received. They have definitely shown ingenuity and communicated their ideas to enliven the Merdeka spirit with their loved ones through something they love to do at home", said Première Hotel Manager, Mr Christopher Chan.
All contestants exhibited the Jalur Gemilang in their entries since it embodies everything we love about our country.
In the Most Popular category, Afzuzilla Mislan featured her cheerful daughter showcasing her Merdeka-inspired room décor, making DIY Merdeka-themed eye masks and dressing up in Jalur Gemilang attire. It displayed a great way to instil the value of patriotism in a fun and creative way among young children. 
Tengku Salmah on the other hand, celebrated Merdeka at home reciting an inspiring, motivating patriotic poetry on unity, remembering independence and prosperity for the nation's future.
For the Most Creative category, Ke Mi Tan showcased her Merdeka celebration at home through various activities, from TikTok Jalur Gemilang-themed face effect, wearing a Harimau Malaya jersey, to having a special Merdeka feast with her children. 
Expressing the spirit through the love for food, Mohamad Shamil created a Jalur Gemilang inspired Sagu Gula Melaka dessert, with vibrant blue, yellow, red and white colours that represent the significance of hardships in the past and the fight for freedom, symbolising the authority and sovereignty of the land, as well as the peace and unity of its people.
Check out the winners' video on the Première Hotel Facebook page. 
The winners walked away with Première Hotel's 2 Days 1 Night Stay at the Grand Deluxe Room worth RM700 for the Most Creative entry and Executive Room valued at RM660 for the Most Popular entry. The runners-up won 2 Days 1 Night Stay at the Deluxe Room worth RM510 and Superior Room at RM510, respectively.
Commenting about appreciating the independence we have inherited, Mr Christopher further added, "As we take time to reminisce about the past and shape the future, Première Hotel believes in the importance of remembering our values and the significance of historical events that unify us to date.  It is vital for us to continue upholding our sense of patriotism, and appreciate the sacrifices of our forefathers that has enabled us to experience peace, prosperity, independence and sovereignty."
For more information about the festivities and promotions of Première Hotel, kindly visit the: – 
Première Hotel Website: https://www.premiere-hotels.com/
Première Hotel Facebook page:  https://www.facebook.com/PremiereHotels/
(Video) The Infamous South Korean Serial Killer Called 'The Raincoat Killer'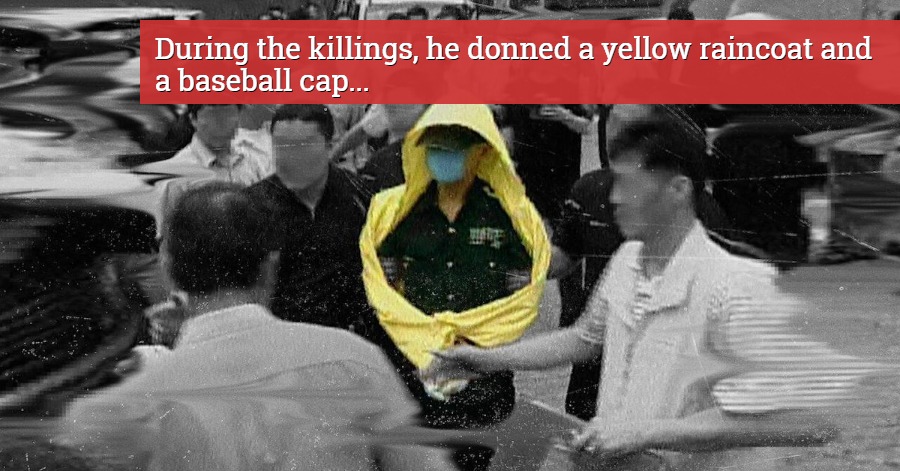 Most criminals aren't born the evil way. Sometimes, they become criminals because of their past, probably something or someone from their past would have triggered hatred, anger, and all kinds of negative feelings which results in one becoming a criminal.
Most criminals in movies have a specific outfit or they look up to someone as an inspiration. In this case, this criminal goes by the identity of 'The Raincoat Killer' and his biggest inspiration is Jeong Du-Yeong, another prolific killer.
Who is Yoo Young-Chul?
Yoo Young-Chul was born in Gochang, Jeonbuk, on April 18, 1970. His family was impoverished, which explains why he was tormented at school. As a result, he came to despise the wealthy. Yoo had a criminal record before becoming a serial killer; in 1988, he was arrested for theft. He was sentenced to ten months in jail for theft again in 1991. He was arrested for theft again in 1993 and sentenced to eight months in prison. Yoo was busted in 1995 for selling child pornography. In 1998, he received a two-year sentence for theft, forgery, and identity theft.
Yoo married his girlfriend in 1991 and they had a son together. He was arrested for the second time in 2000, this time for raping a 15-year-old girl, and he was sentenced to three years and six months in prison. His wife divorced him on October 27. In September 2003, he was released.
Yoo's assassinations did not begin until 2003. He committed one of his first murders when he broke into the home of a college professor and killed him and his wife. Yoo had a profound disdain and loathing for the wealthy, who were his primary targets. He primarily preyed on the elderly. After being rejected by a prostitute, Yoo decided to focus on sex workers as his primary victims.
Modus Operandi
Yoo's Modus Operandi for killing his victims was to bludgeon them to death with a hammer. Yoo would disguise his actions as robberies gone wrong in order to hide his traces. Yoo was also known for assaulting his sex worker victims before killing them and dismembering their remains to conceal their identities. He planned to bury their dead in a variety of spots throughout the highlands. Yoo has killed 20 people in a year. Yoo was apprehended by police in July 2004, however, he only admitted to 19 murders. He acknowledged to cannibalism during interrogation, but there was no proof to back up his accusations.
Yoo claimed that he removed and ate the livers of his victims on occasion, but this has never been proved. He also purported to be an officer, posing as one with a fake police ID. He also set fire to the bodies of some of the victims, stabbed and suffocated one of them at other times. During the killings, he donned a yellow raincoat and a baseball cap.
According to Yoo's victims, he targeted older affluent persons, prostitutes, and masseuses. During questioning, Yoo admitted to picking wealthy victims because he was envious of their large and opulent residences. According to The Chosunilbo, who covered the story in 2004, his animosity toward the wealthy dates back to his boyhood. Yoo was tormented at school and grew up in a disadvantaged family. His animosity towards sex workers and massage victims arose from his relationship with a sex worker. His sweetheart was a member of the profession who turned him down after learning of his criminal history. Yoo's rage grew after his divorce in 2002.
Yoo admitted that he was motivated by another prominent serial killer in South Korea, Jeong Du-Yeong. According to The Korean Herald, Yoo recalls his most terrifying experience as being when his 4-year-old son contacted him while he was caring for a victim. Yoo was sentenced to death, but prosecutors filed an appeal. It is said that the serial killer is currently being held in Seoul.
Netflix's New Docu-Series
Apart from this gruesome story, the exciting news is that Netflix announced that 'The Raincoat Killer: Chasing A Predator In Korea' will be premiered on October 22. Yoo Young-chul, a legendary serial killer who came to light as a psychopath to the Korean public in 2004, is the subject of the three-part docuseries.
Sources: Cheat Sheet, Criminal Minds Wiki, Variety, Netflix, Netflix Korea
(Video) Remembering Furry Bestie, Owner Shares Sweet 'Fluffy The Rider' Memories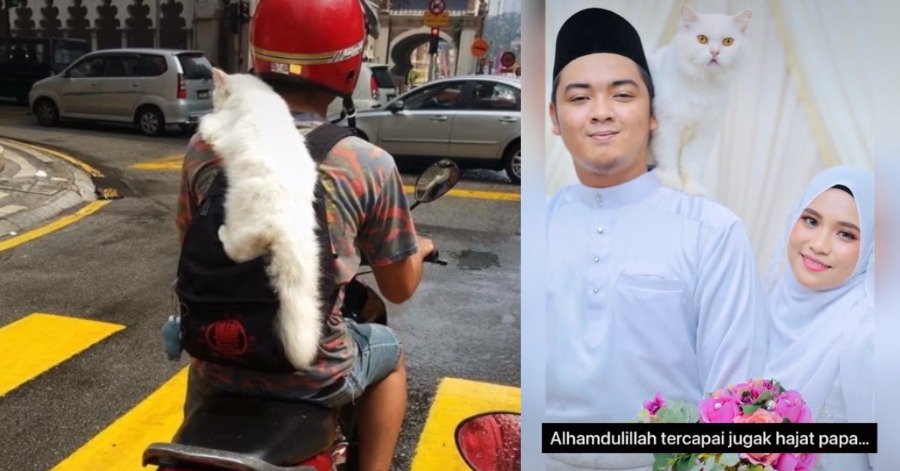 A pet cat would definitely be one of the best companions that any individual in this whole wide world could have in their own house. This is because they are so adorable to be with and also could entertain us all the time. One of the most famous pet cats that would be so well-known in Malaysia for being so loyal and also close with its owner would be none other than 'Fluffy The Rider'. This particular white cat is definitely a pet cat that would be loved by everyone.
This pet cat is known as 'FluffyThe Rider' has been famous all over social media over the past few years for riding a motorcycle by being on its owner's shoulder, without fear of the surrounding environment or even the public. Sadly, the cat has left the world and many people are so saddened about it. Recently, the owner has posted a video on the TikTok app reminiscing about 'Fluffy The Rider'. The video went viral on the app and attract many netizens to watch.
The owner mentioned before that the cause of death could not be identified. 'Fluffy The Rider' suddenly had an eye pain, then followed by a watery mouth. The heartfelt video posted on TikTok app tells the whole story about the life of 'Fluffy The Rider' and also its owner since the cat with only Papa up until when Papa got married. So sad to watch.
Looking at the comments section, a lot of netizens would also feel sad and touched by the video because the pure emotional connection that 'Fluffy The Rider' and the owner's family have was so authentic and original.
There are some netizens that commented asking about Fluffy's kittens, hence the owner decided to reveal them in the next video. The kittens are definitely so adorable to watch.
Sources: TikTok Fluffy Empire.
(Video) Experience Eating With Amazing Scenery, 'Cove Aerobar' At Gamuda Cove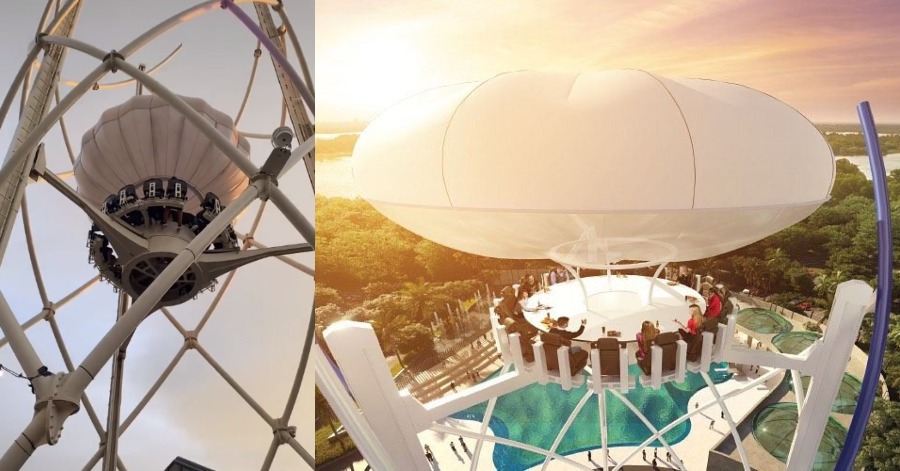 There are getting more and more interesting places to visit nowadays here in Malaysia. One of them would be the 'Cove Aerobar' that is specifically located at Discovery Park in Gamuda Cove. According to their website, Discovery Park at Gamuda Cove is set to offer an exciting and unique experience throughout two recreational zones that would be the Adventure Park and also Hangout Village. It is known as not your average recreation park because it aims to be the next key destination for local and international visitors. Everybody would be excited to visit this amazing spot.
'Cove Aerobar' is the crown jewel of Discovery Park. A revolutionary concept of food-tainment. You could enjoy a unique peek into the entire development of Discovery Park and also Discovery Wetlands from the top of this remarkable 40-meter structure in the sky. It is the first aero bar in Malaysia and Southeast Asia for 16 passengers, feet dangling in the air, sitting around a 360-rotation bar, and admiring the beautiful panoramic landscape.
To ride this thing, these are some of the Do's that the visitors should have:
Sources: TikTok Fatim Arzmi, Discovery Park