Singapore's First Giant Panda Baby Is A Healthy Male Cub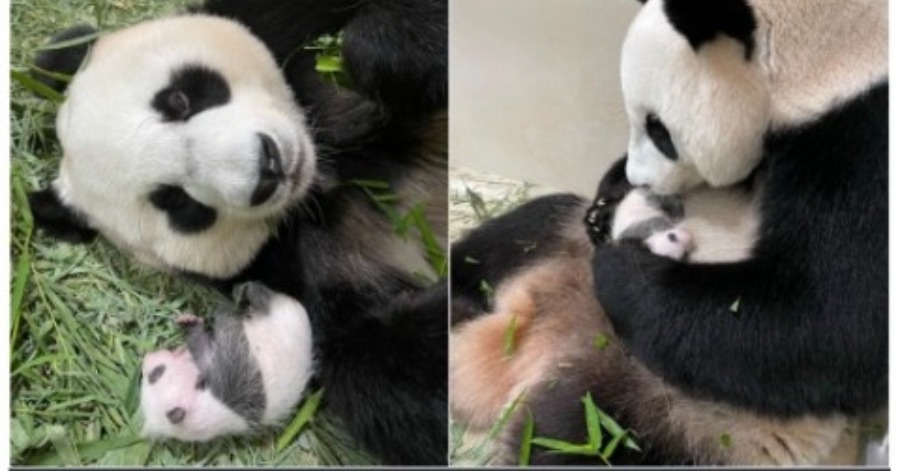 SINGAPORE, Sept 10  —  Singapore's first giant panda cub born at River Safari here on Aug 14 is a healthy male cub.
Though the cub has yet to undergo a full veterinary examination as the mother Jia Jia continues to be its primary caregiver, the attachment between Jia Jia and her carers has allowed them to observe the cub at close range that enabled them to confirm the presence of external male genitalia.
"Jia Jia continues in her role as a new mother and has exceeded all expectations in caring for her cub. As such, the panda care team has decided to allow this period of maternal care to continue for as long as possible for the duo to strengthen their bond," said Deputy Chief Executive Officer and Chief Life Sciences Officer at Wildlife Reserves Singapore (WRS), Dr Cheng Wen-Haur in a statement today.
According to WRS, the cub has started to develop prominent black markings around his eyes, ears, and body-transforming from a fur-less pink newborn to a miniature version of his parents.
His fur is expected to be fully formed within the next few weeks, and he will soon open his eyes to the world.
Meanwhile, members of the public will be able to play a part in the naming of the cub before it turns 100 days old on Nov 21, 2021.
Details on how to participate are available on www.wrs.com.sg/pandacub, and the public has until Sept 19, 2359 hours to enter their submissions.
River Safari is a home to giant pandas as part of a joint collaboration between China Wildlife Conservation Association and Wildlife Reserves Singapore to promote giant panda conservation.
The giant pandas are housed in a specially constructed climate-controlled exhibit along the Yangtze River zone.
Sources: BERNAMA
Labuan Healthcare Personnel Ready For Influx of Travelers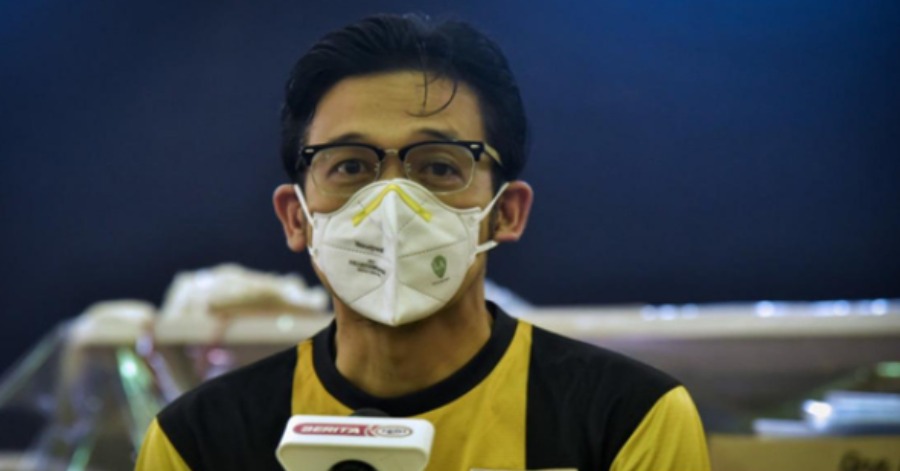 LABUAN, Oct 14 — Labuan healthcare personnel are well prepared to manage the influx of travellers into this duty-free island, armed with health protocols as part of the COVID-19 infection prevention measures.
Labuan Health Department director, Dr Ismuni Bohari said although COVID-19 tests were not required for the fully vaccinated for interstate travel, health screenings were still being conducted at the main entry points of Labuan Airport and two ferry terminals.
"Our healthcare personnel continue to discharge their duties at the entry points by conducting health screenings like body temperature checks for possible symptoms of COVID-19.
"There will be no request for the RTK-Antigen or RT-PCR test results from travellers upon arrival at the entry points here," he said.
Prime Minister Datuk Seri Ismail Sabri Yaakob had announced that interstate travel across Malaysia would resume from Oct 11, as the country's adult vaccination rate (fully vaccinated with two doses) had reached 90 per cent.
Meanwhile, Dr Ismuni reminded travellers to strictly adhere to the COVID-19 infection preventive measures while on holiday here.
"Travellers to Labuan must call off their holiday plan if they are unwell or having symptoms like fever, flu….we must be together in breaking the chain of infection," he said.
Dr Ismuni said Labuan has been receiving a steady increase of travellers from the peninsula and Sabah in the last two days.
"As the government has decided to ease the restrictions, we must be prepared at all costs in our health protocols such as being on standby at the entry points for travellers' body temperature checks," he said.
He added that the Labuan International Ferry Terminal and Labuan Airport were equipped with thermal scanners to screen the body temperature of passengers.
Sources: BERNAMA
MOTAC Proposes Opening Langkawi To Foreign Tourists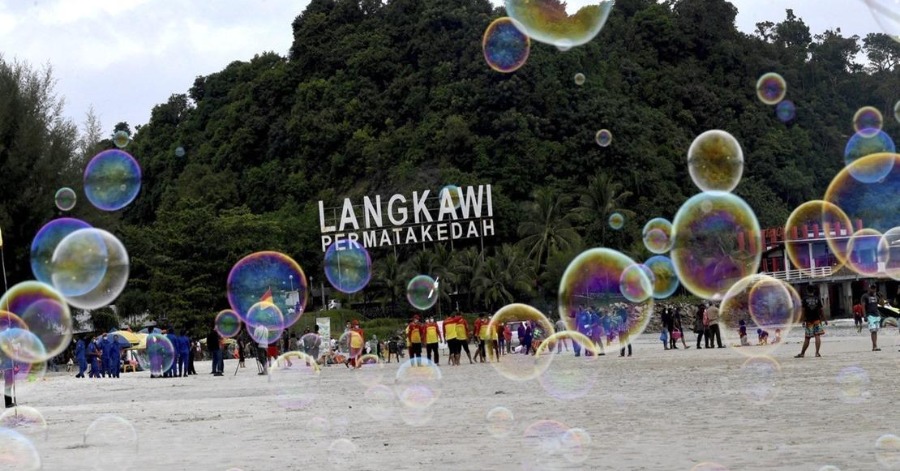 KUALA LUMPUR, Oct 14  — The Ministry of Tourism, Arts and Culture (MOTAC) has proposed to the National Security Council (MKN) to open Langkawi to tourists from several selected countries under the ongoing pilot tourism bubble project.
Minister Datuk Seri Nancy Shukri said the move was to enable Malaysia to revive its economy which was affected by the COVID-19 pandemic.
"I suggest that we open (the borders) to (tourists from) certain countries to Langkawi first, under the Langkawi pilot project.
"This is one of the ways we can revive our economy," she said in reply to Senator Ahmad Yahaya who wanted to know whether the government planned to open the borders for tourists, especially from ASEAN member countries.
Earlier, Nancy said between Sept 16 and Oct 12, a total of 85,921 people had travelled to Langkawi through the tourism bubble and based on the feedback from the Malaysian Association of Hotels (MAH), the average hotel occupancy rate in Langkawi for the first week this month was 45 per cent at four- and five-star accommodation and 21 per cent for the accommodation of three-star and below.
Sources: BERNAMA
Creative Industry's Potential Can Be Maximised By Leveraging Digital Technology – Annuar Musa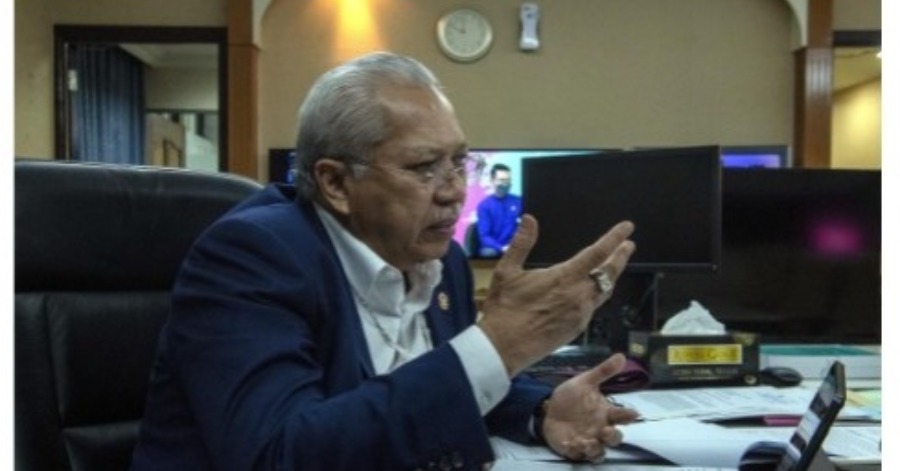 KUALA LUMPUR, Oct 14 — The development of the creative industry can be accelerated by firstly maximising the industry's potential, said Communications and Multimedia Minister Tan Sri Annuar Musa.
He said it can be achieved by leveraging on Malaysian creativity and digital technology, while preserving invaluable national culture, arts and heritage.
"We will be developing a conducive ecosystem for the creative landscape, upscaling our talent to match the needs of the industry, as well as strengthening our product development and promotion initiatives," he said at the virtual Kuala Lumpur Creative Economy Forum (KUL.CEF 2021) and kick-off of the Art In The City (AITC) 2021 today.
He said the growth enablers will increase revenue and job opportunities, as well as bolster local distinctive cultural identities, paving the way for Malaysia to become a renowned exporter and leader of the creative fields.
"Personally, in my purview as minister, I hope to see the industry strengthen through a strategic plan, a coordinated effort across the public and private sectors, a database approach in scaling up the sectors, and patient capital to grow this creative economy of Malaysia.
"This must be done immediately via the Ministry of Communications and Multimedia and its agencies including the Cultural Economy Development Agency (CENDANA) and MyCreative Ventures," he added.
In addition, Annuar said he also hopes to see more strategic programmes that help build on successful local precedents such as Upin & Ipin, Ejen Ali and Didi & Friends which had made their mark both locally and globally.
"It is time, now more than ever, to spur the growth of the industry and it requires an out-of-the-box approach or approaches which we can borrow from others who have done very well.
"We can localise these approaches here at home to create a conducive ecosystem to ensure the industry becomes an engine of social inclusivity, (leading to) creation of jobs, and potentially economic gains for the nation," he said.
Annuar said with 2021 being the International Year of Creative Economy for Sustainable Development, there is much to harness from cultural and creative stories and assets.
"We already have close to 900,000 Malaysians employed in the creative economy and that is a big number. Indeed more can be done and I believe more should be done.
"The 12th Malaysia Plan aims to boost the creative sector's contribution to national Gross Domestic Product (GDP) by almost 20 per cent over the next five years, from RM26.8 billion in 2020 to RM31.9 billion by 2025.
"There is a huge role for the government to play in facilitating this growth. It does not only require policymakers of the country, but also corporations and the content creators, to play an important role in developing the country's creative economy, especially post-COVID-19," he said.
After more than a year's hiatus due to the COVID-19 pandemic, CENDANA, a unit of MyCreative Ventures, aims to reach out, restart, revive and rebuild the nation via the arts and culture sector via one of its leading arts platforms in engaging with the public, AITC 2021.
AITC 2021 will kick off with the KUL.CEF Forum on Oct 14, held virtually.
KUL.CEF forum is a follow-up online conversation from the Creative Economy Forum that took place in October 2020. It is a Malaysian event to commemorate the International Year of Creative Economy for Sustainable Development.
KUL.CEF aims to focus on increasing the participation of the private sectors in contributing to the development of arts and culture in Malaysia.
Sources: BERNAMA