The Influence of Climate On Malaysia's Mass Flowering Phenomenon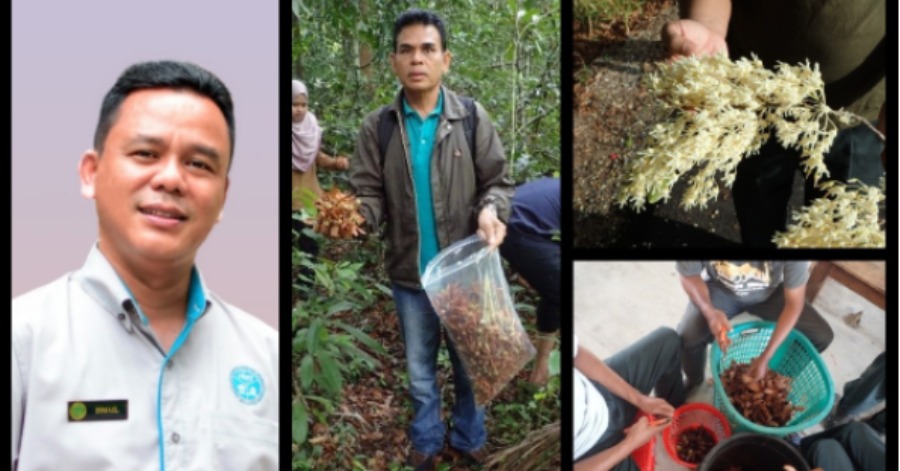 KUALA LUMPUR, Sept 21  – Prolonged drought and minimum daily temperature are the factors that trigger intermittent mass flowering in the country, according to a Forest Research Institute Malaysia (FRIM) study.
FRIM director-general, Dr Ismail Parlan, said the FRIM field research station (SPF) in the Pasoh Forest Reserve, Negeri Sembilan has been studying flowering cycles since 2001 under a seed and seedling distribution monitoring project.
He said the study was with the Smithsonian Forest Global Earth Observatory (ForestGEO) in the US and National Dong Hwa University (NDHU) in Taiwan.
"The study showed the phenomenon occurred irregularly, between one to 10 years, and was recorded in 2002, 2005, 2009, 2010, 2012, 2014 and 2019.
"There is a hypothesis that the phenomenon is a strategy by the plants to maximise the survival rate of seedlings," Ismail said in a statement.
He added that trees bloom abundantly at irregular intervals of two to 10 years, but the flowering cycle of dipterocarps is five to seven years.
Ismail said profuse blooming in Southeast Asia led to over 80 per cent of the canopy being covered in fruit and over 50 per cent for a mature tree that may flower over three or four months.
Meanwhile, Perlis's SPF Mata Ayer manager, Ahmad Fauzi Mohd Shariff, said that in February 2017 mass flowering occurred among the Shorea roxburghii (dipterocarp species) in northern Kedah and Dipterocarpus rigidus seeds were collected.
Aside from this, the Parashorea sp (dipterocarp species) at the Chalok Forestry Training Centre, Terengganu bore a lot of fruit and seeds were collected in April for germination at SPF Mata Ayer.
This year, mass flowering was followed by mass fruiting for 50 – 60 per cent of the dipterocarps at the FRIM campus in Kepong, Kuala Lumpur and the seeds were collected by FRIM's Seed Technology Laboratory for cultivation.
FRIM's research into the phenomenon was presented at the second Greening Malaysia Campaign webinar series themed 'Mass Flowering of the Malaysian Rainforest: Capitalising on the Event for Mass Production of Planting Materials' on July 30.
Co-organised with the Ministry of Energy and Natural Resources (KeTSA) and The Habitat Foundation, it saw the participation of almost 1,200 people from countries like Thailand, the Philippines, Indonesia, Japan and Australia, and was followed by 3,058 people on Facebook Live.
Sources: BERNAMA
Fascinating! Accidental Discoveries That Changed The World!
Many significant scientific breakthroughs have occurred by chance throughout history. They sometimes arose from seeing promise in an unexpected product or even in the trash from a botched dish, turning serendipity into an accident. Other times, an apparently hopeless attempt yielded a breakthrough out of sheer desperation.
We utilize items like microwaves and matches to make our lives simpler every day. But, believe it or not, these brilliant innovations that allow us to live our lives without worry were produced purely by chance, rather than via trial and error.  Do you want to learn about some of the world's most influential unintentional inventions? If that's the case, keep reading!
1. Penicillin
Alexander Fleming (the inventor) got up and went on vacation halfway through a bacterium experiment. He left a filthy petri dish in the lab sink, being the slob that he was. When he returned, he saw bacteria had grown all over the plate except where mold had developed. Penicillin was developed as a result of this discovery, and Mrs. Fleming hired a maid!
2. Anesthesia
Nitrous oxide was primarily a party gadget in its golden days, as it made people howl like hyenas. However, at a laughing-gas stage play, a dentist's buddy overdosed on the substance and gashed his leg. The pal had no idea he'd injured himself. As a result, nitrous oxide was the first kind of anesthetic.
3. Microwave
After WWII, the Raytheon engineer began exploring new applications for the magnetron, which produced microwaves for radar systems. A chocolate bar in Percy Spencer's pocket melted one day when he was standing near to the gadget. On popcorn, the magnetron performed much better. Hence, the microwave was born!
4. Chewing gum
Thomas Adams was experimenting with chicle, a South American tree's sap, like a rubber replacement. The disappointed inventor put a chunk into his mouth after a string of failures. He enjoyed it! As a result, Adams New York No.1 became the world's first mass-produced chewing gum.
5. Brandy
A Dutch shipmaster concentrated wine with heat to make it simpler to transport, with the intention of reconstituting it with water once he arrived. A wine that has been concentrated is preferable to wine that has been diluted down. With that, 'burnt wine,' or 'brandewijn,' became great popularity in the Netherlands. Because there's no way you can pronounce brandewijn so a bartender can comprehend what you're ordering after a few drinks of the stuff, call it brandy.
Many people assume that need is the driving force behind creation, however, this is not always the case.
Funny isn't it. Who would have thought something accidental would become a useful thing for us!
Sources: Reader's Digest
(Video) TikToker Shares A Video, Biduanita Saloma's Last Appearance In 1983 Movie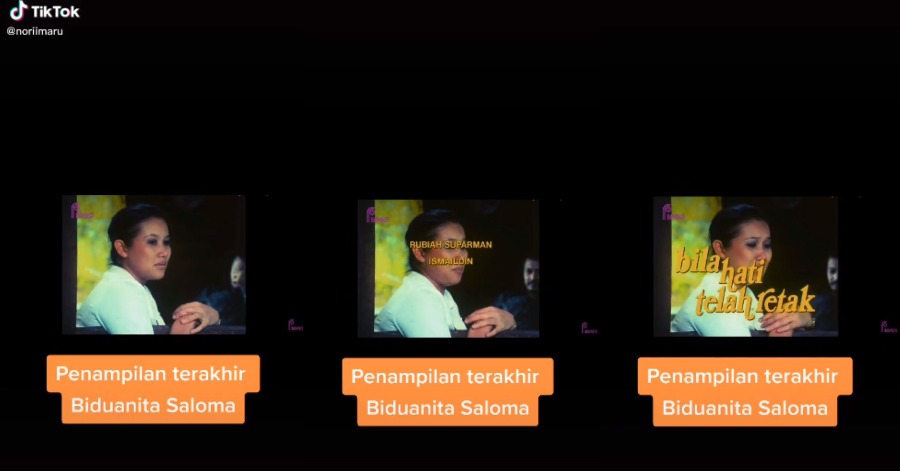 'Bila Hati Telah Retak' is actually a Malay film published in Malaysia in the year of 1983. The film was published in the form of a color film and it was first shown in cinemas nationwide in the same year of 1983. The film, features Rubiah Suparman, Ismail Din, and many more talented actors and also actresses. It is one of Malaysia's iconic films.
Other than being one of the iconic films ever made in Malaysia, this particular film also features the final appearance of Biduanita Saloma. This is what makes the film so special. Saloma was indeed a Singaporean singer, film actress, great trendsetter, and also a fashion icon who became well known in the late 1950s. Many people sure love to hear her sing
In the film, Saloma also sang a song that is titled 'Bila Hati Telah Retak' and it was probably one of the saddest songs ever made if the listeners really understand the lyric and the meaning of the song. Looking at the comments section, a lot of netizens missing to watch this type of film on television because it does really relates to what happens in real life.
Sources: Edy Ramanov.
(Video) Owner Made His Adorable Pet Cats To 'Open Their Own Shop'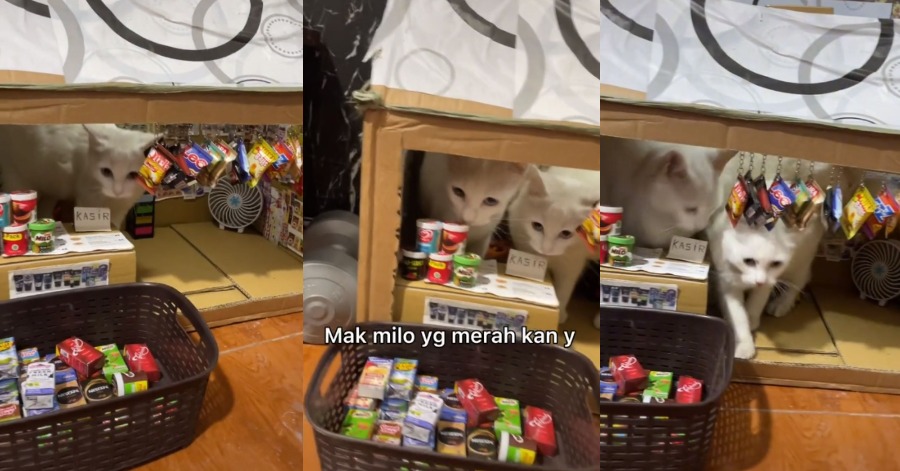 Having cats as pets in your own home would definitely be something that would help you a lot emotionally especially during this Movement Control Order (MCO) period where we have to just stay safe at home. According to research, pet cats could help to lower stress and also anxiety. This is because cat owners all around the world actually really know how one session of petting or even playing with their cat can turn a very bad day into a good one. This is great.
That is what has been done by a particular cat owner with his pet cats. As can be seen in a posted video on the TikTok app that went viral, the cat owner made his adorable pet cats that are white in color open their own shop. It can be seen that the cat owner interacts with his pet cats as if the cats are running the shop selling items for him at the shop.
The posted video is indeed very cute and heartwarming to see. The cuteness of the cat could not be resisted by many people who watched the video. The cat owner made a conversation between him and the cats as he wanted to buy milo from the shop. Looking at the comments section, many netizens enjoyed the video and think the video is lovely.
Sources: TikTok Randy.