The Story of Lee Hadwin, The Sleepwalking Artists Who Draws While Asleep!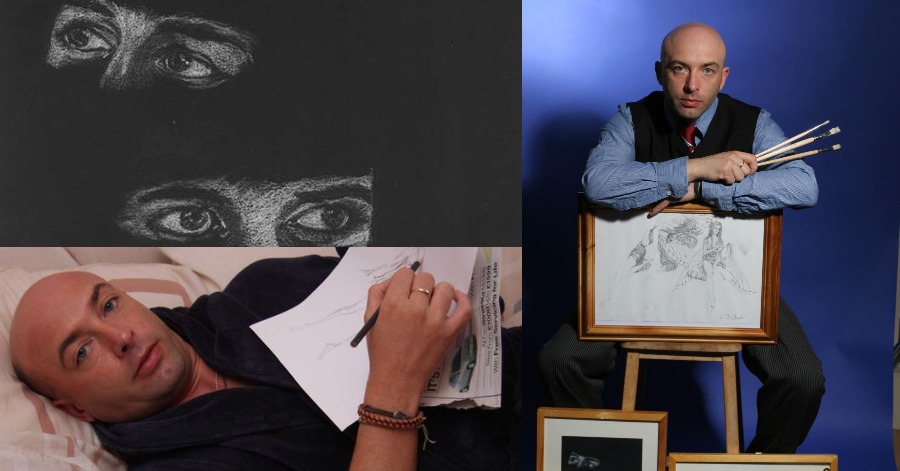 Ever experienced sleepwalking? Sleepwalking, also known as somnambulism, is when a person wakes up and walks around while still asleep. Sleepwalking is more prevalent in children than in adults, and it is usually overcome by adolescence. Sleepwalking infrequently does not always indicate a major condition or necessitate therapy. Recurrent sleepwalking, on the other hand, could indicate an underlying sleep issue.
Often sleep walks occurs when one is stressed or sleep deprived. Some occasion sleep walkers don't even recall what they do. This case however, is peculiar.
Meet Lee Hadwin, a man who does wonders while sleepwalking. When Lee Hadwin is awake, he sees himself as a person who lacks artistic ability. While he's sleeping, though, his artistic side comes to life, and he creates portraits, landscapes, and abstract works that only someone with exceptional artistic ability could create. Hadwin awakens from his rest, having snapped out of his art-making trance and resumed his life as a non-creative individual.
But how does he do it?
There have been stories about people who converse or even walk around their homes while sleeping. Hadwin is no exception, though his "sleep artistry" exhibits a far more intricate version of the phenomena.
When he was four years old, it all began. He was a frequent sleepwalker who would get out of bed and wander around the house. He eventually began drawing on his bedroom walls using crayons and pencils from his school backpack. He'd go back to sleep once he'd finished.
His parents were taken aback. The doctor explained, "He's just a child sleepwalking." "He'll get over it."
He, on the other hand, did not. In reality, he improved his skills. Hadwin drew three little pencil sketches of Marilyn Monroe in one night when he was 15 years old. They weren't great, but they appeared to be the work of someone who had received some instruction, was at least 15 years old, and was awake at the time.
Hadwin has created hundreds of midnight pieces since then. They're sometimes figurative sketches, and other times they're abstract. He usually makes a piece a couple of times a week, however he may be limited to one every couple of months on occasion. He passed years without making anything in his early twenties.
He has subsequently built a living out of his late-night activities, referring to himself as a Sleep Artist. He creates work at an unexpected rate, yet it is consistent enough for him to sell original pieces for thousands of dollars while appearing in shows all around the world.
What's funny is that Hadwin never had interest for arts during his school days and his highest grade in arts is a D! Hadwin never had any recollection of drawing anything he produced. Hadwin's life was turned upside down in 2007 when he chose to have a modest exhibition in my hometown/village of Henllan in Denbighshire, North Wales, with the revenues going to a cancer hospice.
Hadwin's painting was featured in a little item in the local newspaper. Then, by chance, a South Korean film crew took up the tale and decided to make a short documentary on him. Following this, The Sun, one of the most widely circulated newspapers in the United Kingdom, chose to publish a full-page interview with Hadwin about his art and life a few days later. His entire life altered from that day forward! Hadwin received hundreds of phone calls and television offers. That year, he decided to make a few documentaries, which sparked a lot of interest in his work in the art world. Hadwin then donates his art to a number of charity, raising awareness for those in need.
Amazing isn't it! Who would have thought sleepwalking would turn out to be something creative. The next time you ever sleepwalking, check to see if you've left drawings anywhere!
Sources: My Modern Met, News.Artnet, Independent, Mayo Clinic
(Video) So Creative! This Is How You Can Make Wedding Card Using Instagram Story!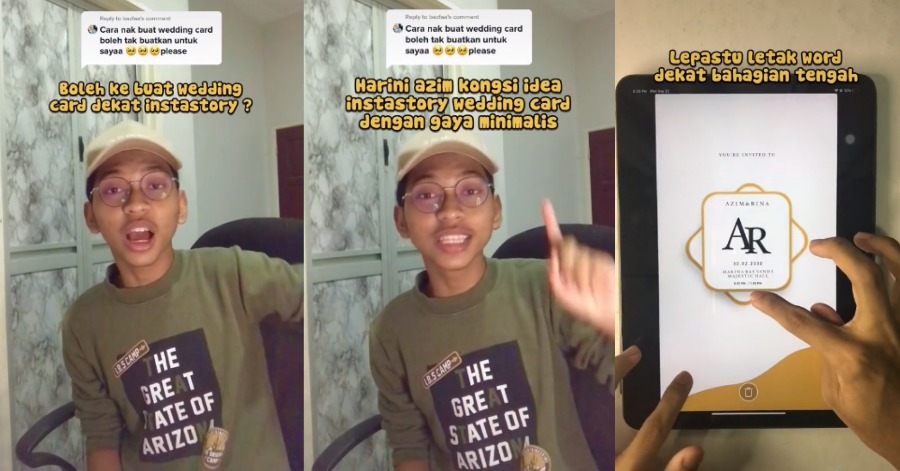 In general, people in this whole wide world know 'Instagram Story' as vertical photos or even videos that could be uploaded up to 15 seconds, and then got disappear after 24 hours after posting. Instead of being displayed in the feed, they are displayed at the top of an active user's app when they are logged in and are tapped through to view.
Little did many people know, other than just to post pictures and also videos, the 'Instagram Story' features from Instagram could also be used to do many things. One of the amazing functions would be to create a wedding card with so many themes that could be chosen. A particular video that went viral on the TikTok app posted by a TikToker that goes by the name Azim Siddiq has taught all the netizens how to make a wedding card with a minimalist theme.
Steps on how to make a wedding card with a minimalist theme:
Open Instagram Story and click on Create.
Snap as usual.
Choose Marker Pen and hold the screen for 3 minutes to get a plain background.
Type on the 'full stop' using the second font to make a rectangular shape.
Choose the color that you wanted. For example, yellow.
Create another rectangular shape using the 'full stop' that is white in color.
Place both of the shapes on top of each other diagonally. The yellow one would act as a border.
Then, create another rectangular shape that is yellow in color and another shape that is white in color.
Place both of the shapes on top of each other vertically.
Color the corner of the picture using a marker.
Then, write 'You're Invited To' on the picture.
Fill in the other details such as the time, the location, the name, and also the initials.
Sources: TikTok Azim Siddiq.
(Video) The Legend of Lu Mei, Uses The Help of Magical Devil For Revenge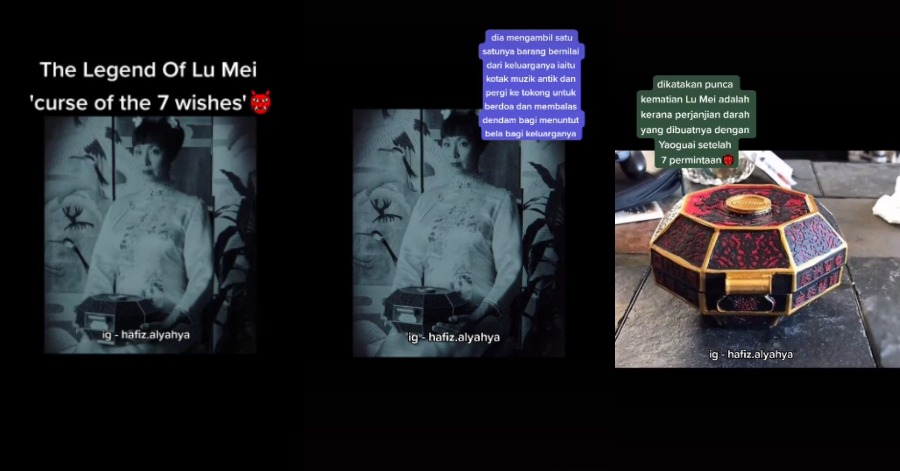 For all the people who might not know, there is actually one particular legend that is so scary in China talking about revenge that got some help from a magical devil. The revenge is solely to seek justice for the family members that died because of injustice treatment. The horror legend is called 'The Legend of Lu Mei' happened in China. It is scary.
The legend is related to the curse of the 7 wishes. According to the story, any individual can summon the magical devil, and then the summoner could have in total of 7 wishes that the summoner wants. The wishes could be in any form that the summoner wants the magical devil to do towards anything or anyone. This legend gives goosebumps.
In the year 1910, an epidemic of disease that is very dangerous and deadly has hit Mainland China. According to the story, Lu Mei and also her family were suspected of being infected with the deadly disease, and then all of them were asked to be quarantined on a train where they later died of heatstroke and also starvation. Such pity for them.
It is said that only Lu Mei survived. She took the only valuable item from her family which was an antique music box and went to the temple to pray and take revenge to avenge her family. She prayed for 7 days 7 nights and on the seventh night of her prayers, Yaoguai answered her prayer. Yaoguai is among the magical devils in Chinese belief.
It is said that Lu Mei later became very rich and all the people who had tortured her own family members had died tragically once and for all. But in the year of 1922, Lu Mei was found dead in her home as a result of suicide. It is said that the cause of Lu Mei's death was due to a specific blood deal she had made with Yoaguai after she made 7 wishes.
Sources: TikTok Abiey Victor 2.
(Video) 'Night Teeth'! Get Spooky This October With Netflix's New Movie!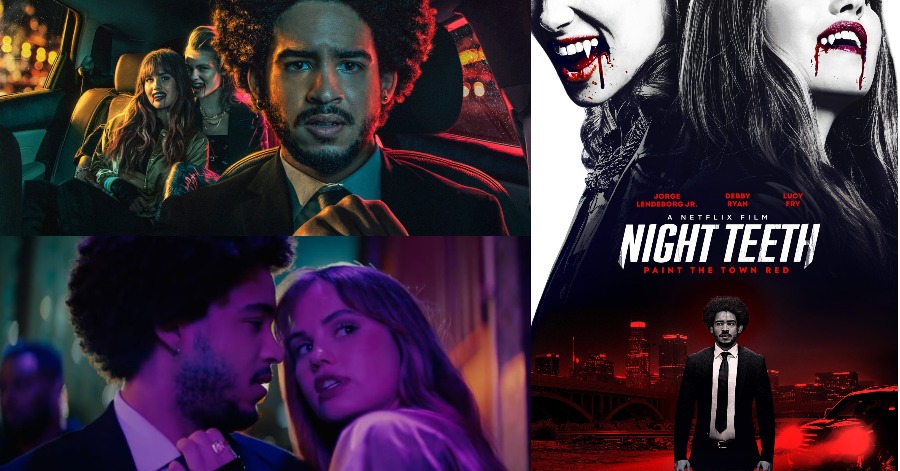 When we hear October, all the creepy things crawl into our minds. Of course, it's the month where around the world people celebrate Halloween. This festival is celebrated every year on the 31st of October. The custom dates back to the ancient Celtic celebration of Samhain when people lit bonfires and dressed up in costumes to fend off ghosts.
But now, people celebrate Halloween for the fun of it. They host parties, wear all sorts of costumes, and the best part, go from door-to-door saying 'trick or treat' for some candies! Another way people enjoy Halloween is by watching series of ghost movies.
Speaking of movies and also Halloween, Netflix is about to release a treat for October which is just in time to make things spooky. Night Teeth, which joins Netflix's existing fang club offerings, adds a new twist to the premise. Sink your fangs into the latest thriller trailer.
Here's a breakdown.
Benny, a quirky college student, moonlights as a driver for one night to supplement his income. His mission: chauffeur two enigmatic young women around Los Angeles for a night of partying.
Taken in by his clients' allure, he quickly discovers that his passengers have their own plans for him — and a voracious appetite for blood. Benny is pushed into the center of a hidden conflict pitting rival vampire tribes against the protectors of the human world, commanded by his brother, who will stop at nothing to send them back into the shadows, as his night spirals out of control. Benny must choose between fear and temptation as the daybreak approaches if he wants to stay alive and save the City of Angels.
I don't know about you but I find vampires to be the best kind of scary movie. So slick, innocent yet full of danger and blood-spilling action!
So get ready for some blood-sucking, fight night thriller on Netflix for this Halloween!