UniMAP Becomes First Public University To Conduct Research On Hemp Cultivation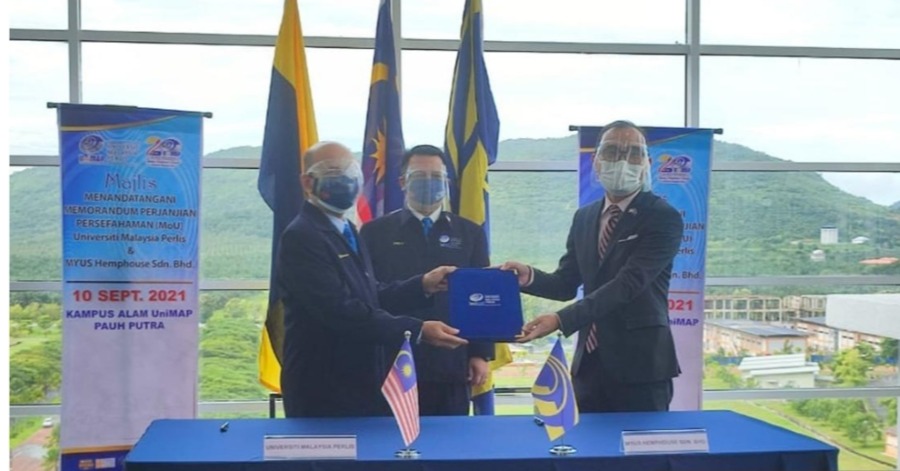 ARAU, Sept 10 — Universiti Malaysia Perlis (UniMAP) has become the first public university in the country to conduct research on hemp (a member of the cannabis sativa plant) as an agricultural product with the potential of being economically developed in the future.
Its vice-chancellor, Professor Ts. Dr Zaliman Sauli said for that purpose, UniMAP has signed a memorandum of understanding (MoU) with a Kuala Lumpur-based company MyUS Hemphouse Sdn Bhd.
"As we know, the hemp production must be under strict control. It can also become a new economic resource for the country in the future as there are developed countries that have allowed the use of hemp for commercial purposes.
"Through the MoU, research and development can be carried out at UniMAP and focus will be given through Institut Agroteknologi Lestari (INSAT) in Sungai Chuchuh, Padang Besar on an area of 0.8 hectares," he said here, today,
The MoU signing ceremony was witnessed by the Raja Muda of Perlis Tuanku Syed Faizuddin Putra Jamalullail, who is also UniMAP chancellor.
Zaliman signed the MoU on behalf of the university while while MyUS was represented by its chief executive officer Datuk Nellsen Young.
UniMAP and MYUS will conduct research on hemp cultivation procedures and applications as well as focus on functional materials for agriculture especially organic farming to improve the country's agricultural products.
"Through this agreement, research activity regarding the crop planting can be conducted successfully and the university-industry partnership can be strengthened," said Zaliman.
MYUS is one of the companies that has worked with the Malaysian government to obtain permission to grow, maintain and manage hemp cultivation as well as produce innovative hemp-based products for the use of composite fibre, bio-diesel, medicine, therapy and health care.
UniMAP through INSAT will provide facilities that include land use for the cultivation of such crops. whereas MYUS is responsible for providing infrastructure facilities, technical resources and assistance for research and development activities.
Meanwhile, Nellson when met said that his team will make an application to the government to get permission to bring in hemp seeds into the country and will start the planting process.
"We are now in the midst of getting government approval to bring the seeds in. Perlis has a suitable climate for the cultivation of hemp," he added.
Sources: BERNAMA
Air Ticket Price To Sabah, Sarawak Will Return To Normal – Deputy Minister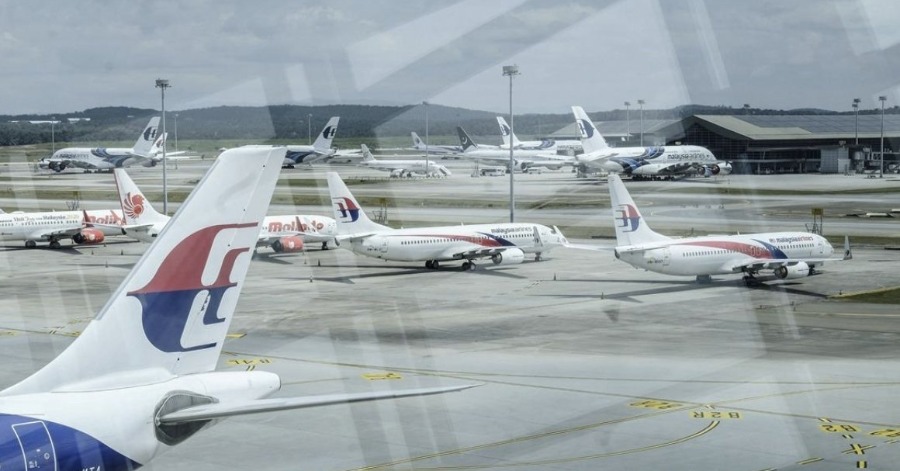 KUALA LUMPUR, Oct 11 — Domestic flight ticket prices for routes to Sabah and Sarawak will return to standard prices when the total flight frequency operates as usual, said Deputy Transport Minister Datuk Henry Sum Agong.
Therefore, he said the government through the Malaysian Aviation Commission (MAVCOM) would continue to monitor flight ticket prices for all domestic routes, including routes between the Peninsula and Sabah and Sarawak.
He said the high flight ticket prices were a result of the implementation of the flight capacity limit by the Sarawak government which was part of the state government's efforts to tackle the COVID-19 pandemic.
"At that time, the flight frequency to Sarawak dropped by 94 per cent compared to the period before COVID-19 while for flights between the Peninsula and Sabah, the flight frequency dropped by 89 per cent compared to the period before COVID-19," he said in the Dewan Rakyat today.
He was responding to a question from Lukanisman Awang Sauni (GPS-Sibuti) on the government's move to reduce the price of flight tickets from Sarawak to the Peninsula and Sabah which were very expensive during the COVID-19 pandemic and what the remedial measures were for the matter.
Henry also said that air ticket prices are determined using a dynamic pricing mechanism and the concept of cross-subsidisation, that is, profitable flights will cover the operating costs of non-profitable routes.
He said MAVCOM's monitoring between Sept 26 to Oct 2 for travel after Oct 8 found that Kuala Lumpur to Kuching flights recorded lower ticket prices between 29 and 74 per cent cheaper compared to ticket prices in 2019.
He said other routes such as Kuala Lumpur to Miri and Kuala Lumpur to Sibu still record high prices of between RM530 to RM1600 for one way while for the Peninsular route to Sabah, ticket prices are higher from eight per cent to 163 per cent compared to ticket prices in 2019.
In a separate development, Henry said the final approval for the proposed construction of the Kulim International Airport Development Project (KXP) would only be considered when the National Airport Strategic Plan (NASP) Study was completed.
"In this regard, any planning of commercial projects related to the airport in conjunction with the opening of KXP will only be determined after the proposed construction of KXP is finalised by the government," he said.
He was responding to a question from Karupaiya Mutusami (PH-Padang Serai) on the planning and commercial projects to be done in conjunction with the opening of Kulim International Airport.
Sources: BERNAMA
Upcoming 'Scream' Movies In 2022, Here's Everything To Know About It!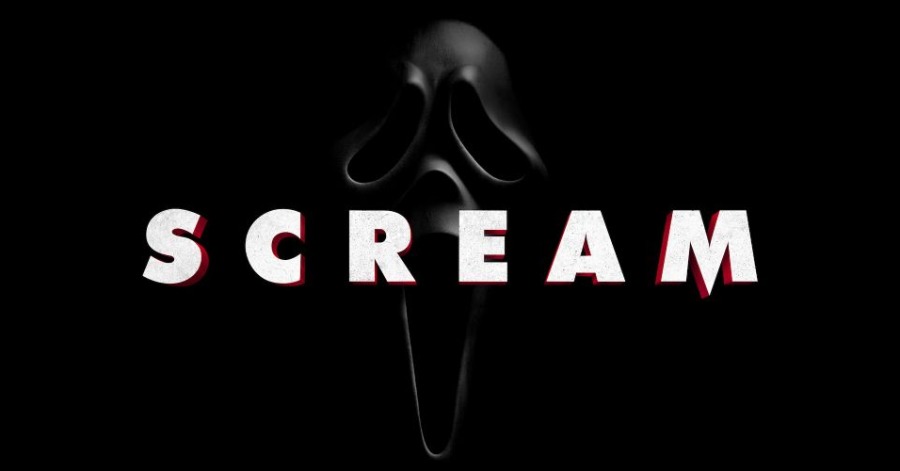 Many people must know that Ghostface is the main antagonist in the Scream franchise. Ghostface was inspired by Edvard Munch's painting The Scream and called after a rubber Halloween mask. He's also known as the Woodsboro Killer, named for the town where the Ghostface mask was initially worn to conduct murders.
In the movie, Ghostface would harass or threaten his victims over the phone before slashing them to death with an eight-inch hunting knife. He stalked his victims in a manner reminiscent of horror movies, and he would occasionally ask them horror movie trivia.
With that said, Ghostface makes a reappearance in an official poster for the upcoming installment in the Scream franchise, which will be released exclusively in cinemas in January. So here's what you can expect from the upcoming movie.
Release Date
Spyglass confirmed January 14, 2022, theatrical release date for the latest installment in the famous Scream franchise on August 29, 2020. However, it will not be called Scream 5, but simply Scream. That title change is reminiscent of Halloween 2018, and Scream 2022 is aiming for a similar result, according to those responsible. It's not a complete reboot, but it is meant to kick off a new series of films under the same tent. Both filming and post-production have been completed.
The Director 
Scream 2022 will be the first film in the franchise to be directed by someone other than Wes Craven. Williamson, on the other hand, is working as an executive producer, which should reassure fans that the film is in capable hands. Instead of a single director, the sequel will have two that is Matt Bettinelli-Olpin and Tyler Gillett. They previously collaborated on the critically acclaimed film Ready or Not, which was released in 2019. They are also co-founders of the Radio Silence filmmaking group.
The Cast
Scream 2022 will see the return of the core trio of survivors from the previous four films sharing the screen with newly created characters, in keeping with the film's objective to both rejuvenate and continue the established brand. This means David Arquette will reprise his role as Dewey Riley, Courteney Cox will reprise her role as tenacious journalist Gale Weathers, and Neve Campbell will reprise her role as perennial target Sidney Prescott.
Many fans also wish to see Hayden Panettiere's Kirby Reed, who was last seen in Scream 4 and whose fate was unclear. Sheriff Judy Hicks, played by Marley Shelton in Scream 4, has already been confirmed to return. Melissa Barrera (In the Heights), Jack Quaid (The Boys), Mason Gooding (Booksmart), Dylan Minnette (13 Reasons Why), and Jenna Ortega (You) are among the new cast members, as are Kyle Gallner, Jasmin Savoy Brown, and Mikey Madison. All of these new jobs have yet to be revealed in detail.
The Story Details
It's tough to guess what the plot will be like without knowing the entire ensemble. Scream 2022's only official synopsis is incredibly vague and generic, stating merely that the film is about "a young woman who returns to her former city, only to uncover horrible murder cases linked to a known masked serial killer." This appears to be a reference to Sidney's return, but it's possible that this is a misdirection, and the returning cast is connected in the tale in another way. What is confirmed is that slasher legend Ghostface will return to knife victims, replete with a classic mask not seen on the TV program.
However, every Scream fan understands that just because the killer is "always someone you know" doesn't guarantee that previously introduced characters will return. Because the series has prospered by introducing new characters with each new chapter, there's a good chance that the killer(s) in Scream (2022) will be characters from that film. Even still, it's unlikely that many Scream fans would object to seeing Stu and Billy return after all these years.
Scream slashes its way into theaters on Jan. 14, 2022.
Sources: CBR.com, Screen Rant, Scream Wiki
4,471 Children Reported Missing From 2017 To Sept 1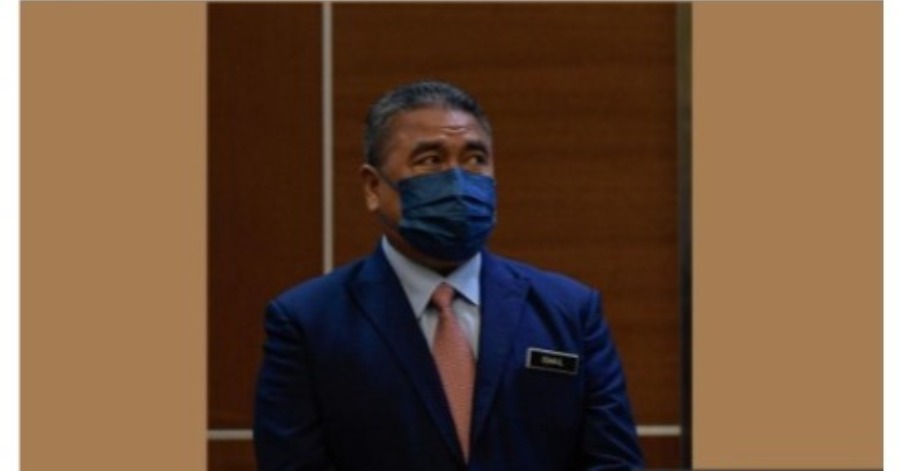 KUALA LUMPUR, Oct 11  — A total of 4,471 cases of missing children aged 18 and under were reported from 2017 to Sept 1 this year, said Deputy Home Minister I Datuk Seri Ismail Mohamed Said.
'He said based on Royal Malaysian Police (PDRM) statistics, of the total, 4,399 children had been found while 72 others are still missing.
As for the cases of missing persons aged 18 and above, he said a total of 6,074 cases were reported in the same period with 4,871 found while 1,203 people were still missing.
"Among the measures taken by the government to address this problem is to create a Missing Children Portal. The information is displayed on the portal https://knk2hilang.rmp.gov.my which can be accessed by the public.
"This portal provides an opportunity for the community to work together to track down missing children more quickly and effectively by channeling the latest information via the Internet," he said in a question and answer session at Dewan Negara here today.
Ismail was responding to a question from Senator Datuk Koh Nai Kwong who had asked for statistics involving missing persons reported in the last five years, and steps taken by the government to address the problem.
Ismail said the police have also collaborated with 40 other agencies through the NUR Alert, which is an early warning system for missing child cases to assist law enforcement agencies conduct investigations and lead to speedy arrests.
"PDRM also collaborates with various parties in organising awareness programmes to prevent cases like these from recurring. The Child Awareness Campaign (CAC) aims to provide awareness to the community that children are vulnerable and why it is important to ensure their safety," he said.
Ismail said based on police investigations, some of the reasons for them going missing were that they had family problems or received less family attention; seeking more freedom to be friends or lovers, depression; senility, mental issues or being involved in crime.
In addition, he said there were also those who went missing after family misunderstandings, debts and also due to physical or mental abuse.
Sources: BERNAMA