(Video) Owner Made His Adorable Pet Cats To 'Open Their Own Shop'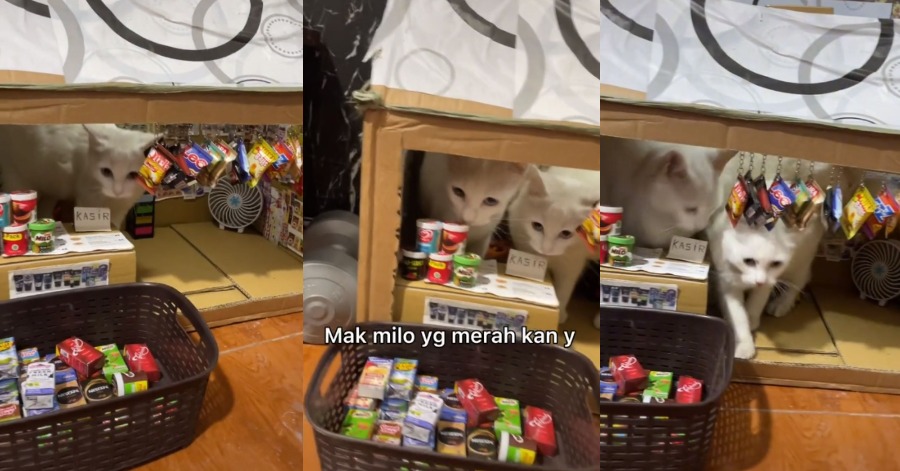 Having cats as pets in your own home would definitely be something that would help you a lot emotionally especially during this Movement Control Order (MCO) period where we have to just stay safe at home. According to research, pet cats could help to lower stress and also anxiety. This is because cat owners all around the world actually really know how one session of petting or even playing with their cat can turn a very bad day into a good one. This is great.
That is what has been done by a particular cat owner with his pet cats. As can be seen in a posted video on the TikTok app that went viral, the cat owner made his adorable pet cats that are white in color open their own shop. It can be seen that the cat owner interacts with his pet cats as if the cats are running the shop selling items for him at the shop.
The posted video is indeed very cute and heartwarming to see. The cuteness of the cat could not be resisted by many people who watched the video. The cat owner made a conversation between him and the cats as he wanted to buy milo from the shop. Looking at the comments section, many netizens enjoyed the video and think the video is lovely.
Sources: TikTok Randy.
These Are So Cute! 9 World's Rarest And Most Expensive 'Funko Pop!' Figurines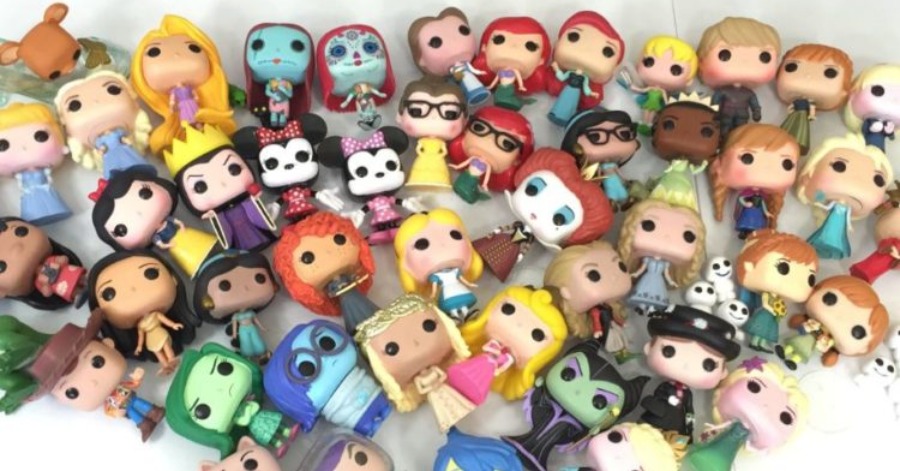 Funko Pop! collectible figurines have become increasingly popular among collectors of all ages since their debut at Comic-Con in 2010. Overall the years, Funko has developed a slew of figures based on pop-culture allusions. The variety of Funko collectibles currently accessible is a distinctive feature that represents their lasting popularity. Some Funko Pop! figures, like most collectibles, are extremely rare and valuable. Some people just got to have them all.
Most of the time, we can assume that items released for exclusive events with extremely limited availability will be most likely to go up in value, it doesn't take a psychic to figure out that a 1 in 50 rare Freddy Funko figure is going to be worth something in a couple of years, especially if there is a chance flippers will get their hands on one. But if you have been collecting for a while, then chances are you have seen an item soar in value that's taken you by surprise.
1) Dumbo (Clown Paint) – $6,160 (RM25,826)
In the year of 1941, Walt Disney Productions released an animated fantasy film known as Dumbo. It inspired the Dumbo (Clown Paint) figurine. In 2013, only 48 pieces of this figurine were released at the San Diego Comic-Con. Today, this vinyl piece retails for about $6,160 and is a treasure to add to your collection.
2) Frankenberry Freddy Funko (Glow in the Dark) – $6,400 (RM26,832)
Frankenberry was first released at the 2011 San Diego Comic-Con. Initially, it retailed for as little as $725, but today, it costs about $6,400, with offers going up to $8,000. This figurine has an attractive pink color found in the Franken Berry cereal that is readily available in the stores, especially around Halloween.
3) Freddy Funko as Venom – $7,170 (RM30,060)
This figurine was released on 20th September 2019. Only 24 pieces were made, and they were issued to random people as a part of Funko Fundays. The estimated selling price for each is $7,170, but you might have to shell out up to $9,000 to get it.
4) Superhero Stan Lee (Red Metallic) – $7,570 (RM31,737)
Stan Lee Red Metallic was created in honor of real-life Hero Stan Lee, who passed away towards the end of 2018. Lee was an actor who featured in many Marvel Cinematic Universe films. Over the years, many figurines have been made in his honor. However, none of them is as rare and pricey as the Stan Lee Superhero Red Metallic variant. Its worth is about $7,570, and if it is autographed by the legend himself, it would cost even more.
5) Freddy as Boba Fett (Red Hair) – $7,630 (RM31,988)
The Boba Fett with red hair figurine was released in 2014. In this variant, Freddy is dressed as Boba Fett from Star Wars. Only 24 pieces were released, and the estimated selling price of each is $7,630.
6) Clockwork Orange – $8,190 (RM34,336)
Only 12 Clockwork Orange figurines were made. The pieces were given to the very important people at Funko. Each of them has a number and is signed by Brian Mariotti. The estimated retail price for these rare pieces is $8,190 each.
7) Freddy as Jaime Lannister (Bloody) – $9,980 (RM41,841)
Freddy as Jaime Lannister is the third priciest and rarest Funko Pop ever. It was inspired by the fantasy drama television series known as Game of Thrones. Bloody Freddy made his first appearance at the 2013 San Diego Comic-Con. To get this figurine in 2021, you have to be willing to dish out an estimated $9,980. The price was about $3,410 three years ago but has since shot up. As it is one of the rarest items, some sellers are asking for over $30,000 for this piece.
8) Freddy as Count Chocula (Glow in the Dark) – $10,000 (RM41,924)
Freddy Count Chocula Glow in the Dark is one of the rarest Funko Pops of all time. This figurine was first released at the 2011 San Diego Comic-Con. In this variant, Freddy is dressed as a vampiric cereal mascot. Freddy Count Chocula Glow in the Dark and costs about $10,000. There are only 12 units of this figurine globally.
9) Clockwork Orange (Glow in the Dark Chase) – $13,400 (RM56,179)
The Clockwork Orange Glow in the Dark Chase is the most expensive Funko Pop in 2021. When Funko announced its release a few years back, collectors went wild with excitement. Some collectors have been lucky to get a hold of the most expensive Funko Pop ever, while others are still doing their best to get one. The Clockwork Orange GITD is one of the most sought-after Funko Pops, and it goes for an estimated price of $13,300. Is your dream to get a hold of the most expensive Funko Pop in the world? To get it, you have to work very hard and be willing to part with over $13,000. Alternatively, you can look for other rare and expensive figurines to add to your collection.
Sources: Legit.
Book Review: Manga That Is Filled With Interesting Adventures In 'Animal Crossing'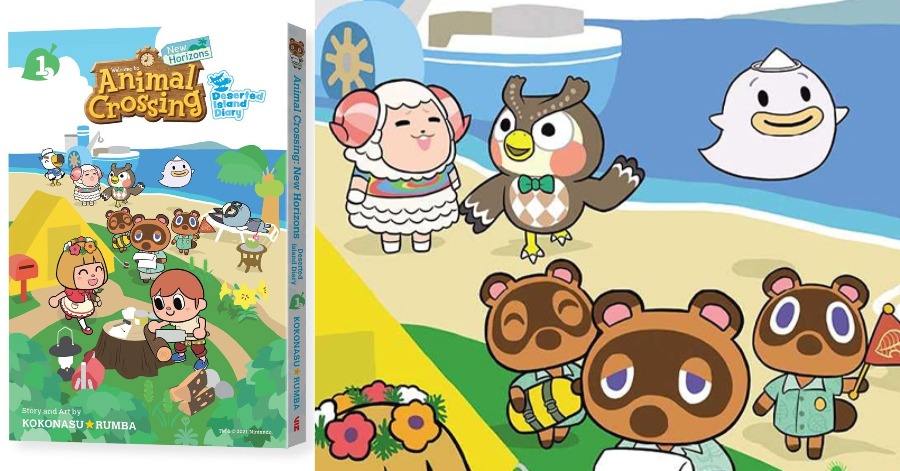 Fans for Animal Crossing all over the world are in for a new spin on their beloved sandbox garden, as the most popular Japanese manga for Animal Crossing's newest iteration, entitled 'Animal Crossing: New Horizons, Vol. 1 Deserted Island Diary' will be receiving an English translation, courtesy of Viz Media. Originally published exclusively in Japan in 2020, the manga that is written and also drawn by Kokonasu Rumba will get its own English translation.
The book will feature a charming journey through the pleasantly quaint world of Animal Crossing: New Horizons, and feature characters in the games such as the irascible and possibly exploitative Tom Nook or the friendly and strangely phasmophobic ghost Wisp in a humorous exploration of the Deserted Island setting found in the newest game.
The book brings the joy of the game to manga. At its heart, Animal Crossing is an all-ages gag manga that recreates scenarios from the game in a hyperactive style by a writer and also an artist named 'Kokonasu☆Rumba'. The premise also does not stray far from the game that is four human characters, each with a distinct personality, arrive on the deserted island to start a new life. Coroyuki loves catching and eating fish, Benben is smart but apprehensive, Himepoyo is obsessed with money, and Guchan is always asleep. On the surface these four characters seem one-dimensional, but as people read on they pretty accurately represent different archetypes of Animal Crossing players.
'Animal Crossing: New Horizons, Vol. 1' is consistently funny and nails the frantic energy of a Saturday morning cartoon while still honoring the game and its beloved cast of characters. And if your favorite villager isn't featured in any of the chapters, the back half of the book is filled with one-off comic strips with even more clever gags. Rumba herself even makes a cameo at the end to celebrate the manga's release and show off her own personal style and décor.
Sources: Book Depository.
Book Review: 'Harry Potter And The Cursed Child', A Book That You Must-Read!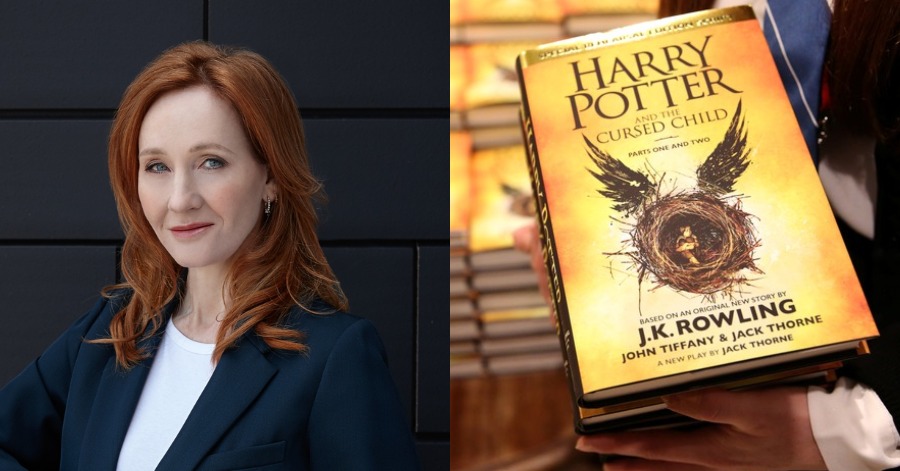 When it comes to a series of magical events, nothing beats J.K.Rowling! Ever wonder why Harry Potter became so famous? J.K.Rowling's and the movie scriptwriters' outstanding writing contributed to Harry Potter's popularity. Another reason for its appeal is that it depicts its protagonist as a power seeker who finally accepts it.
That is the essence of adolescence, and indeed of existence. Not only that, despite the story being in a fantasy setting, people can easily relate to the characters because the problems that Harry deals with are all too human.
Another possible reason for its popularity is because of the relationship shown in the books and movies. The "heavy, powerful, and deep relationships" that all human beings desire are provided by Harry and his pals. Though Harry's narrative is aimed at youngsters, it has an adult audience because of these interactions.
Because so many people grew up with Harry Potter, the series has lasted so long. By doing so, Rowling has ensured that the child wizard will have followers for the rest of his life, who will most likely spread the love to everyone they can. Another factor for Harry Potter's longevity is the good impact the series has on individuals. Many people are moved by Harry's words to "[examine] religion and community, and, maybe, methods to make the world a better place and ourselves better Muggles."
So here's about the the eighth story. Back on an original new story by J.K.Rolwing, John Tiffany and Jack Thorne, the playscript for Harry Potter and the Cursed Child was originaly released as a 'special rehearsal edition' alongside the world premier in London's West End in summer 2016. The play opened to rapturous reviews from theathre-goers and critics alike, while the playscript became an immediate global bestseller. This definitive and final playscript includes the conclusive dialogue from the play, as well as extra contents.
The eighth novel in the Harry Potter series, Harry Potter and the Cursed Child, picks up where we left off, nineteen years after the Battle of Hogwarts. Harry Potter and the Cursed Child is divided into two parts and stretched throughout four acts and numerous sequences, and was released as a special rehearsal edition screenplay. As is well known among Potter fans, Harry Potter and the Cursed Child follows the difficult relationship between Harry Potter, a 37-year-old "overworked Ministry of Magic employee," and his son Albus Severus Potter, who must bear the burden of his last name's unwanted fame and history.
But there's more to Harry Potter and the Cursed Child than that. It pits our favorite characters Harry, Ron, Hermione, and Ginny against the despised Draco Malfoy in circumstances where they can't avoid each other. It also includes references to a number of deceased characters, including Dumbledore, Cedric Diggory, Lord Voldemort, James Potter, and Lily Potter, all of whom have something to say in their own unique ways.
What I love about this book is that the book itself isn't compact. It is written in a simple yet attractive, this light-reading book with less text enables readers to read with convenience. It looks more of a script than a regular storybook.
For all Potterheads out there, this book is a must!
Harry Potter and the Cursed Child is very much a Potter novel, with all of the narrative twists and turns, as well as characters and lines that stick with you long after you finish it. Don't listen to anyone who tells you otherwise. This book is absolutely stunning.
Sources: Pluggedin, Cheat Sheet