(Video) Victoria Institution In Kuala Lumpur, Most Haunted School In Malaysia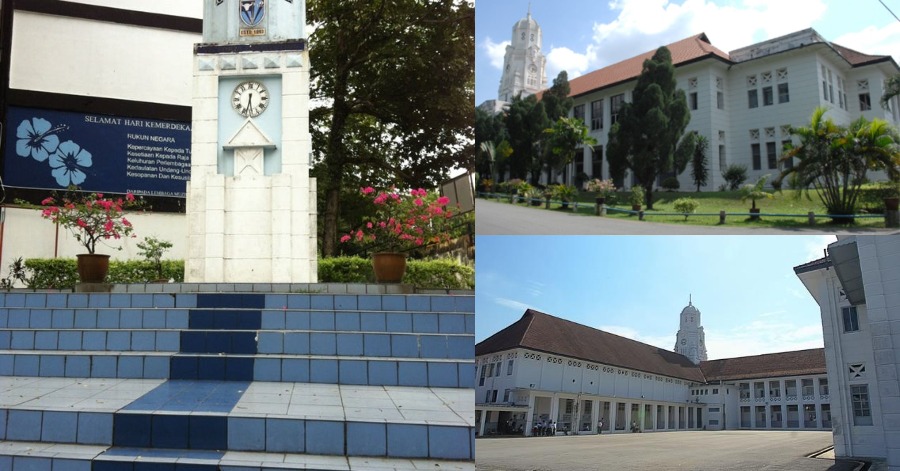 Victoria Institution is actually one of the oldest secondary schools in Kuala Lumpur, Malaysia, and was founded by the British to commemorate the golden jubilee of Queen Victoria. The school's establishment was further supported by financial contributions from the Sultan and government of Selangor, prominent Kuala Lumpur residents, and the general public. During World War II, the school was used by the Japanese to imprison enemy combatants. Unofficial word is that captives from the Allied Forces were tortured and even killed on the grounds of the school. So creepy.
Students have reported sightings of ghostly apparitions during the day and night and perhaps the most well-known paranormal event reported is the possession story of a marching band student. He was alone in the school late one evening when he found himself on top of the water tank with no recollection of how he got there. According to the student, the last thing he remembered was asking a girl he saw where she was going before waking up on the rooftop.
Many British soldiers and Malaysians were brutally murdered on the campus of Victoria Institution. This has caused many of the people who were killed there to not be able to rest in peace which made ghost sightings both in the morning and night frequent. Because of this, Victoria Institution has been dubbed by many Malaysian supernatural websites as one of the most haunted places in Malaysia. It is said that many students and also teachers at Victoria Institution have been possessed by spirits there. It is actually nothing new for them there when these things happen.
Sources: YouTube Wise Defies.
Less Than One Per Cent To Go To Achieve Fully Vaccinated Adult Population Target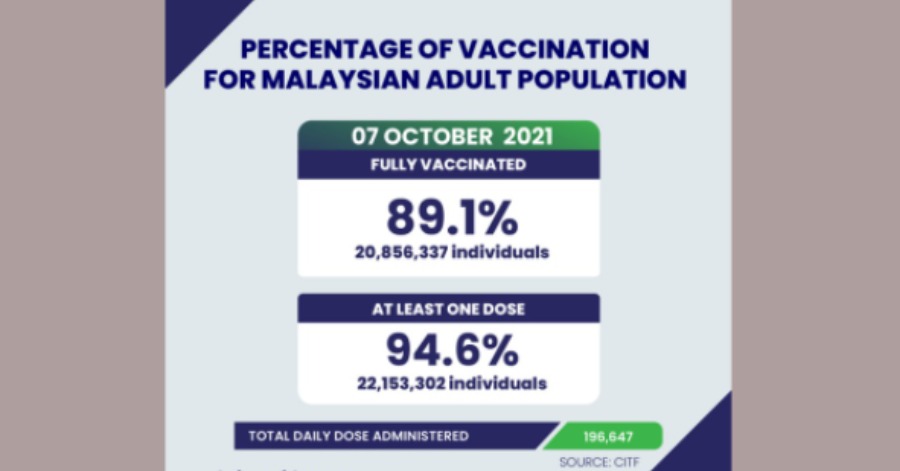 KUALA LUMPUR, Oct 8  — A total of  20,856,337 individuals or 89.1 per cent of the adult population in the country have completed their COVID-19 vaccination as of yesterday, just 0.9 percentage points short of the targeted 90 per cent.
Based on the Ministry of Health data on the COVIDNOW portal, 94.6 per cent or 22,153,302  individuals of the adult population have received at least one dose of the vaccine.
A total of 196,647  doses of the vaccine were dispensed yesterday with 108,092 as first dose and 88,555 as second dose, bringing the total number of doses administered under the National COVID-19 Immunisation Programme (PICK) to 45,204,479.
Meanwhile, 4.7 per cent or 147,938 of adolescents aged between 12 and 17 have completed their vaccination and 68.5 per cent or 2,156,346  teenagers have received at least one dose of the vaccine,
On Sept 22, Prime Minister Datuk Seri Ismail Sabri Yaakob said interstate travel would resume when 90 per cent of the adult population in Malaysia have been fully vaccinated.
Sources: BERNAMA
ASICS Invites Runners To Run Together To Uplift The World In The ASICS World Ekiden 2021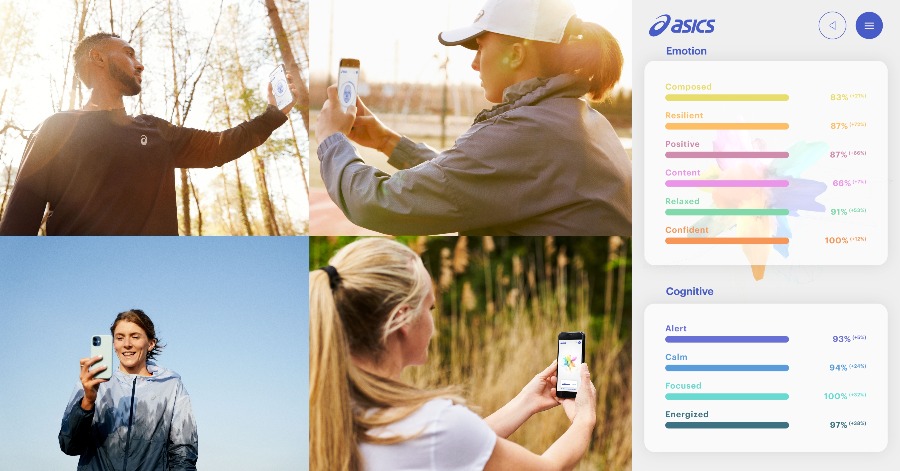 [October 6, 2021 – KUALA LUMPUR, MALAYSIA] – ASICS is inviting teams of up to six to run together to uplift the world by completing the ASICS World Ekiden 2021.
Following on from the success of last year's inaugural event, which brought together over 56,000 people from 179 different countries, ASICS is once again calling on runners all over the world to unite and run together with their team between 10-22 November, as part of its continued mission to uplift the world through sport in 2021 and beyond.
Inspired by Japanese heritage and running culture, the ASICS World Ekiden 2021 is the ultimate virtual relay founded on teamwork. Spilt into six legs of varying distances (three of 5K, two of 10K and one of a 7.2K), the race sees teams of up to six pass a digital tasuki – a narrow band of fabric associated with traditional Ekidens – between them as they run a combined virtual marathon in the fastest possible time.
Yasuhito Hirota, President & COO of ASICS, said, "Throughout 2021, ASICS is on a mission to inspire as many people as possible to experience the uplifting impact of movement on the mind as a way of achieving a sound mind in a sound body. Back for its second year, the ASICS World Ekiden 2021 is one of the many events we're hosting across the year that we hope will inspire people to get involved. We're excited for runners of all levels and abilities everywhere to unite in their teams and combine their collective efforts as they race towards the virtual finish line."
HOW TO TAKE PART NOW?
REGISTER FOR FREE
Find your team of up to six runners and nominate a team captain to sign-up for free via the ASICS Runkeeper™ app or the OneASICS™ membership program.
TRAIN & TRACK
Working together is key to the Ekiden relay. The ASICS Runkeeper™ app will help you collaborate with your team on challenges and training plans.
RUN THE RACE
Log your leg of the race in the ASICS Runkeeper™ app between 10-22 November, 2021. Work hard and run fast as you pass the virtual tasuki from one teammate to the next.
CELEBRATE & SHARE
Share your team's results with friends and family on social media using #ASICSWorldEkiden
UPLIFTING THE WORLD TOGETHER
The ASICS World Ekiden 2021 is one of many ASICS events taking place around World Mental Health Day in October to inspire as many people as possible to get moving and contribute to vital global research. To take part, people simply need to capture their state of mind, before and after any exercise via the Mind Uplifter™. All results will be added to the collective World Uplift Score and can be tracked live on the World Uplift Map.
For more information, visit www.asics.com/my/en-my/mk/asics-world-ekiden
(Video) Owner Shares Spoiled Pet Cat Behavior, Entertain Netizens On TikTok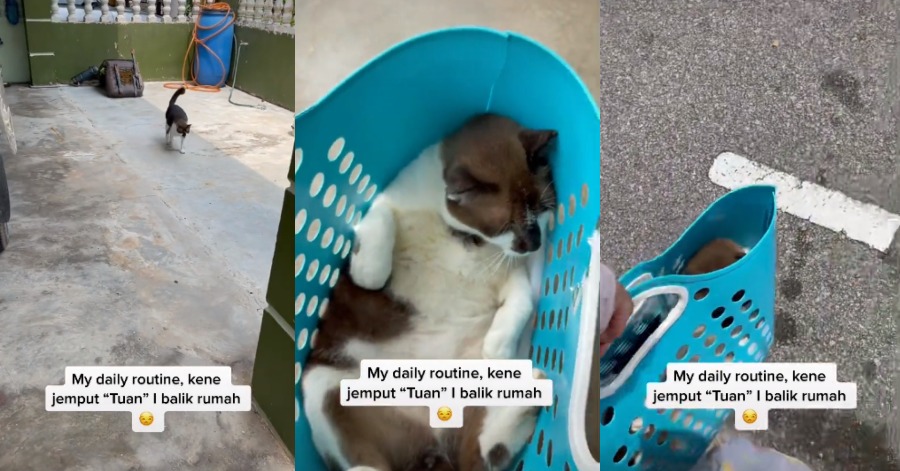 As many people in this whole wide world said, having a cat as a pet would be such an entertaining and also helpful situation for a lot of people especially for those who are living alone. The pet cat would be the perfect companion for the owner because it would always be by the owner's side all the time and help the owner to feel so much relieved.
But for some pet cats that have been so spoiled by their owner, the cat would sometimes be seen as the 'master' of the household rather than the owner. Despite the superior action of the pet cat, no owner would have the heart and feeling to hate the cat. They will always love their pet cats unconditionally because, for them, the behavior is so cute.
That is what happens with a pet cat in this particular video that when viral which posted by a TikToker that goes by the name ejahalkherid. In the video, it can be seen that the owner has to pick up her pet cat from her neighbor's house every day. It actually has become an everyday task for her. She even mentioned in her video stating, "My daily routine, has to pick up my 'master' to go back home". She could just look for her own pet car in neighbor's house.
Looking at the comments section, many netizens are entertained by her pet cat behavior that act like the 'master'.
Sources: TikTok ejahalkherid.