(Video) You Are A Samsung Phone User? You Need To Know This!
Samsung has been one of the most famous phone brands ever used in Malaysia and also all over the world. Phones that got produced by the Samsung brand have evolved so much throughout the years and there are so many technologies and also advanced creations that one particular phone from Samsung can give to the owners. It is so amazing.
Even with all the great usage that any individual can do just by using the Samsung phone, there are still secret tips and also hacks that people do not know that they can actually do just by using the Samsung phone. Recently, there is a video that went viral on the TikTok app showing particular tips that Samsung phone owners can do using their phone.
The secret tips and function that this video share could help to speed up your Samsung phone and the steps to do it are also very easy. These are the steps that you need to do.
Go to your home page and click anywhere to pop out the setting menu.
Click on the widgets icon.
Search for device care.
Add on the device care widget on your home page.
Finally, you can just click on the brush icon to clean and speed up your phone every time you want.
Sources: TikTok Hafizi Zain.
The Story of Josephine Myrtle Corbin, Bizzare Lady With Four Legs!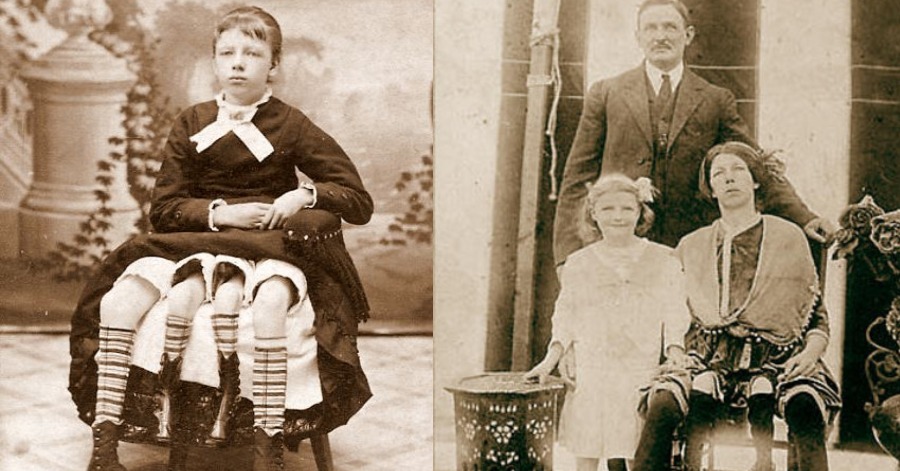 Mother nature's mysteries are tough to comprehend. It bestows blessings and punishments based on its own whims and inclinations, and humans have no voice in the matter.
It is neither fair nor just when one individual is born into a wealthy family with perfect genetic makeup, while another is born into a poor family with many hereditary disorders. But that is life, and there is nothing anyone can do about it. Here's a rather odd story you might have not heard of.
Josephine Myrtle Corbin was born in the year 1868 in Lincoln County, Tennessee. Except for one issue, she appeared to be a regular child. Josephine was born with two pelvises, one on each side of her body. She has four legs as a result of this. She couldn't walk on the two inner legs since they were smaller and weaker.
Her condition was dubbed "posterior dichotomy" by some, while she was dubbed "dipygus dibrachius tetrapus" by others. A doctor went on to describe her as a "female, belonging to the monocephalic, ileadelphic class of monsters by fusion," using the word "monster." Despite her abnormalities, Myrtle Corbin was well-known for her natural beauty and good health. Lewis Whaley depicts her as a five-foot-tall girl with light skin, curly hair, and blue eyes in the 1889 British Medical Journal.
Her Fame
The world became her runway when she was thirteen years old. When she worked with P.T. Barnum, Ringling Bros., and Coney Island, her popularity skyrocketed. She was dubbed "The Four-Legged Woman," and she was described as "as gentle as summer sunshine and as cheerful as the day is long."
Corbin used to appear strange, often clothing the extra limbs in socks and hers in shoes. Her rising fame earned her a hefty deal of $450 per week at the time.
Family Life
She married James Clinton Bicknell at the age of 19, who insisted on her leaving the sideshow to start a new life in farming – a sincere love that proved he wasn't into her for the money. a year after her marriage, and she began to grow severely ill as a result. She got fevers all the time and couldn't stop vomiting.
Unfortunately, the pregnancy caused her a lot of pain, so she had an abortion in the fourth month. But she quickly healed and gave birth to eight children, just four of them lived. Medical books state that she gave birth from both sides of her womb, according to medical texts. Nancy Estelle, Francis Clinton, Ruby, and Lillian J. were the names of four surviving children according to the 1910 census.
Josephine's Death
Her family had to enclose her casket in a concrete box to protect her from grave robbers when she died on May 6th, 1928. Collectors and experts even offered her family a large sum of money for her remains. They turned down the money because they believed Josephine should be allowed to die in peace like any other person.
Josephine Myrtle Corbin's tale is inspiring because she never let her circumstances control her life. Myrtle soared ambitiously high and lived every happiness with pride, despite the deformity obstructing her life view. Despite being labeled a freak and a monster by many, she was an intellectual woman who lived her best life. She is a source of inspiration for everyone. Her story serves as a reminder that with the right attitude, anyone can overcome any flaw.
Sources: Medium, History Collection,
Less Than One Per Cent To Go To Achieve Fully Vaccinated Adult Population Target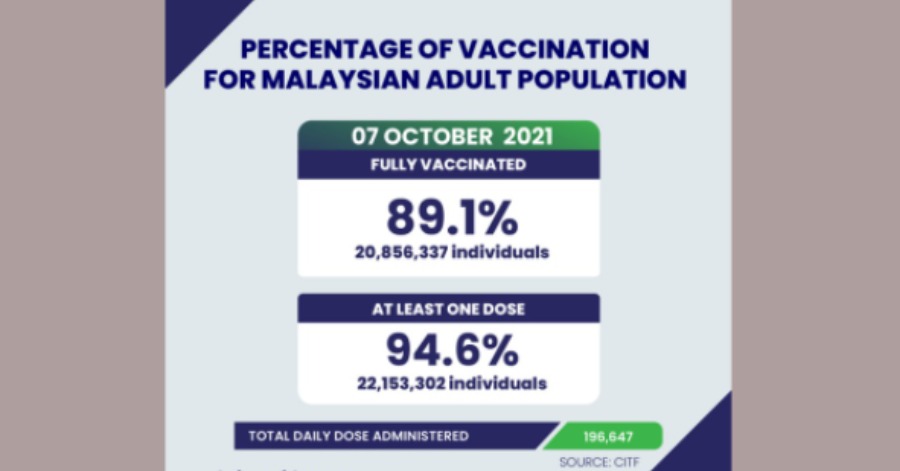 KUALA LUMPUR, Oct 8  — A total of  20,856,337 individuals or 89.1 per cent of the adult population in the country have completed their COVID-19 vaccination as of yesterday, just 0.9 percentage points short of the targeted 90 per cent.
Based on the Ministry of Health data on the COVIDNOW portal, 94.6 per cent or 22,153,302  individuals of the adult population have received at least one dose of the vaccine.
A total of 196,647  doses of the vaccine were dispensed yesterday with 108,092 as first dose and 88,555 as second dose, bringing the total number of doses administered under the National COVID-19 Immunisation Programme (PICK) to 45,204,479.
Meanwhile, 4.7 per cent or 147,938 of adolescents aged between 12 and 17 have completed their vaccination and 68.5 per cent or 2,156,346  teenagers have received at least one dose of the vaccine,
On Sept 22, Prime Minister Datuk Seri Ismail Sabri Yaakob said interstate travel would resume when 90 per cent of the adult population in Malaysia have been fully vaccinated.
Sources: BERNAMA
ASICS Invites Runners To Run Together To Uplift The World In The ASICS World Ekiden 2021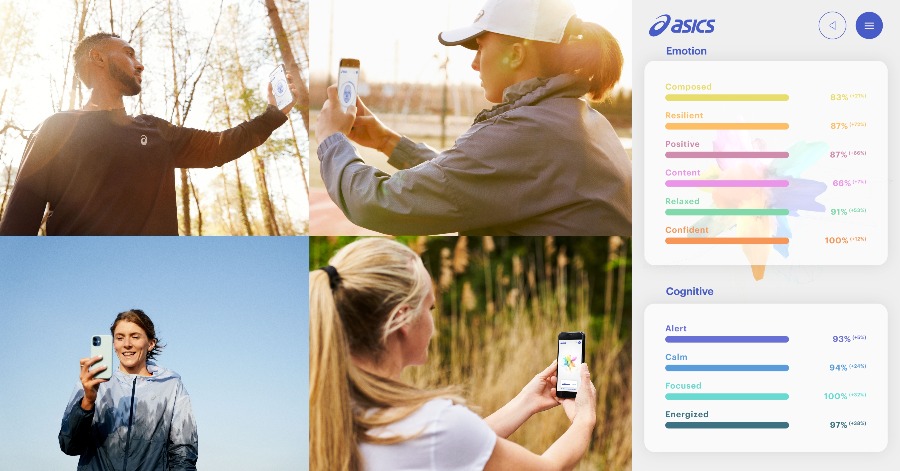 [October 6, 2021 – KUALA LUMPUR, MALAYSIA] – ASICS is inviting teams of up to six to run together to uplift the world by completing the ASICS World Ekiden 2021.
Following on from the success of last year's inaugural event, which brought together over 56,000 people from 179 different countries, ASICS is once again calling on runners all over the world to unite and run together with their team between 10-22 November, as part of its continued mission to uplift the world through sport in 2021 and beyond.
Inspired by Japanese heritage and running culture, the ASICS World Ekiden 2021 is the ultimate virtual relay founded on teamwork. Spilt into six legs of varying distances (three of 5K, two of 10K and one of a 7.2K), the race sees teams of up to six pass a digital tasuki – a narrow band of fabric associated with traditional Ekidens – between them as they run a combined virtual marathon in the fastest possible time.
Yasuhito Hirota, President & COO of ASICS, said, "Throughout 2021, ASICS is on a mission to inspire as many people as possible to experience the uplifting impact of movement on the mind as a way of achieving a sound mind in a sound body. Back for its second year, the ASICS World Ekiden 2021 is one of the many events we're hosting across the year that we hope will inspire people to get involved. We're excited for runners of all levels and abilities everywhere to unite in their teams and combine their collective efforts as they race towards the virtual finish line."
HOW TO TAKE PART NOW?
REGISTER FOR FREE
Find your team of up to six runners and nominate a team captain to sign-up for free via the ASICS Runkeeper™ app or the OneASICS™ membership program.
TRAIN & TRACK
Working together is key to the Ekiden relay. The ASICS Runkeeper™ app will help you collaborate with your team on challenges and training plans.
RUN THE RACE
Log your leg of the race in the ASICS Runkeeper™ app between 10-22 November, 2021. Work hard and run fast as you pass the virtual tasuki from one teammate to the next.
CELEBRATE & SHARE
Share your team's results with friends and family on social media using #ASICSWorldEkiden
UPLIFTING THE WORLD TOGETHER
The ASICS World Ekiden 2021 is one of many ASICS events taking place around World Mental Health Day in October to inspire as many people as possible to get moving and contribute to vital global research. To take part, people simply need to capture their state of mind, before and after any exercise via the Mind Uplifter™. All results will be added to the collective World Uplift Score and can be tracked live on the World Uplift Map.
For more information, visit www.asics.com/my/en-my/mk/asics-world-ekiden